WWDC: A preview of what's to come at Apple's annual developer conference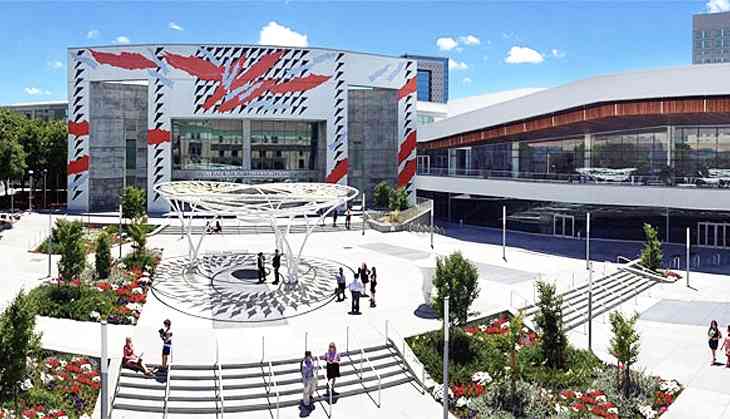 (San Jose Convention & Visitors Bureau)
May and June are a gold mine for technology aficionados. Google and Apple, two of the biggest companies, hold their developer conferences making major announcements and laying out the platform for the rest of the year. First, Google held their annual developer festival, Google I/O 2017, in mid-May. Among the major announcements were faster Android updates, Google Assistant on iPhones, bringing visual search to smartphones and revamping Android Device Manager into Find My Device.
Now, we are just two days away from Apple's Worldwide Developers Conference (WWDC). Apple's annual conference is set to kick off on Monday, 5 June, at 10 AM PDT. The keynote address that kicks off Apple's developer conference usually begins with software announcements - new versions of iOS, macOS and watchOS - and possibly even hardware announcements. This year there hasn't been much talk on the software front. Instead, the rumour mill has kicked into high gear over the word of new Macs, new iPads and even a Siri speaker.
Here's a preview of what's expected at this year's edition of WWDC.
1. Software
Let's start off with what is guaranteed to be a part of the keynote announcement; software. The regular updates for iPhone, Mac, Apple Watch, and Apple TV are a staple of Apple's announcements. Not much is known yet about what exactly they will entail but one can expect Apple TV's new OS to steal the spotlight. Beyond these expected bits of news, one area of software that is about to get a major boost is Siri, which is at the core of Apple's artificial intelligence efforts. Siri is Apple's smart assistant and at the moment has fallen behind the competition. Google and Amazon both have proven that consumer interest in .voice-activated smart speakers is alive and Apple seriously needs to take it up a notch.
Apple's Jimmy Iovine, in an interview with Bloomberg (LINK) that iOS will be including a new music app catered towards better featuring of videos. This comes just as Apple is set to launch its first original shows, foremost of which is Carpool Karaoke. iOS 11 will also have an "updated user interface". Then there is also expected to be updated for the iPad that are based around the Pencil. Many apps may be updated to allow for the stylus to be used for annotations and more.
Finally, there is expected to be some major app updates. Remember, last year iMessage and Photos got a major upgrade and refresh from the company.
2. Peer-to-peer payments
According to a recent Recode report, Apple is weighing a peer-to-peer payment service. This will compete with the ever popular Venmo and Square Cash. No word yet on whether it will be included within Apple Pay or exist as a standalone or maybe within iMessage.
3. macOS
No major change has been made to macOS in years but small changes are made each and every year. Siri was introduced on the macOS for the first time last year and this year it may just get third-party support.
4. Siri speaker
The biggest of all announcements will be Apple's answer to Google Home and Amazon Echo and may just be unveiled on Monday. How big will it be? What will it look like? How powerful will it be? Heck, will it even have a screen? As of Saturday, 3 June, absolutely nothing is known. One thing is certain though. If an Apple Siri speaker is indeed unveiled, then Apple will want app developers to take full advantage of the device. Hence you can expect major updates to Siri.
What we do know is that Apple has started manufacturing the device and that it'll feature "virtual surround sound" that provides far better audio quality than the competition. We also know that it'll function as a hub for Apple's smart home system, HomeKit.
It might also just be announced on Monday and not actually be shipping until much later in the year.
5. New MacBooks
Apple is heavily rumoured to be unveiling an update to its laptop line at WWDC. Another credible rumour comes from Bloomberg suggesting that most of the updates will be under-the-hood. The MacBook Pro along with the 12-inch MacBook will be getting Intel's newest line of processors - Kaby Lake - meaning a bit more power and longer battery life. The laptops may also support more memory.
One reason to believe this rumour is the fact that Apple has recently delayed shipping time for its 15-inch MacBook Pro orders till after the WWDC keynote. This is likely a clearing out of the inventory.
The MacBook Air is far less likely to get an update. Apple has been long considering an Air refresh but this isn't likely to arrive in time for WWDC. If at all there is an update, it is likely just to be a minor spec bump.
6. New 10.5-inch iPad
The iPad Pro is overdue for an update. Neither of the Pro models has been tinkered with in over a year and their design is based on the original iPad Air in 2013. With the mounting buzz, and every publication giving their take on what they would like in the next iPad, it's more likely than not to appear on stage this week. Many are even touting the new 10.5-inch iPad Pro to replace the 9.7-inch edition. What you'll get in the 10.5-inch iPad Pro is a larger screen in a footprint comparable to its smaller sibling. It'll come with a faster processor and possibly a higher-resolution display.
The iPad Mini is expected to get close to little attention this time around.
7. No iPhones and 4K Apple TV
What you absolutely won't be seeing at WWDC 2017 are upgrades to Apple's iPhones. Those are reserved for events in the fall. Whilst a new Mac Pro has debuted at WWDC before, there is absolutely no reason to think of it happening again, at least not in 2017. Apple's Watch will also be getting no love from WWDC, but will likely be seen in a new avatar this fall.
Another rumour hints to a 4K Apple TV, but again, this likely will appear only in the fall.
8. What else to expect
Here are a few other things to expect during the weeklong WWDC:
A. Beard Bash: This is a developers' party with live music and is hosted by Jim Dalrymple.
B. The Talk Show with John Gruber Live: This is where Apple execs turn up to offer insights beyond just the keynote.
C. Swift Workshops: These are run by IBM.
D. AltConf 2017: The Alternative Apple Developer Conference held from June 5-8, 2017 at San Jose Marriott.