WhatsApp be ready: Hike's Total brings messaging, news and payments to Android phones without mobile data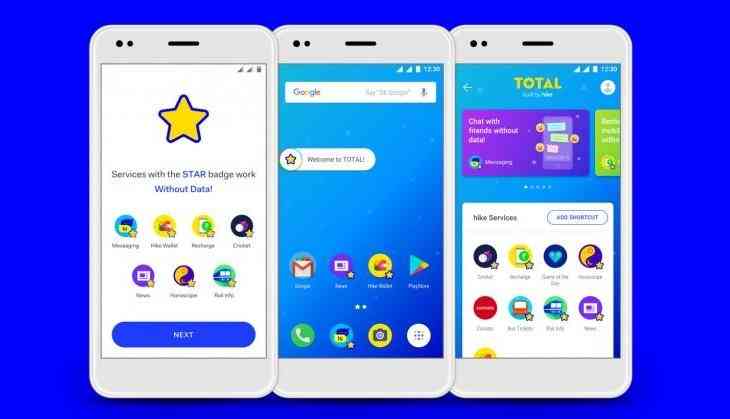 It is a well-known fact that most of the Indians are not online. Even out of the smartphone users in India, about half are online every day. CEO of Hike, Kavin Mittal said at a press event in New Delhi on 17 January, "If you look at the Indian market, only about 200 million people of 400 million smartphone users in India come online each day. I think we have figured out a way to tackle this challenge". In fact, almost 736 million Indians don't have access to mobile network connections.

The solution to this problem is a customised version of Google's Android operating system. An Android fork. India's most popular homegrown messaging app, Hike Messenger, introduced a customised version of Android called Total. Total allows the end user exchange messages and even make payments, all without having to access the internet. Hike Messenger is backed by Tencent and SoftBank and therefore has a lot of money it can burn to add to its user base. One of those ways is by connecting those who aren't online in a way that is unique in the second most populous country in India.

Essentially, Total allows the user to make personal money transfers, pay businesses, book train tickets, chat with all their beloved ones, read news and more on the Hike platform, all without the use of single byte of mobile data.

Hike Messenger claims 100 million users, half of what WhatsApp - the lead instant messaging platform in India - has garnered in its many years of existence in the country. Hike Messenger needs to do some catching up before it becomes a real competitor in India, and connecting the next wave of Indians,

In Total to become a reality, it has been a long, six-month journey, for the company. The goal was simple. To let all them basic services available to those who are yet to experience the mobile web for the first time. Hike also acquired Creo, the Bengaluru-based startup that has worked on operating systems, streaming devices and smartphones previously.

Total use Universal Transfer Protocol (UTP) to facilitate a lot of the features. This is basically a supercharged version of Unstructured Supplementary Service Data (USSD). USSD is, "a Global System for Mobile (GSM) communication technology that is used to send text between a mobile phone and an application program in the network"
Total OS and data packs
Hike Messenger has gone one step further as well. The company has partnered smartphone manufacturers Intex and Karbonn. These companies will be launching Total OS smartphones in the near future. Total of four devices will be launching on 1 March 2018. The Intex devices include Aqua Lions T1, Aqua Lions T1-Lite and Aqua Lions N1. The Karbonn device is A40 Indian.

"We've taken the 15-20 step process of someone coming online and made it into only a few steps," Mittal said. "Buy a phone, turn it on and you're good to go. Everything, all the essential services all work out of the box even without data".

According to Mittal, the phones will be priced from Rs 3,500, presenting a significant opportunity for the company to snap up the first time smartphone and mobile internet users. "These are starting partners and our hope is that, as we make more progress, we can get more partners," the Hike CEO said.

Once the consumer fires up a Total OS powered-smartphone, they will be able to sign in with just their phone number. Thereafter, they'll be credited with Rs. 200 in their Hike Wallet.

Additionally, Hike has also partnered with Aircel, Airtel and BSNL to make cheap data packs available to the user. Prices start at Re. 1 for 20 MB at 4G speeds. Some functions of the Total OS - viewing photos, sending photos, or other data-rich services - will prompt the user to purchase data.

Nothing can be free, as we know. To that extent, Hike is probably paying these OEMs to pre-bundle Total OS.