UE Megaboom review: Bluetooth speaker for all occasions. But at a price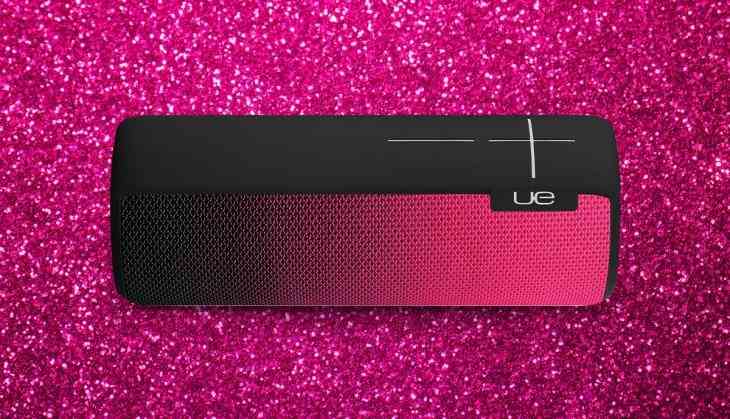 Ultimate Ears' latest flagship Bluetooth speaker - UE Megaboom - is one of the best in the market right now. It's portable, it's rugged - I've dropped it a fair few times - but it isn't value for money. Yes, you read that right. The UE Megaboom sells for Rs 16,495 on Amazon India, a good Rs 3,500 cheaper than its price at launch last November. That price puts it squarely between the JBL Flip 4 (review here) at Rs 7,364 (lowest price on Amazon India) and below Bose's Soundlink Revolve+ at Rs 24,500.
The name, Megaboom, speaks for itself. It's the top-of-the-line option in Ultimate Ears' lineup of Bluetooth speakers. It shares the same DNA with the other speakers in the lineup. The Megaboom has 360-degree audio, thanks to its the drivers placed in a cylindrical form, is rugged - both waterproof and drop resistant - and comes in a plethora of colours to satisfy all groups of people.
The UE Megaboom is by no means small. It's bigger size allows for additional drivers and a larger battery. On paper, that means that you should be getting better sound than say a UE Wonderboom and much better battery life. The UE Megaboom passes with flying colours.
Ultimate Ears Megabook has a cylindrical design and everyone's favourite fabric plus rubber finish. The bottom end of the speaker features the ports, including a 3.5mm AUX-in, while the top end has the power and Bluetooth pairing buttons. On the front of the speaker, you get the in-your-face volume (denoted by + and - signs) buttons. It's an uncomplicated design and one that is meant to be user-friendly.
The IPX7 rating means the speaker is good for all conditions. Use it at home or take it to you at the beach. Even when you're hiking, this speaker will suit your needs just fine, as a drop on the mountains doesn't cause a dent in the sound.
Essentially, the company has fallen back, just like Samsung's Galaxy S9+ flagship smartphone, on the 'if it ain't broke don't fix it' mantra. The Boom and Boom 2 that preceded the Megaboom has a tried and tested design liked by many worldwide.
With the design and basics out of the way, let's delve into the upsides and downsides.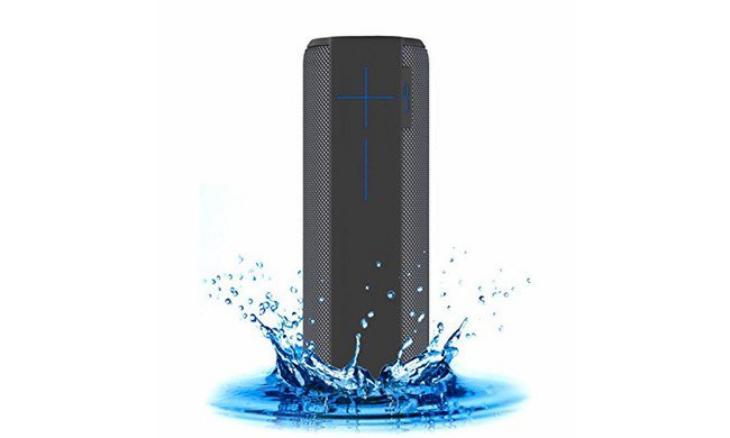 Twitter
What are the upsides?
The build quality on this Bluetooth speaker is top notch. The speaker lives up to the company's claims of being virtually 'indestructible'. Probably not what most people would do with the Megaboom but I've tossed it down the stairs, thrown it on a concrete floor and not so accidentally knocked it off the table a couple of times. You'd be surprised to know that the Megaboom has barely got a scratch on its outer shell.
This speaker may not be light - 877g - but it is still portable, thanks to its compact design. It's a speaker that can be easily thrown into the bottom of a bag and taken out as and when required. To my wonder, this speaker felt comfortable when being picked up by one hand. There is D-ring at the bottom of the speaker that can be used to hang it somewhere. Unscrew the D-Ring and you get a tripod mount!
The audio on this speaker is remarkable. The speaker has two active drivers and two passive radiators. This means that there will be better bass. That is definitely noticeable. The Megaboom is one of the cleanest and clearest sounding speakers I've tried out in the last couple of years. Add to that the 360-degree audio and you've got yourself some pretty sounding tunes coming out of the speaker. The speaker has rich mids and crip uppers. And there is little distortion in the output.
From Miles Davis' jazz tunes to Iron Maiden's heavy metal, and a variety of songs in between, I've been using this extensively over the past few weeks. It's mostly been kept in the house but also gone on drives or transported to friends parties. No matter what kind of music is thrown at the Megaboom, it delivers beautifully. It's as expressive as ever and the sound literally pops
The only time I noticed the clarity taking a hit was when I cranked the volume above 85%. This speaker can easily fill a mid-sized room and cater to a party of twenty loud people. Furthermore, one can connect two Megabooms for an even greater sound.
Let's talk about the battery life. During my month-long testing, I've only had to charge the Megaboom from 0%-100% once. That's because the speaker delivers about 20 hours of battery life with volume kept between the 30%-80% range. A few hours a day and this speaker is good to go for a couple of weeks.
Last, but not the least, the Megaboom is waterproof. It can be under 3 feet of water for up to 30 minutes without breaking a sweat. Basically, this means that, along with the ruggedness, the Megaboomm is prepared for all kinds of outdoor events.
There must be some downsides
Yes. Despite profusely praising the Megaboom above, there are some downsides. Downsides that may be dealbreakers for some of you out there.
Let's start by addressing the elephant in the room. This speaker is by no means cheap. Two out of the four colours - black & red - retail for Rs 16,495 on Amazon India. The other two, electric red & plum, come in at Rs 25,352 and Rs 27,245, respectively. There are a multitude of Bluetooth speakers that are cheaper, lighter and more portable.
The next downside is really annoying. It's a shame that Ultimate Ears didn't put in a Type-C port for charging and instead went with the old workhorse, a micro USB port. Add to that the fact that port is deep, and it's altogether bewildering. The deeper port means that most micro USB cables will not work. I've tried a variety of micro USB cables I had lying around, and they didn't fit. Lose the micro USB cable included in the box, and you may have a problem on your hands.
Amazon Alexa: This is a downside because the same speaker launched in the USA with support Amazon's virtual assistant. You do get access to Siri and Google Now but it is clunky and doesn't necessarily work. For the price that the speaker is selling at, I expect some added functionality to further set it apart from the competition.
My final thoughts
If you're in the market for a brand new Bluetooth speaker and don't mind spending around Rs 17,000, then look no further. It's a great speaker for all occasions. It may not be as small and lightweight as you'd like and it may lack any bells-and-whistles, but it does its core job mighty fine.
The UE Megaboom is positioned more as an outdoors speaker than an indoors one and that should sway your decision, ultimately. If you're looking for a speaker for all conditions, then this is the speaker to be picked off the shelves.
Yes, I may have nitpicked at a couple of things, but nothing is perfect. Some may be dissuaded by the size, others by the price. What I can safely say is that the UE Megaboom is the ultimate all-rounder on the market today.