The biggest entertainment release of 2015 wasn't a film. It was a video game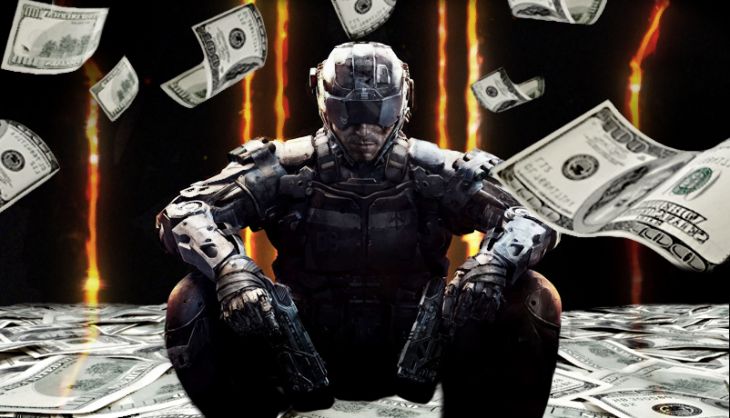 It can't get better than this in 2015 for the gaming industry. Two massive launches - Call of Duty: Black Ops 3 on 6 November and Fallout 4 on 10 November - have catapulted the industry to levels it hasn't seen since the release of Grand Theft Auto V back in the September of 2013.
Call of Duty: Black Ops 3 raked in $550 million in worldwide sales over its first 72 hours of release.
To put that in perspective for non-gamers out there, Activision Blizzard CEO Bobby Kotick said that Black Ops 3 was the biggest entertainment release of 2015.
It is also bigger than any theatrical opening weekend ever in the United States, beating Jurassic World's $208 million and Marvel's The Avenger's $207 million opening weekends combined.
That may sound impressive but that was before the release of Bethesda's Fallout 4.
The most pre-ordered game of the year made even more impressive sales "in excess of $750 million" or almost as much as Black Ops 3 and Jurassic Park combined. On launch day, Bethesda announced they had shipped 12 million copies worldwide.
The same day, the world's most popular porn site, PornHub, reported a 10% drop in traffic at various points in the day.
Coincidence? You decide.
The records, they keep falling
Steam reported that Fallout 4 had the most concurrent players ever for a game not released by Steam itself. At one point, there were 4,69,073 people simultaneously playing Fallout 4. That's more than the population of Maldives, Barbados, Iceland and Guam put together.
Call of Duty is a first-person shooter video game franchise that now has 12 games in the series. As of April 2015, the franchise has sold over 175 million copies.
Fallout is a video game series of role-playing shooters set in a nuclear wasteland. The series previous release seven years ago in 2008, Fallout 3, earned $300 million in its first week of availability shipping approximately 4.7 million copies. Fallout 4 has more than doubled that within its first 24 hours.
The video game industry is on a slow but unmistakable ascent. Sales are expected to hit $91.5 billion in 2015 and $107 billion by 2017, says research firm Newzoo.
Activision Blizzard knows what it's like to rake in a billion dollars. Its latest, Call of Duty: Black Ops 3 is well on its way to being the sixth consecutive game in the series to hit the mark.
No matter which way you look at it, these figures are seriously impressive - even though the movie-biz comparison isn't a particularly valid one. It's like comparing apples to oranges.
That's because movie ticket pricing is much more affordable than game prices. In the US, movie tickets average $10-$15 while video games, at their release, are closer to the $60 mark.
So let's take the Jurassic World example.
The film's opening weekend box-office collections in the US were $208.8 million; its worldwide first weekend collections stood at $512 million.
Except for Jurassic World to get to $512 million meant a lot more people were buying movie tickets than those buying the latest Call of Duty release.
Even then, the numbers prove a lot of people are willing to put a lot of money down the minute a new game hits the market, and that says something.
But there are even more significant metrics to calculate a game's influence.
While the previous edition of the game, Black Ops 2, broke the $500 million mark in just 24 hours, this edition took 3 days to reach that mark. Yet, Black Ops 3 represents the highest 'engagement per player' - basically amount of time a player spends playing the game - in the franchise's history.
And that metric is probably the holy grail of the business.
Michael Pachter, Wedbush Securities analyst, says Black Ops 3 is on track to sell 22 million copies a year. It's up 20% over last year's Call of Duty: Advanced Warfare sales (which wasn't produced by Treyarch).
Digital sales have helped this edition -being able to pay, download and start playing in real-time now has twice as many takers as the last edition. So far upwards of 75 million hours have been played by gamers worldwide.
For non-gamers, it's inexplicable. To those addicted, it's the best 75 million hours the planet has spent on anything.