The biggest battle in tech: Meerkat & Periscope are fighting to put you on air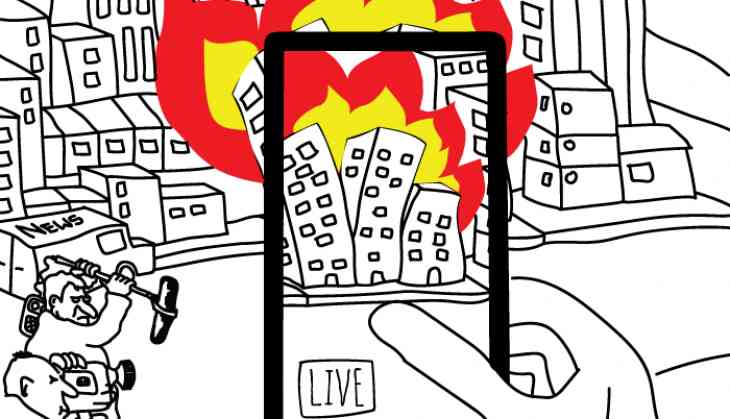 Think of it as the Glastonbury of tech. SXSW, the cult gathering of film, music and tech professionals in Austin, Texas is an unofficial hunting ground for what influential geeks will obsess over next. This year there was a clear winner starting day one.
Naming a livestreaming video app after a tiny, highly social, curious member of the mongoose family is only part of the genius. Meerkat's real breakthrough is that it lets anyone broadcast videos to their Twitter followers from anywhere, with nothing but a phone and data network.
Suddenly, sessions attended by a dozen people were being streamed to the social feeds of thousands. Panelists were aiming their phones and getting on stage. Two BBC journalists based in the US, David Botti and Franz Strasser, livestreamed the Ferguson protests instead of just reporting them. Talk-show host Jimmy Fallon started streaming rehearsals of his show. Madonna shared green-room prep for a show.
Fierce competition
Twitter took note, went shopping and came back with Periscope, their very own livestreaming high-achiever. It quite literally exploded onto the scene on March 26, the day it went live, when dozens of New Yorkers used it to broadcast a building explosion on the city's East Side before news media arrived on the scene. Disaster, it turns out, has a great sense of timing.
Even before the Meerkat vs Periscope rivalry has had a chance to kick into gear, a new upstart has hit the scene: Delhi-based InstaLively. Unlike the other two iOS apps, this one's for Android. It offers HD streaming and syncs directly to YouTube, also unlike the other two.
And it works inline across all social media platforms - meaning you view a link wherever you are, on Facebook or Twitter, rather than being taken away to an external app - seriously upping the ante. Going by initial traction (InstaLively has already been used to stream 30 events from art to corporate), the streaming wars have just begun.
Even in a hyper-excitable tech world, the reaction to Meerkat has been explosive. It's not just what's possible; it's the ridiculous ease of it
Ironically, we're now fighting for a slice of the pie that we thought was dystopian less than 20 years ago: back in 1998, Jim Carrey starred in a film where his daily life, his job, relationships, emotions, were on live display 24/7 for the world to see. His world was quite literally a stage, and he didn't know it. The film - The Truman Show - ended with a sombre warning about the fundamental immorality and invasive nature of such exhibitionism.
Sharing is normal
Today, sharing is neither new nor news. Facebook, Twitter and Snapchat have turned exhibitionism into a voluntary art where we, unlike in Truman's world, certainly don't want the cameras hidden. Suddenly every user - potentially every human being with a smartphone and internet connection - can be a broadcaster.
Even in the hyper-excitable tech world, the reaction has been explosive. It's not just what's possible; it's the ridiculous ease of it. You fire up the app, point your device in the direction of what you want to stream, and hit go. The app generates a Twitter alert that you're now live, and any follower who happens to be online can click and start watching. The apps have strikingly different interfaces and a few different functionalities but the core of what they do is the same: let your social feed see everything that you can see.
Inane uses are inevitable, video selfies are likely to become a thing and bandwidth may soon be a global crisis. But already, creative uses are emerging. Hachette and Twitter, for instance, partnered to create #WhereIWrite, where well-known authors livestreamed what and where they were writing, letting readers experience their environment, not just their words.
Content without context
The options are seductive. Watching a protest as it unfolds, unscripted and uncensored. Being a part of your favourite designer's Fashion Week show with a front-row view. Feeling the adrenaline rush of a roller-coaster from the ease of your couch. The possibilities for disintermediation, for a sense of inclusion, for being quite literally in the moment have been thrown wide open.
Except mediation is a fundamental part of the human experience. We can't know the meaning behind events without analysis. We can't always understand the complexity of what we're seeing without context. Disintermediation has a price, and the price is too often chaos.
When everyone is a broadcaster, the need to make sense of it all may well have been surrendered to the gratification of being there. Whether gratification is the primary master we want to serve is what we have yet to ask ourselves.