Samsung Gear S3 review: Mighty impressive, but wait for the next edition of smartwatches instead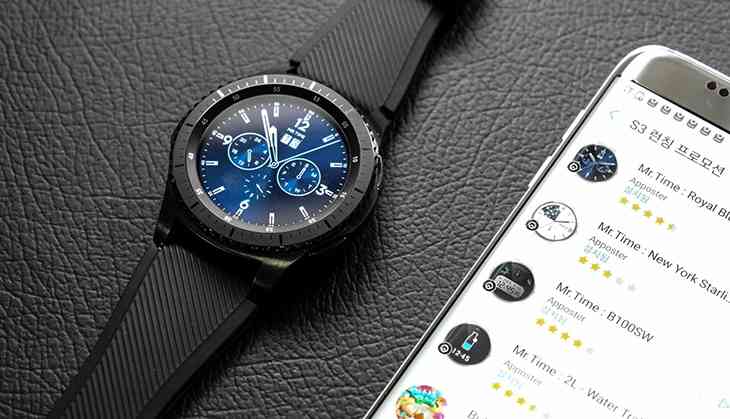 Have you ever considered buying a smartwatch, seen someone wearing a smartwatch, or just know what a smartwatch is? I'd be willing to wager a bet that for more than 90% of people reading this article, the answer to most, if not all those questions is no.
Before I got the Samsung Gear S3 Frontier for review, I had never even thought that such a segment of technology should exist. In fact, last September, when I visited friends in New York, I was gifted an Android Wear LG smartwatch. Upon leaving, I left it behind. Not once did I think to ask him whether or not I had left it with him. It's just a device which such little utility I never felt the need to have it.
Now, after almost a month of using the Gear S3, I'm glad I've been proven wrong. Don't get me wrong, I'm not wowed enough to go out and buy one at an asking price of Rs 28,500, but I'm definitely sold on the concept of a smartwatch.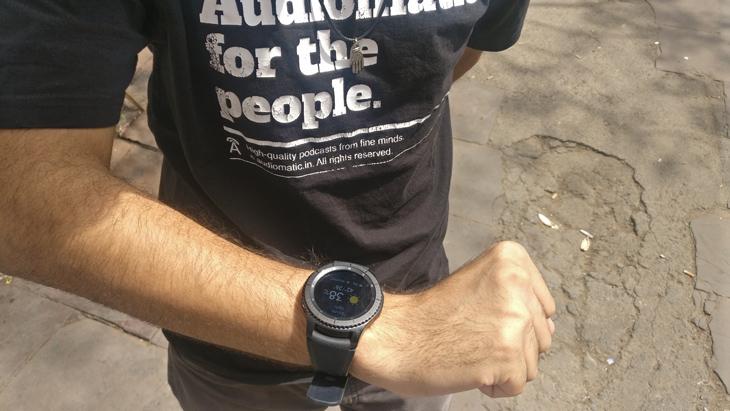 Manas Gurung/Catch News
What the heck is a smartwatch?
Before I get into the actual details of the watch, let me introduce you to what exactly a smartwatch is. A smartwatch is a glorified watch, worn on the wrist, that can tell the time as well as connect to the internet. The latter is crucial for the watch to be considered 'smart'. It's also an extension of a smartphone. They're companion devices or add-ons to the smarter device in your pocket.
These smartwatches connect to your phone via Bluetooth and leverage the smartphone's internet for things like GPS, weather, and more.
Specifications are even more useless in a smartwatch than in a smartphone. The market hasn't evolved much for the difference between Samsung's Gear S3 and Apple's Watch Series 2 to come down to how much RAM is inside or how much storage is on board.
What sets the Gear S3 apart?
Gone are the days of square, bulky and mostly ugly smartwatches. In comes Samsung's Gear S3 frontier with its rotating bezels (that set it a class apart), its fully rounded display, and even an OS that makes sense in a smartwatch.
Samsung has managed to make a smart looking watch and that's something we can't really say about other smartwatches on the market. It's a marvel that is super comfortable and truly deserves a spot on your wrist.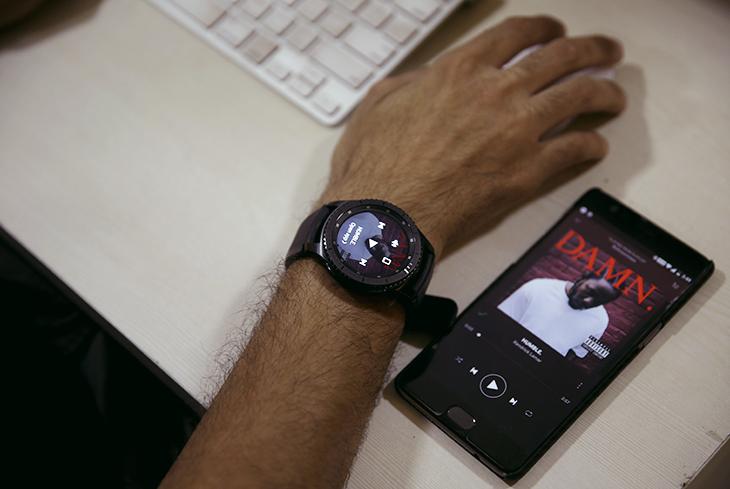 Manas Gurung/Catch News
Samsung's new Frontier
It's safe to say that Samsung is the largest Android-based smartphone manufacturer in the world, and dipping exploring new frontiers isn't uncommon. After all, it does want to expand its revenue and find ways of getting new consumers on board.
Samsung's Gear S3 may look bulky and not feel like a watch you're used to wearing, but trust me when I say that the smartwatch is comfortable to wear. You get used to it within a day, and you never feel like taking it off. It's also large enough that you never forget that you're wearing a smartwatch - as is sometimes the case with fitness bands.
Samsung's made this smartwatch dust and water resistant, and one can pick from 15 different preloaded interface designs.
The right side of the smartwatch has two buttons - the upper one is a back button, while the lower one is what one would all a home button. The 1.3-inch super AMOLED display has colours bright enough to really pop.
There have been enough scenarios in which I haven't had to pull out my phone even once, unless absolutely necessary, but relied on the watch instead.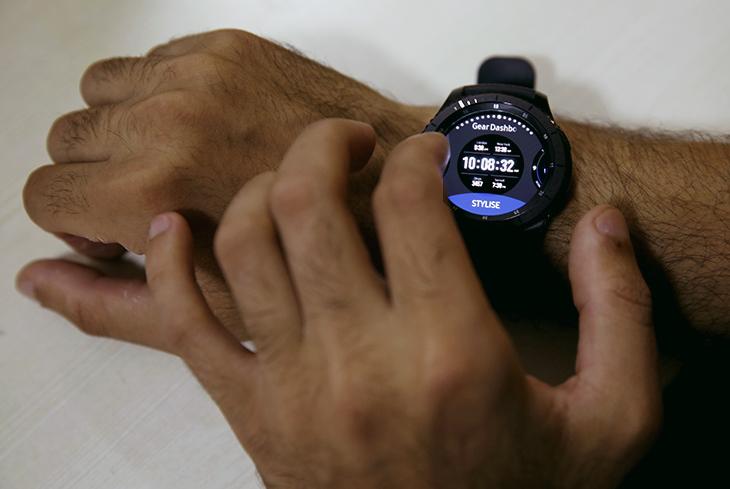 Manas Gurung/Catch News
Hit and miss on ease of use
Just raise your wrist and turn the watch towards your face and the smartwatch is supposed to light up. It's that easy, or maybe not. However, despite using the smartwatch for more than two weeks, I could not master this feature. More often than not, the watch would still show a blank face and I'd have to manually hit one of the two buttons to turn on the screen and check the time. A small annoyance but a crucial one.
What was easier to do was to turn off the screen of the smartwatch. Just cover the face of the smartwatch with your palm and it goes dark. It's really that simple and this is one thing you just cannot mess up.
Rotate that bezel
The one thing that impressed me most about the smartwatch was the addition of the rotating bezel. Rotate to the left and you can see all your notifications without the need to go digging into your pocket for that bulky phone. Trust me, you'll free up your mindspace, your vision and your hands.
Rotate to the right and you can see all the widgets present on the smartwatch, from world clock, to music and fitness features.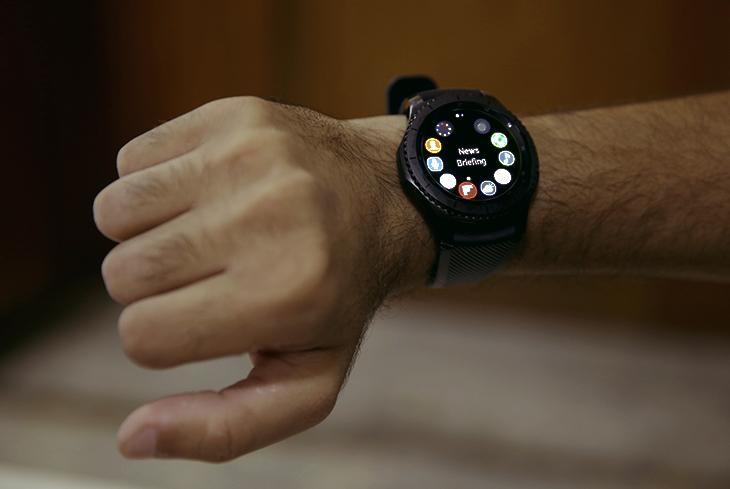 Manas Gurung/Catch News
Call from a smartwatch?
Yes. Samsung's Gear S3 Frontier is fitted with both a microphone and speaker and call quality is superb. Outside and in a crowd of maddening people, you'd have to crank up the volume. Even at full volume, you might not be able to hear. The Gear S3 wasn't meant for calling and what you get is an added bonus.
Tizen OS
The built-from-scratch Tizen OS is a pleasure to use on this smartwatch. The spinning bezel backs up the OS very well. Spin it around, give it a whirl and it's such a pleasure to use. Ease of use gets major thumbs up from me. It's snappy, super responsive and not power-hugry.
The only downside is the lack of dedicated apps for the OS, but as smartwatches evolve, so will the apps that come with them.
S Voice
Samsung may have announced Bixby, it's new virtual assistant, a la Apple's Siri or Microsoft's Cortana, but that is exclusive for their flagship device, the Galaxy S8. What you get on the Gear S3 is Samsung's old S Voice that isn't intuitive enough and can't comprehend many different accents. Theoretically, it can send emails, call someone, check the weather, and so much more. In reality, this fails more often than not.
Talking into your smartwatch may seem awkward at first, especially if you're walking down the streets, but master it and you could save yourself from even having to look at your phone once throughout the day. Hopefully, the next version of this smartwatch has a fully functional version of Bixby.
NFC, Bluetooth, Wi-Fi and contactless payments
Yes, Samsung has managed to squeeze NFC, Bluetooth, Wi-Fi,and contactless payments into a device that is quite tiny. If you're going for a run, or just a quick errand in the market, you may not even need to bring your phone along. That, my friend, is something to consider.
Manas Gurung/Catch News
A dinner, a movie and driving around New Delhi
As I mentioned above, there were multiple scenarios in which I was more than glad I had the metal smartwatch on my wrist rather than my old analogue Titan.
Firstly, I was out reviewing movies. Usually, if my phone beeps more than a couple of times in a space of a few seconds, I take out my phone, quickly see if it's important and I put it back in my pocket, so as to not disturb the viewers next to me. With the Gear S3, I just had to turn my wrist, glance for a second and go back to watching the movie. Safe to say I wasn't at all distracted and didn't miss out on anything important on screen.
Secondly, while having a large dinner with friends at home. Not once did I check my phone, except to check what movies some Bengali actor acted in. I merely glanced at my smartwatch a few times to see if someone important work mail had arrived.
Thirdly, and the most important scenario, was when I was driving down the streets of New Delhi. In traffic, of course. Usually, when one approaches a red light/finds a relatively empty road, they use that time to check their smartphones, respond to SMSes, make a few calls, and check the score of the latest IPL match. With the smartwatch, I didn't have to take the phone out of my pocket. ESPN Cricinfo sent notifications of every wicket and score update and all I had to do was take a glance at my smartwatch for a second. My mom called a few times and I answered for merely ten seconds, from my smartwatch, enough time to tell her I was on my way home.
I could go on and on about how many times I've not needed my phone, but just the fact that I didn't need to use that bulky piece of plastic and/or metal, as many times as I used to, was quite a relief.
Four long days
The battery of the smartwatch brought with it dual benefits. In my usage of the smartwatch, there was hardly a time when the Gear S3 died before the fourth day arrived. Since, as I mentioned above, I didn't have to take out my smartphone, turn on the screen and use it, the battery life of my smartphone that accompanied the smartwatch also increased.
That was a breath of fresh air as plugging in the device - smartphone or smartwatch - and charging it causes it to heat up. Since I didn't have to charge it often, it didn't heat up often, therefore extending the life of the gadget.
Connectivity issues
One thing that let me down was connectivity vis-a-vis the smartphone and the smartwatch. More than once in my testing, the smartwatch would disconnect from the smartphone, especially if I moved more than a few metres away from the smartwatch.
On the second to last day of using the watch, the smartwatch disconnected entirely from the smartphone and I was told to 'reset' the smartwatch to get it running again, something no one wants to be told!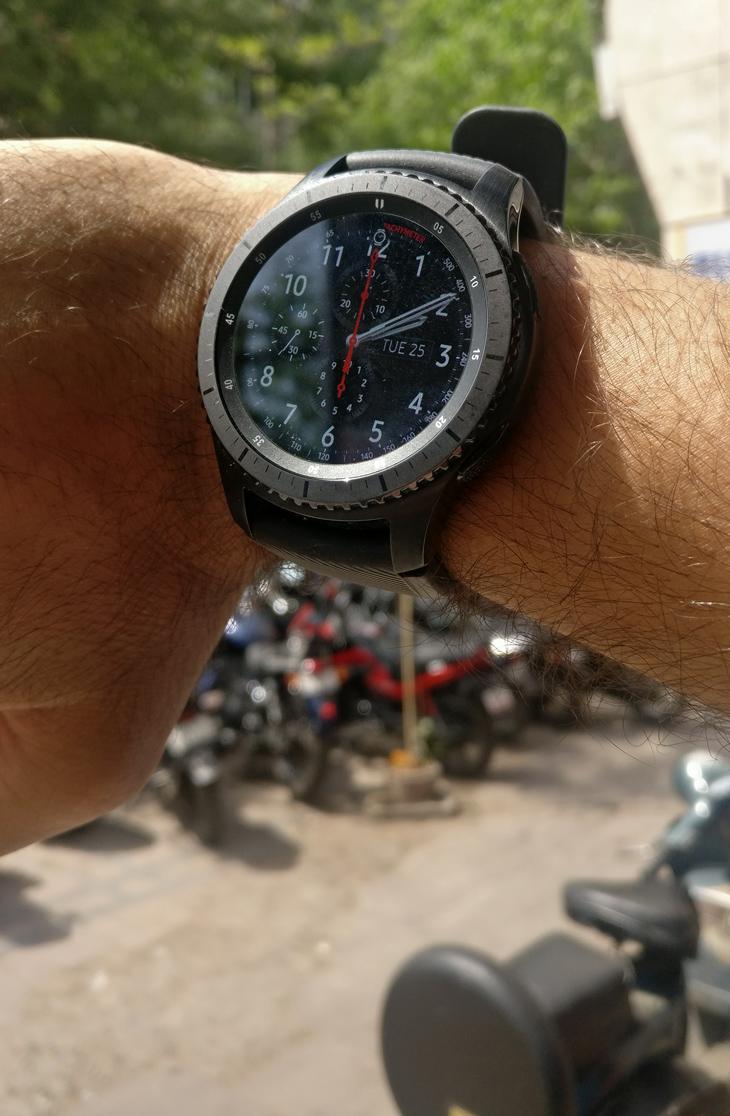 Sahil Bhalla/Catch News
Leaves a lot to be desired
The Gear S3 smartwatch might just be the best smartwatch out there, but even that is not enough for me to go out and buy one. While I'm impressed with smartwatches in general, I'm not convinced enough. Smartwatches have given me a lot of scenarios in which I'm happy I have one, but at an asking price of Rs 28,500, it's a little bit too steep.
Maybe the next generations of smartwatches - in which I could do even more - would be for me. It's not enough to be a full-fledged fitness app, it doesn't have enough apps for the casual user, and iPhone users will feel left out.
If you're in the market for a smartwatch, wait for the next round of launches, probably end 2017 or early 2018. If you absolutely can't wait to buy a smartwatch, then and only then get the Gear S3. If you're an Apple loyalist, then I'm sorry, but you're completely out of luck, my friend.