Samsung Galaxy C9 Pro review: A phablet for Netflix binge-watchers alone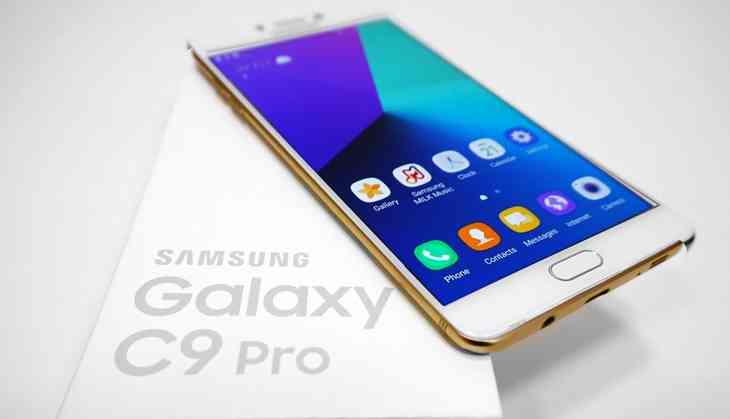 Samsung, of late, has been pretty consistent with its smartphone offerings across different price brackets.
There is the J-series 30 (around Rs 10k) A-series (around Rs 20k), C-series (around Rs 30k) and the S-series (around Rs 60-70k). Launched last January was the Galaxy C9 Pro, Samsung's mid-range phablet offering. Priced at Rs 31,900, this phone is priced higher than the OnePlus' OnePlus 3T, Xiaomi's Mi5 and offerings from Lenovo such as the Moto G5 Plus.
Can the C9 Pro hold a candle to its competitors? The short answer is no, but, if you want to watch Netflix on the go, the C9 Pro is a great portable option that will suit your entertainment needs, whether you're in the car or retire to your bed after a long day.
Two people told me they used Motorola's Moto G Turbo for Netflixing and to one of them I simply shrugged and said, "upgrade to the Galaxy C9 Pro". The C9 Pro, the mid-range big brother of the Galaxy C7 Pro, is not for one-handed usage.
Let's dive into a full breakdown of why I think so:
Specifications
I know there are some of you who still care about the performance of the phone on paper. Hence I'm going to start off with that, albeit briefly.
The C9 Pro comes with a 6-inch Full HD SAMOLED display. It's got a Snapdragon 653 processor under the hood coupled with 6GB of RAM. There's 64GB of storage (expandable via SD card) and a 4,000 mAh battery.
The rear-camera is 16-megapixels and the front-camera is also 16-megapixels. It's Dual-SIM, just like most phones launched in India are. Finally, and the most disappointing of all, is that it runs Android Marshmallow 6.0 and not Nougat, even five months removed from its launch date.
Luckily though, there is a Type-C USB charging port. It's got a single bottom speaker along with a headphone jack and antenna bands on the top and bottom of the phone's rear body.
Design & display
The Galaxy C9 Pro has a matte-finished metal shell and slick glass front with the metal wrapping around the sides.
The glass on the device has round edges, something that isn't unique. The rear-camera juts out a little bit. On the left side are the volume rockers and the power button is located on the right side.
The Galaxy C9 Pro is not a light device. It comes in at about 190g and does drag down your pocket. The front may seem large, but keep it next to an iPhone 7 and you'll notice it's almost identical in size.
The phone is quite a looker when taken out of the box but with just a week's usage under its belt, that begins to wear off.
The gold version isn't as stunning as the black unit. What does shine through - and something you can always say about Samsung phones - is the stunning 6-inch SAMOLED display. That was a treat to use whether it was day or night.
It's a rich and vibrant screen with colours shining brightly. After having watched n amounts of YouTube and Netflix videos and I found it to be really pleasing to the eyes.
Viewing angles are good as well. In a fairly crowded metro, more than a few people were constantly peering in comfortably while I watched offline YouTube videos.
Even under the harsh sunlight, this performed admirably well. In fact, my daily driver, the OnePlus 3T was no match to the Galaxy C9 Pro in the display department.
The lack of a dual-firing speaker is a miss, especially considering the fact that watching videos is the number one thing you're going to be using the phone for.
Performance & Battery Life
With 6GB RAM and a capable Snapdragon 653 processor, the phablet handled gaming with ease, despite getting warmer than usual.
Multi-tasking, albeit a tad slower than my OnePlus 3T, was good enough for daily usage. The general performance will not blow you away and will occasionally annoy you with stutters and freezes, but on a day-to-day basis, should hold up well.
With moderate-to-heavy usage, the 4,000 mAh battery performed excellently, giving about one and a half days of usage. Couple that with quick charging and you're good to go for taking this with you on a vacation.
It takes about 100 minutes or so to charge from near-dead to fully-charged. It's not the best in the business, but still, with a 4,000 mAh battery, it's quite impressive.
What disappointed me largely was the fingerprint sensor. That provided less than ideal performance. The sensor doubles up as a physical home button.
The fingerprint sensor was off more than half of the time, either not recognising my finger or taking ages to unlock and open the screen. At times, it was so inaccurate that I had to switch to pattern unlocking for a period of time.
Again, and I reiterate this, heating is an issue. Not just while gaming but when watching videos for long periods of time. Even when just kept on the table in or taken out for a brief period, it can get warmer than usual.
Camera
The cameras - both front and back - didn't impress me at all. The camera app has a good, clean layout, but that doesn't matter if the pictures that come out aren't very good.
It may also be quick to lock the focus and have minimal shutter lag, but a lot of the photos were washed out and just not worth sharing on social media, especially in low-light. On the HDR mode though, the colour reproduction was accurate and the detail was there, but that was when the lighting outside was good.
Simply put, in ideal conditions, the phone's rear camera will perform well. In less than ideal conditions, the camera is a miss.
The front camera impressed me even less. The pictures that came out were less than desirable even with the beauty mode turned on. There was a noticeable lack of sharpness, even for objects close to the camera. I expected a much better camera at this price point.
Software
Launching a phone in 2017 at this price range without Nougat - the latest Android software - is a sin. Samsung has put Android Marshmallow 6.0 on this phone with its own custom UI.
Considering the price range, we expect Samsung to be putting out a software update in the next few months, but given that it's already June, we don't know when that will happen.
Samsung's customised UI is pretty simple to use and looks elegant. They've integrated Flipboard which is definitely a plus, especially for news junkies like me.
The Galaxy C9 Pro's always-on display mode works like a charm. You can see the time, calendar and battery life along with icons for missed notifications, which also saves battery.
What's not good
Fingerprint sensor
Camera performance
The single bottom speaker
Heating
No Android Nougat
What's good
SAMOLED display
Battery life
Multi-tasking
Gaming
Type-C USB charging port
Samsung's custom baked UI
Verdict
The Galaxy C9 Pro is the big brother to the Galaxy C7 Pro (a smartphone that I've come to fall in love with, and one that you'll be hearing a lot about in the next few days) and is way overpriced for what it delivers.
Samsung's Galaxy C9 Pro is aimed squarely at phablet lovers and those who consume a lot of media. In that regard, the phone performs admirably well and that display is unmatchable in any phone under 35k.
When you look at the price tag, camera performance, multi-tasking and more, you get other phones that provide a more rounded package. Just take a look at the OnePlus 3T.
Besides the screen, the OnePlus 3T is the better option, as it outperforms the Galaxy C9 Pro in the camera, multi-tasking and loudspeaker categories and performs equally well in the battery life department.
What the Galaxy C9 Pro gives you is a gorgeous display and a rock solid design and build (something that won't break easily) along with over a day's worth of battery.
If Netflix is your number one app by far, then I'd recommend this phone over anything with a smaller screen. Yes, even over the OnePlus 3T.
If you have other diverse needs, the OnePlus 3T, and even phones like Mi5, Moto G5 Plus, Honor 8, can provide much more balanced performance and value-for-money. The Galaxy C9 Pro just doesn't have enough going for it to justify its hefty price tag.
Samsung's sheer brand power will ensure that this phone performs well enough for the company in the coming months. If you're a Samsung lover, I suggest you take a look at the C7 Pro that is cheaper, even more gorgeous, and provides a much better overall performance.