Lenovo K6 Power review: The 'dabba phone' that's super impressive
"Yeh phone to chhota dabba hain" (This phone is a tiny box) exclaimed a fellow passenger on the metro upon seeing the Lenovo K6 Power in my hand. Despite acquiring Motorola back in 2014, Lenovo has done nothing to stop the barrage of new Android smartphones being launched under its own brand name.
Lenovo launched the sub-10,000 rupees smartphone back in November, and four months later, the phone still holds up to the competition. With this phone, Lenovo tried to 'break' away from the trend of smartphone makers opting in for bigger displays. The K6 packs in a 5-inch display compared to the popular 5.2-inch or even 5.5-inch available in most competing devices these days. Just in case anyone wanted the larger screen, Lenovo did release the K6 Note, albeit at a more expensive price.
Previously, opting for a smaller phone meant having to deal with smaller internals. Not so much anymore. The K6 Power has the exact same 4,000 mAh battery as its big brother, the K6 Note. That's where the 'Power' in the names comes from and Lenovo, on its part, claims two days of battery life with this device.
At this point in its lifespan, the K6 Power has some sturdy competition as budget phones have come a long way in just the past year or two. Some of those are Xiaomi's Redmi Note 4 (Rs 9,999), Meizu M3S (Rs 9,299), Moto G4 Play (Rs 8,999), Moto G Turbo (Rs 9,999) and Samsung On7 Pro (Rs 9,190).
Sahil Bhalla/Catch News
Who cares about specs
Yes, that's right. Not a single person, except those tech aficionados, cares about the specifications about the phone. If the look and feel is good, there's an audience out there.
If the camera takes good selfies, there's that whole other audience. If it's available offline, there is a distinct market ready to purchase the device. Nonetheless, let's inform all those reading this review about the specifications.
It's got a Qualcomm Snapdragon 430 under the hood along with 3GB of RAM and 32GB of storage (expandable up to 256GB via microSD card). It's got Android Marshmallow (not Nougat) out of the box and a 13MP rear-facing camera coupled with an 8MP front-facing shooter. It's also got a fingerprint scanner on the back (not many budget phones can claim this feature).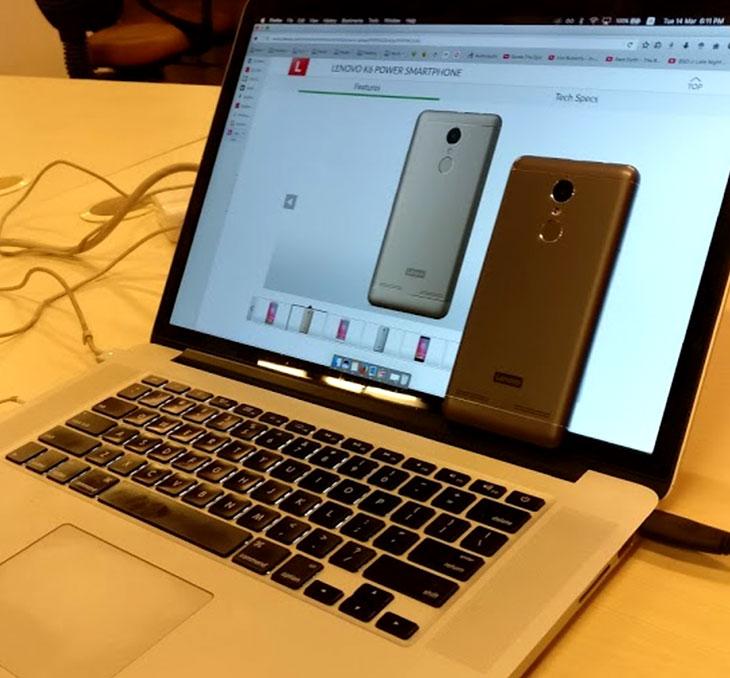 Sahil Bhalla/Catch News
Slow-burn charge and misfiring camera
There is one crucial feature missing from the phone. With a big 4,000 mAh battery inside the phone, you'd expect it, in this day and age, to support fast charging, but no.
Lenovo decided to forgo this feature and that means a good 2 and a half to three hours to go from 0% to 100%. A frustrating three-hour journey. Still, I guess not many would complain when the phone gives you two days of standby time.
Beyond that, there is a distinct lack of slickness on the phone when launched. It has Android Marshmallow and not Android Nougat and that means the phone isn't optimised as best as it can be. There is also that lack of attention paid to the rear-facing camera. It's mediocre and could turn into that one shortcoming that brings the phone down.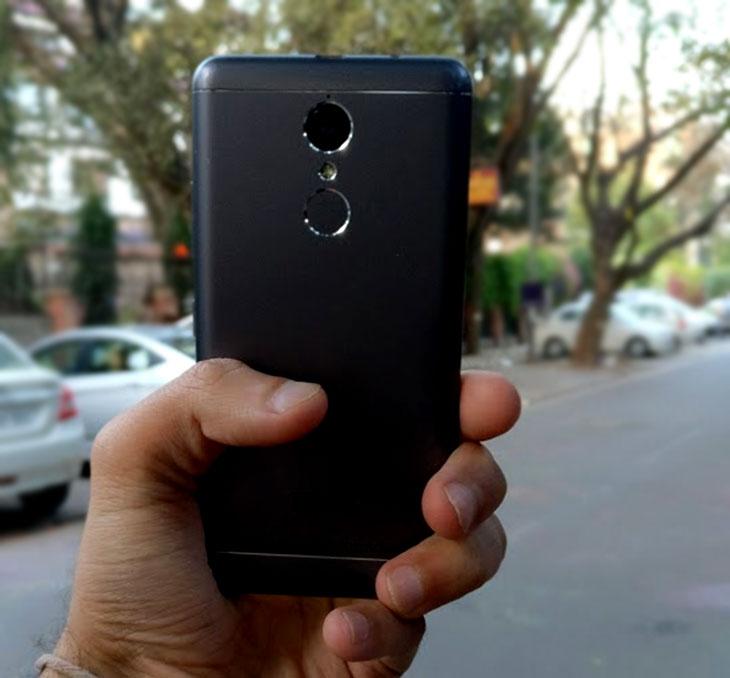 Sahil Bhalla/Catch News
Box-y looks
After the person on the metro passed the comment on the phone I was using, it began to dawn upon me. Somehow Lenovo seemed to miss the boat with its design. It's a box. It definitely feels like one.
It may look better than the combination (that dark/grey combo works really well) but once held in the hand, it won't be exciting to anyone. The K6 Power offers a metal body with slightly curved edges (pretty standard nowadays) and one that is comfortable to hold. The phone is neither good to look at, nor can it withstand tumbling out of one's hands without a nick here and there.
There is the odd placement of the charging port, one not seen in almost all the phones out there. The non-USB-C charging port (it's the old fashioned Micro-USB port) features at the top of the phone, and not at the bottom as in most other phones. It's right there next to the 3.5mm jack and that poses a problem. Some earphones/headphones with their bulky cables cannot be used while the phone is being charged.
On the front, its the lack of any sort of backlight on the navigation buttons that sets this phone design back a couple of years. Lastly, though the phone has stereo speaks certified by Dolby Atmos, it's the placement of them on the back that is most odd.
Place the phone facing up on a table and the speakers instantly play muffled sounds, not something you want to hear. Turn it over and you almost always miss the incoming notifications.
All that being said, the Full HD 5-inch LCD display has very good viewing angles and a healthy pixel density of 441ppi, making it a delight while consuming media on the device.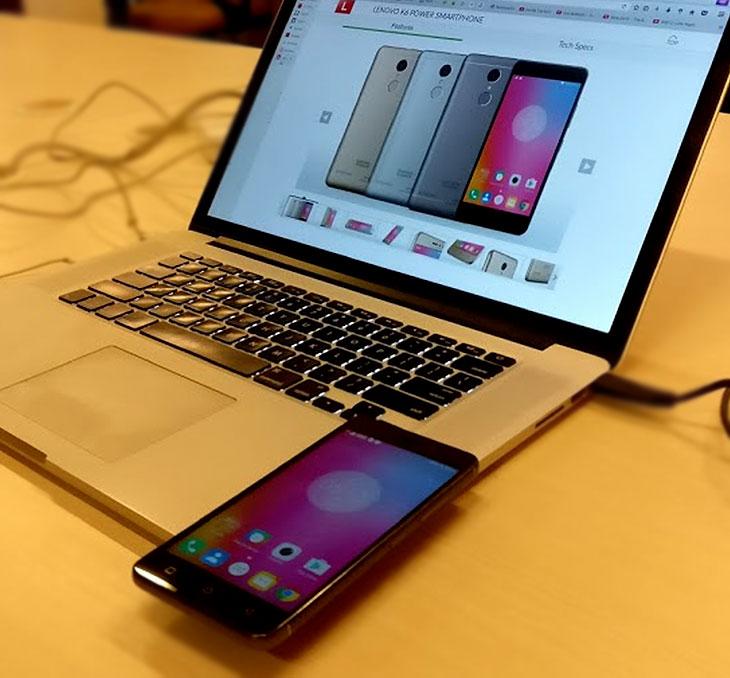 Sahil Bhalla/Catch News
Blazing performance
The hardware under the hood is more than enough for most to have an experience most competitors cannot claim to have. Its blazing fast performance makes for a seamless time using the phone.
While the phone doesn't have Android Nougat, it doesn't even have Vibe UI. While the former is a software update away, it's the latter that is a pleasant surprise. Lack of Vibe UI means that the phone comes close to being stock Android. Lastly, with much less bloatware on the phone, using the phone is just the experience you'd expect in 2017.
The four downsides
The K6 Power may be a near-perfect budget phone but it lacks in three departments - scrolling, camera and gaming.
Scrolling: For whatever reason, Lenovo decided to mess with the default Android scrolling behaviour. Lightly scroll down a page and it'll soar through the page or whatever content is currently on the screen. This can be a major pain in the ass when one is reading any kind of document or an article on the web.
Camera: It's got a mediocre camera and not even the neat camera app can fix that. It's strictly okay for those Instagram posts one wants to make. It's worse than average if you want to take a selfie to set as your dating app profile picture. It's the worst when you want to send a close friend of yours that selfie from the comfort of your bed.
Gaming: Need For Speed. The game that has been paramount in all my phone reviews, thanks to a colleague's obsession, largely disappoints. It's sluggish, it hangs and it just isn't fun accelerating that car to toward the finish line.
Earphones: Using a brand new set of SoundMagic earphones and the audio quality was unremarkable and that's a shame.
Outshining the competition
Despite those downsides, this is a phone that clearly outshines its direct competition. It's got a big battery to boot, above average sounding stereo speakers (this was a major surprise), blazing fast performance, it has metal body that feels good to hold and those extremely good viewing angles on the display.This is a phone that easily challenges those phones even in the Rs 15,000 price bracket.
This is a phone that easily challenges those phones even in the Rs 15,000 price bracket. You may say that the Redmi Note 4 has a better design or the Moto G Turbo has the fast charging. You may even say it's worth spending a few extra thousand rupees and getting the Moto G4 Plus with its extremely good camera but no. The Lenovo K6 Power is a phone with a lot of heart and very good value-for-money.
You may say that the Redmi Note 4 has a better design or the Moto G Turbo has the fast charging. You may even say it's worth spending a few extra thousand rupees and getting the Moto G4 Plus with its extremely good camera but no. The Lenovo K6 Power is a phone with a lot of heart and very good value-for-money.
Should anyone buy it?
Yes, absolutely. The budget smartphone market is extremely crowded and I can safely say that Lenovo's K6 Power is a head and shoulders above the competition. It's a phone I didn't think I'd necessarily like when I took it out of the box, but two weeks of using it and I'm astounded by how much it delivers upon.
It's even ahead of the recently launched Redmi Note 4. Lenovo is selling the phone as a multimedia powerhouse and that's exactly what it delivers upon. The only reason to buy any other phone is if you are craving a larger-screen smartphone. If you're craving Instagram-worthy photos then you shouldn't be buying this phone. Despite the camera being its Achilles heel, this phone is one that should be in the hands of many.
One may recommend Xiaomi's Redmi Note 4 as it has better specifications on paper and an edgier design, but overall, the Lenovo K6 Power is a powerhouse for its price bracket and one can even bypass the internet and go directly to a store and purchase it. Something Xiaomi cannot claim. What remains to be seen is just how good Lenovo's other phones, Moto G5 and Moto G5 Plus turn out to be. They launch on 15 March.
Bottom line: If you want to buy a sub-10k phone, then the Lenovo K6 Power should be your only option. It's a solid recommendation from me.