JBL E45BT Review: An excellent value for money entry point into the wireless on-ear headphones market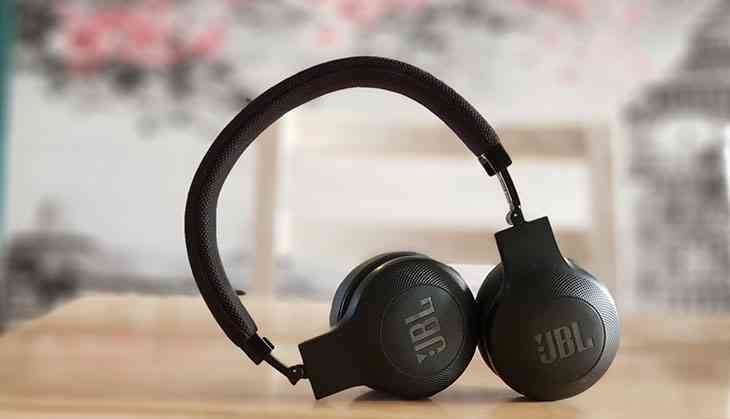 (Sahil Bhalla/Catch News)
It's always been the case that wired headphones have been better than wireless headphones. The conventional wisdom is that wired headphone users don't have to worry about battery life and they boast of better sound quality. It's 2018, and that isn't the obvious case anymore. Smartphone makers have been taking the bold decision of removing the headphone jack from their latest smartphones. That move has propelled companies to come out with wireless headphones.
In comes JBL with their range of Bluetooth headphones. I've had the pleasure of using their mid-range on-ear wireless headphones, E45BT, for about a month. These Bluetooth headphones launched in October of 2017 at Rs 6,499 and today can be found for as low as Rs 5,991. They may not be the most affordable on-ear wireless headphones, but it isn't the most expensive either. It is probably the most reasonably priced on-ear headphones in the market today.
Sahil Bhalla/Catch News
On-ear headphones are more expensive than in-ear headphones. On-ear headphones sit on top of your ears, rather than in them. The JBL E45BT is suitably padded for comfort. They are one of the most comfortable mid-range headphones. The E45BT headphones have a trick up their sleeve. For those of you that don't want to go the wireless route just yet, these come with a cable for wired listening. They're one of the most bass-forward sound signatures out there.
Before I go into a little more detail about them, let me just point out one thing I definitely didn't like about them. Despite their comfort levels being quite high, the E45BT headphones focus on quality over design. The one design flaw is that they constantly feel like they're going to fall off my head while I'm listening to music. Any movement of my head and the headphones start shaking.
JBL E45BT
The JBL E45BT headphones retain their compact look and feel and the earcups rotate and fold up nicely to fit into a small bag. The left earcup houses the micro-USB port for charging the headset. The right earcup has all the buttons - power switch, volume rockers, play, pause, call answer buttons, a 3.5mm jack, a microphone and a Bluetooth pairing button - one needs.
All the buttons are easy to reach and provide good tactile feedback. Overall, I'd say that the JBL E45BT has a premium feel to it and didn't feel tacky in any aspect. Whether I threw them in my bag or left them on the table, they still retained their look and feel, the next time I picked them up. The design felt solid throughout my usage.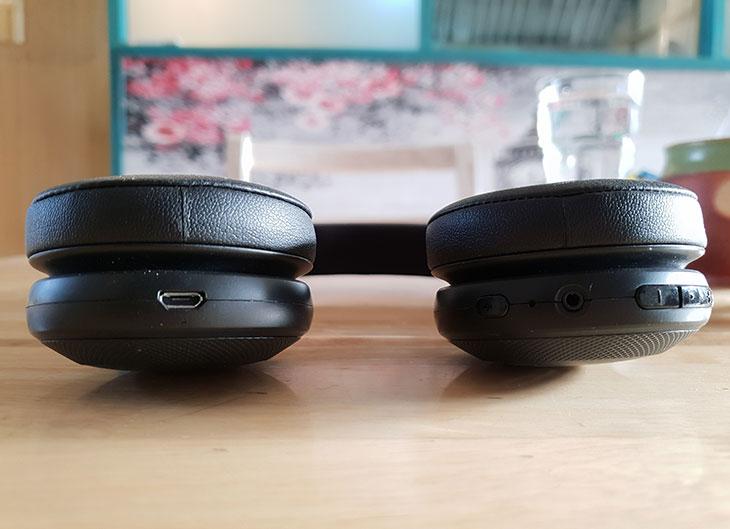 Sahil Bhalla/Catch News
To test out these Bluetooth headsets, I used a variety of Android smartphones. I tested out any songs in a range of genres - jazz, rock, pop & rap mainly - and found these to have great depth in the audio. The E45BT's use 40mm dynamic drivers and have a frequency response range of 20-20,000Hz. The Eb45BT uses Bluetooth 4.0 for wireless connectivity and the company claims it can last for up to 16 hours on a single charge.
In my four weeks of usage, I got slightly less battery life. The headset, on average, lasted about 12 hours. That's still quite good for a pair of Bluetooth headsets. To charge the EB45BT from 0-100%, it takes just about 70 minutes, using a regular smartphone charger.
The headphones provide a great punch and deliver on the clarity front. The one issue I found - which is the case with most wireless headphones - is that at volumes about 80%, there is a large amount of distortion and the clarity goes for a toss, no matter what song one is listening to. I listened to Kendrick Lamar's Humble, Make Way by Aloe Blacc and Santiago by the Preservation Hall Jaz Band and in all three of the songs, the distortion blew into my ears at near-to-full volume.
Since JBL focuses on mass market, their audio products cater to a whole variety of music. Therefore there is a lot of importance given to bass and treble. Sometimes the treble felt a little loss, but for a headset in this price range, that can be forgiven.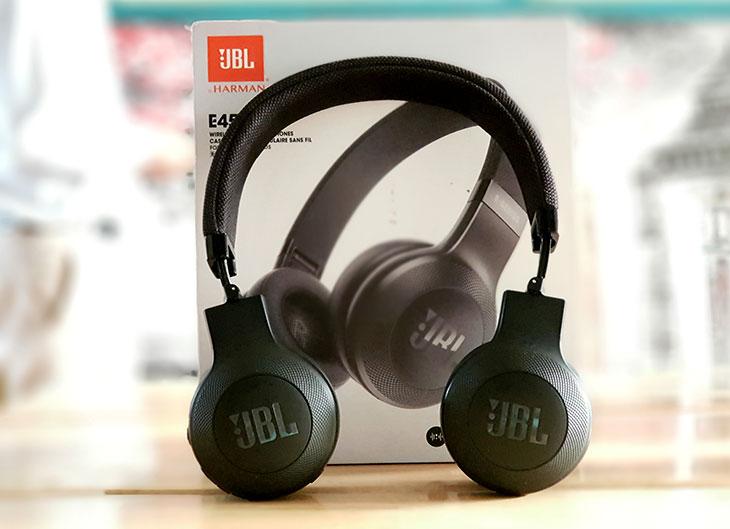 Sahil Bhalla/Catch News
The one area where the JBL E45BT excels is in instrumentals. Listening to Santiago (as mentioned above) and I could hear each and every instrument crystal clear. The beats were booming and it was a pleasure listening to the metro. They were loud and punchy and it's just entertaining to have these headsets on.
Netflix-ing with the JBL E45BT
Forget music. These Bluetooth headsets can rock out to Netflix as well. I watched a whole episode of Black Mirror and for the whole duration, I was lost in my own world. I was focused on the TV and barely could I hear a noise apart from the characters in the TV show. It can get quite loud without distorting the voices. The background sounds did go for a toss at volumes above 80% but that is to be expected. Still, the comfort level is quite high and one can keep watching episodes of any television show without getting tired.
Last but not least, these headsets do not sweat, and that is something I was surprised by when I first put them on.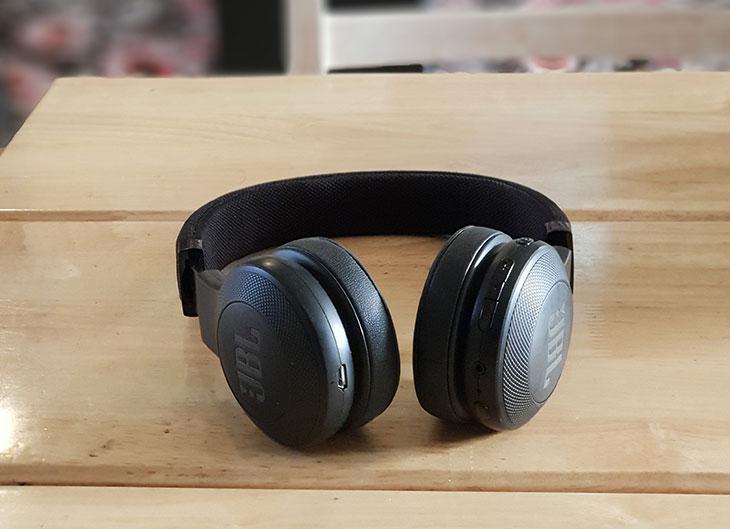 Sahil Bhalla/Catch News
Are they worth the price tag?
There's nothing major that one can complain about here. You can get the same level of comfort and sound quality in a much cheaper in-ear wired headset. Going for an in-ear wired headset means having to deal with tangled wires all the time.
On the other hand, there isn't anything special with these headsets. It's a bit too vanilla. It's not trying to push any boundaries. Saying that the JBL Eb45BT's are a reasonably priced entry into the world of wireless audio. That's what the market needs - a comfortable pair of cans that work as advertised - and JBL delivers on that front. More money can get you better audio quality, while cheaper means going for wired products.
I think JBL has hit a sweet price point with the JBL EB45BT and that will help it capture a good amount of the market. At Rs 5,991 on Amazon India (as of 30 April), these are a pretty good deal.
Sure, one could possibly find products from rival brands including Sony, Jabra and Plantronics, but you may not find the comfort level that you get with the JBL. I just wish they were more stable on my head and didn't often feel like they were falling off.
The JBL E45BT's are excellent value for money and even though they don't provide the richest sound quality, they get a thumbs up from me.