Hermes, Adobe, Ferrari: Apple's found some fascinating bedfellows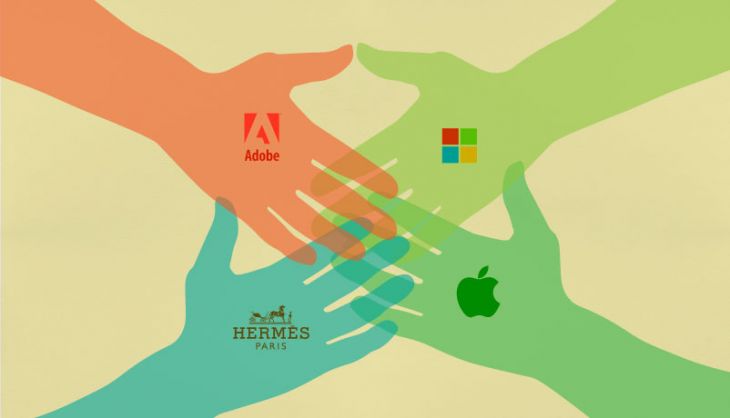 Year after year, we go into the fall season all prepared for the biggest - or at least the most highly anticipated - date of the annual tech calendar, Apple's September event.
But while this year's event was no different in terms of hype, there was one unusual thing at the event - and no, it's not the stylus.
On an evening when Tim Cook unveiled the iPhone 6S and 6S Plus; a new iPad Pro and a brand new Apple TV - the product that caught our eye was the Hermes Apple Watch Band.
This isn't Apple's first intriguing collaboration - the cult brand has a knack of forging unexpected partnerships, bringing in both friends and former enemies when the need strikes.
Here's a look at the company's most fascinating bedfellows:
It's the luxury design house that makes the world's most iconic, hard-to-access handbag, the Birkin.
A watch strap for an over-the-counter tech line, however cutting-edge, doesn't seem like their thing.
Yet, the Paris-based couture house that dates to 1837 has entered into a collaboration with the toast of the tech world, in what is Apple's first luxury-brand partnership.
A custom Hermes branded Apple watch face and three different styles of bands, handmade by Hermes in France, will be available. They won't come cheap - naturally - with prices starting at $1,100, making the bands significantly more expensive than the watch itself.
To say that Apple and Adobe have had a history of controversy would be an understatement.
Specifically, it involves the Adobe Flash Player and its use on Apple iOS devices. In a now iconic open letter written back in April 2010, 'Thoughts on Flash' Steve Jobs said he'd never use Adobe products on Apple devices for a host of reasons: lack of touch support, poor battery life, performance issues on mobile devices, and the fact that Flash is a closed system, among others.
In November 2011, Adobe announced that it was ending development of its Flash Player 'plugin' for browsers. Last year, Apple announced that they had come to an agreement with Adobe. iOS8 would be supporting Flash. Then at the Apple event, Adobe demoed their iPad Pro apps on stage, ending years of a face-off.
Apple and Microsoft have been at loggerheads ever since both companies entered the market three decades ago. Fans of each company are particularly bitter towards the other. Apple even had the famous 'I'm a Mac, I'm a PC' advert" that poked fun at Windows customers.
But at yesterday's Apple event, the two made peace. Under Satya Nadella, Microsoft's newest CEO, the company has been steering more towards software development than hardware.
That means collaboration.
Kirk Koenigsbauer, corporate vice president for Microsoft's Office division, went onstage during the Apple event to discuss Microsoft Office's role on the new iPad Pro.
As Fortune magazine put it, "Hell froze over in the tech industry after Apple invited a Microsoft executive to appear on stage at its latest event."
How many of us had heard of Beats before Apple paid $3 billion for it? Chances are a miniscule proportion.
Yet, the acquisition was Apple's largest since buying NeXT software in 1997 for $400 million.
The natural question was why: what made Beats worth that much money? The tech industry was as mystified - till the launch, earlier this year, of Apple Music. The reason for the purchase was three-fold - Talent, their Beats Music collection and great headphones (which has been a cause of major debate). And while it's early days for Apple Music, Beats Radio seems to be at the heart of the proposition, so the investment may well still pay off.
Interestingly, this is also the first time Apple will operate under another brand name. No other Apple offering carries a name other than Apple. A new era of collaborations and tie-ups in the offing?
05
Microsoft, Google, Mozilla and Apple - WebAssembly
Whenever there is a new standard on the Web, one browser maker or another convinces others to support it by rallying developer support. With WebAssembly though, there is an unlikely alliance that aims for a much faster experience on the Internet. Just a few months ago, Mozilla and Apple were duelling it out in the browser wars but now WebAssembly seems to have brought them together, along with the other two big browser makers, Microsoft and Google. The main aim of the alliance: faster Web apps.
In March 2014, Apple announced their iOS in the car project - the creation of a wireless in-car system called CarPlay that would put software into partner cars to do a host of different things including, obviously, play music from iTunes.
The surprise? The first three car-manufacturers to sign on? High-end automobile brands like Ferrari, Mercedes-Benz and Volvo! In fact as of date, the Ferrari FF - one of the priciest cars on the market - is the first and only commercially available vehicle in the world equipped with Apple CarPlay at the moment.
07
And the question mark: Tesla?
At one point in 2013, electric-car innovator Tesla was rumoured to be in sellout talks with Google.
Lately, though, those rumours have shifted focus to Apple.
Money, of course, is the least of Apple's concerns - it's sitting on just under $200 billion in cash, about twice the cash reserves the US has at its disposal.
One analyst has even bandied the (almost certainly crazy) figure of $75 billion for the deal, thrice Tesla's current valuation of $25 billion.
The reason this conversation seems at all plausible? Apple CEO Tim Cook's obsession with renewable energy - and the fact that Elon Musk is, to some, a natural successor to Steve Jobs when it comes to innovation.