Google goes the BHIM way, debuts payment app Tez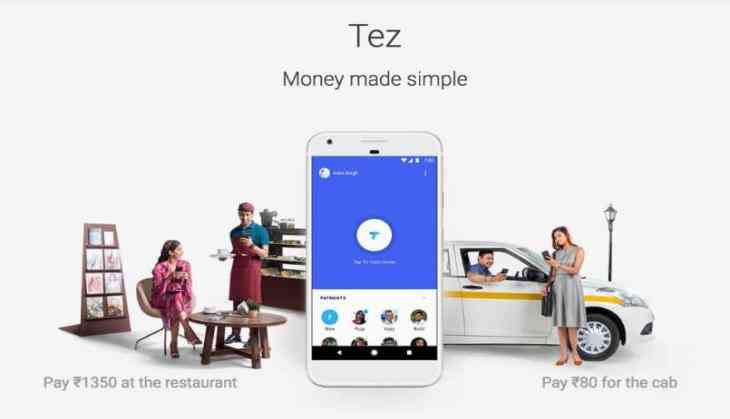 Despite the BJP government's claims of fostering a cashless economy through demonetisation last November, cash is still king in India. However, with India's payment industry expected to grow to $500 billion by 2020, Google has made a play in the cashless sector with its latest innovation – Tez.

At an event in New Delhi on 18 September, Google unveiled Tez, becoming the latest entrant in a league of companies capitalising on the ever-growing digital payments market. Tez (meaning fast), comes some eight months after Google CEO Sundar Pichai and Google's Next Billion Users programme head Caesar Sengupta met with Finance Minister Arun Jaitley.

"It's very early in the game. Think about what proportion of the industry is still cash based. You'll realise we are at a very nascent stage. The opportunity is huge ahead." said Sengupta. "Not just us, but many other players will have to innovate and work very hard to get us to that digital area where we're off cash. We're actually pretty early and there's a lot to be done here."

The app links users' smartphones to their bank accounts, allowing them to pay for goods and services securely in both physical stores as well as online. It even allows for person-to-person money transfers. The app doesn't support feature phones as yet. "At the moment, UPI doesn't itself support feature phones. As soon as UPI itself is able to support feature phones, we'll start working on that functionality," Sengupta said.

Businesses can also use the app. They can use it to accept payments into their bank accounts, with no fees. "We are working to support shopkeepers with other types of current accounts soon," Google says on its website.
Same, same, but different
Tez features a wholly different technology than seen in its competitors. Tez uses Audio QR, which allows users to transfer money using sounds to pair two devices. Called 'cash mode option,' the two phones negotiate a connection using audio that identifies both the payer and the payee. This sound is inaudible to the human ear as it uses ultrasonic frequencies.
Payments made straight from your bank account, big or small. Presenting #GoogleTez, money made simple. https://t.co/yb71ezw9Ol pic.twitter.com/Ywy6xJf2qj

— Tez by Google (@TezbyGoogle) September 18, 2017
The app doesn't require the exchange of any personal data like a bank account or mobile number. It is a seamless transaction that works with any smartphone. The reason for developing this technology, rather than going with the standard Near Field Communication (NFC), is so that the widest number of users can have immediate access to the application. NFC-enabled smartphones are nascent in India as they are still quite expensive. Sengupta said that only about 16%-18% of the phones have NFC. And a very large number of point of sale (POS) terminals have NFC.

Tez transactions are protected by Tez Shield. It is designed to help detect fraud, prevent hacking and protect users' identity. "Each transaction is secured with your UPI PIN and the app is secured with a Google PIN or your screen lock method such as fingerprint," Google stated.

Further, the app isn't a mobile wallet like Paytm, where money is stored and needs to be constantly topped up to be used.

"We don't have any plans right now but we are looking and working with wallet proviers. For us we see us as a platform. The platform is all about the user experience," said Sengupta. "Enabling people to people nearby. It's about helping people pay people you know. Helping people pay businesses. What is below the covers is the payment network. And we are not the payment network. In this ase, we are working the banks."
No Android pay yet
"Send money home to your family, split a dinner bill with friends, or pay the neighbourhood chaiwala. Make all payments big or small, directly from your bank account with Tez, Google's new digital payment app for India," Google announced on its site, underlining its commitment to its latest app.

At the event, Google underscored this, by confirming that Android Pay isn't coming anytime soon and that all focus will be on Tez. Tez differs from Android Pay and Samsung Pay as it works with 55 banks on India's Unified Payments Interface (UPI). UPI allows for multiple bank accounts to be linked to the one mobile app and enables secure peer-to-peer payment. Whereas Android Pay and Samsung Pay works with the NFC technology.

"As you know we have a very good technology using NFC that we call Android Pay. In India we realised to get to most of the users, we need to reach not just the users who have the most expensive, fancy phones, but also all users who have existing phones," Sengupta said onstage.

The app comes in at just 7MB, and works on all Android phones sporting Android KitKat or higher. The app is available for iPhone users as well. The app, at launch, has support for English, Hindi, Bengali, Gujarati, Kannada, Marathi, Tamil, and Telugu.

While India is the first country Tez is launching in, Google has trademarked the name in other Asian countries like Indonesia and Philippines. An expansion within Asia is most definitely on the horizon.
Partnering up
Tez is about making payments as easy as possible. Google has partnered with several popular services - RedBus, PVR Cinemas, Domino's Pizza, DishTV and Jet Airways - at launch. "Tez makes it faster and more secure to pay on apps and websites – anywhere that UPI is accepted. When you check out, look for the Tez logo or use your Tez UPI ID," reads the website.

Google has tied up with several mobile companies to have the Tez app pre-installed on upcoming mobile phones or via software updates. The current launch distribution partners are Lava, Micromax, Xolo, Nokia and Panasonic.
No pay by Aadhar
Pay by Aadhaar: "To be very clear, there's a feature 'pay by Aadhaar' in UPI. It is an optional feature that was listed by UPI. It was not a mandatory feature; otherwise we would have had to include Aadhaar support," said Sengupta on stage. "There's a lack of legal and regulatory clarity on how to use Aadhaar data and what to do with that, so we chose not to implement that feature."

However, he did not discount its implementation in the future. "There is no pay by Aadhaar feature in our product. We are working with the regulatory authorities, NPCI and legal team to understand the parameter of this," Sengupta clarified.