Goodbye Google Maps: Uber spends $500 million on its own mapping system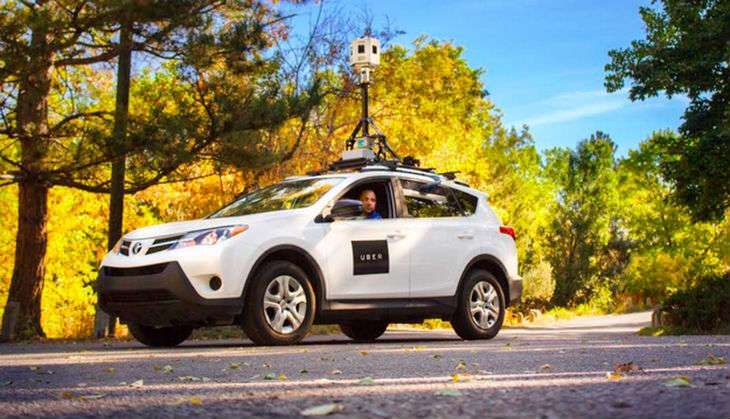 Having just folded in China after brutal competition with homegrown champion Didi Chuxing, global ride-hailing service Uber is training its guns elsewhere. The target now is another giant. In fact, it's the biggest company in the world - Google.
According to a report in the Financial Times, Uber is preparing to invest US $500 million into a space where no other has found success - global mapping. The project is positioned to take Google Maps head on. Uber says they want to reduce their drivers dependence on Google Maps and also pave the way for driver-less cars.
Uber's mapping project
Uber, like Google, has vehicles driving from city to city, crisscrossing the US and Mexico to record all they can see, gathering images and data for maps. The cars are almost identical to Google's StreetView fleet. It's got a 3D spherical camera mounted to the top of the car. According to the FT report, Uber will start the process in other countries soon.
The one shortcoming of Google Maps is that it has limited accuracy in non-Western countries. The service has also gotten costlier for Uber as of late, and that is eating into their cash flow even though they have raised billions of dollars from investors. Other than mapping technology, Uber is also investing in driverless cars.
Brian McClendon, an ex-Google Maps engineer responsible for creating Google Earth, is in charge of Uber's new mapping system. "The ongoing need for maps tailored to the Uber experience is why we're doubling down on our investment in mapping. Last year we put mapping cars on the road in the United States. This summer they hit the road in Mexico. Our efforts are similar to what other companies including Apple and TomTom are already doing around the world," wrote McClendon in a blog post.
In June 2015, Uber struck a deal with Microsoft and acquired some of Bing's mapping tech and staff, meaning the $500 million isn't their first foray into mapping systems. Still, they are not done attempting to unseat Google Maps.
Besides the acquisition of the imagery collection team from Microsoft's Bing, Uber also acquired deCarta - a turn-by-turn mapping company that powers GM's OnStar software.

Why its going in-house
The real reason for Uber's push towards its own mapping system is the need for 3D maps that will enable one of the key technologies behind its driver-less cars. 3D mapping adds a layer of information and redundancy. These more detailed maps are pivotal when poor weather and other conditions reduce the "usefulness of camera images".
Other mapping systems
While Uber's venture into the global mapping business is initially for its own use, there already exist a number of service currently giving Google Maps a run for its money. Some more successfully than others.
Apple Maps

The most famous attempt at dislodging market leader Google Maps came courtesy of Apple. Their famed Apple Maps caused more laughs than accurate directions. Apple Maps has been in existence since 2012 and when it came out, it was the butt of many a joke. It misplaced landmarks, overlooked towns and businesses and was, as

Techcrunch

put it, "unchangingly disastrous".

Nokia HERE

Last summer, a group of German automakers outbid Uber to purchase Nokia's HERE Map business. Audi, BMW and Mercedes-Benz got together to outbid Uber for a $2.8 billion purchase of the mapping unit. The origins lie in Navteq, a company founded in 1985. Eventually, in 2012, after going through many changes, it was rebranded HERE. It was finally sold in late 2015.

TomTom

Founded in 1991, TomTom is a company producing navigation and mapping products. In just two years, TomTom was the market leader in personal digital assistants (PDAs). It had PDA software with " navigation applications such as EnRoute (later renamed RoutePlanner) and Citymaps". By 2001, it started producing in-car navigation products for these PDAs. The TomTom Navigator was subsequently launched. In the following years, it acquired Tele Atlas, one of the largest digital map making companies in the world.

Back in November 2015, Uber struck a deal with TomTom to use its digital maps and traffic data for its smartphone application. TomTom provides data for more than 300 cities across the world.

Garmin

Garmin, like TomTom, specialises in GPS technology that is used for all kinds of transport activities. Garmin was founded in 1989 as ProNav. The maps used by Garmin products are provided by Navteq.

Waze

Waze is a community-driven map service. It was acquired by Google, but still also functions as an independent service. It has the basic routes and navigation features but it's plus point is that it offers up-to-date route conditions from information provided by other Waze users.

MapQuest

MapQuest is another Google Maps alternative. Apart from giving you directions from point A to point B, it also lets you compare local transportation services and book cabs from the app itself, a feature also present in Google Maps.

Navmii

Navmii, a company not many people have heard of, is available in over 85 countries. It offers most of the basic features such as such as turn-by-turn navigation, bookmarking, nearest locations search and satellite view. It tries to differentiate itself from Google Maps by providing better route conditions and updates on road constructions and accidents. It also gets data from other drivers using its mapping service. It offers full offline navigation support as well.