CryptiKitties: Did you know buying and selling virtual cats is a blockbuster hobby now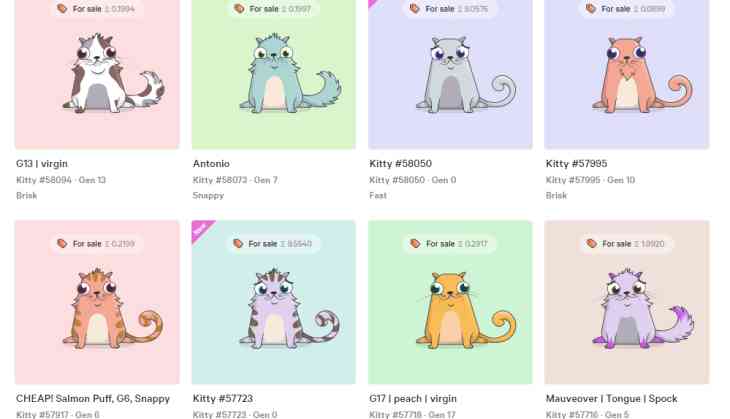 CrypoKitties may have launched at the end of October, but with the rise of cryptocurrency Bitcoin, these digital collectables have taken over the world. CrypoKitties are digital collectables. People can buy and sell them on the Ethereum blockchain for the cryptocurrency. Rare kitties are now going for a sum above $100,000 (Rs 64,50,000 approximately).
It's essentially like a digital version of the Pokemon cards everyone was obsessed with back in the day. It's blowing up fast, just like every other viral sensation. The game was built by AxiomZen, a Vancouver and San Francisco-based design studio.
It's an absolute crazy sensation. Over $7 million has been spent by those buying CryptoKitties. According to third-party research by Niel de la Rouviere, the average sale price is $126.58. The most expensive sale till date has been $121,286.76. 74,323 unique kittens have been sold so far.
These CryptoKitties are merely digital Beanie Babies (or just any stuffed animals). They don't exist physically but they do cost you a lot of money. Broken down and they equal to bits of code on the blockchain. Bits of codes together can combine to make a unique bit of code, hence creating a new kitty.
Here's how TechCrunch's Fitz Tepper puts it, "So now we have people using Ether, an asset with arguably little tangible utility – to purchase an asset with unarguably zero tangible utility. Welcome to the internet in 2017".
Either one of two things could happen in the next couple of months; The popularity could increase to a point where people can make a healthy return by reselling their 'rare' kittens. Or the market could crash and everything could come tumbling down. At the moment though, it seems like it will be the former that wins out. The popularity of the game and the insane amount of traffic it has driven has been blamed for the Ethereum network massively slowing down.
The company behind this game, AxiomZen, takes a 3.75% cut on every CryptoKitty trae. That translates to well over half a true dollars. This, in addition to the company making money from selling brand new kitties. Just remember that a brand new kitty is minted every 15 minutes!
On Wednesday, 6 December, 13.5 percent of power on the ethereum network was from CryptoKitties. In order to deal with the demand, CryptoKitties increased the 'birthing fee' at least twice.
🔥🔥🔥 DUE TO CONGESTION ON THE NETWORK WE ARE INCREASING THE BIRTHING FEE FROM 0.002 ETH --> 0.015 ETH. WE HOPE THIS WILL ALLOW MORE KITTENS TO BE BORN ON TIME AS THERE HAVE BEEN SIGNIFICANT DELAYS 🔥🔥🔥

DETAILS: https://t.co/dCXyDIrT1f

— CryptoKitties (@CryptoKitties) December 4, 2017
How to play the game
Players of CryptoKitties buy and sell digital kittens using Ethereum.
Once the player has two kittens, they can then breed their own digital kittens.
After they are bred, they can sell them on the marketplace.
The starting price is set by the user and decreases until the auction is ended or the kitten is sold.
A new CryptoKitty is released every 15 minutes. This will happen until November of 2018. The starting price is determined by the average of the last five CrypoKitties sold plus an additional 50%.
Each time a cat is bred, the generation increases by one. So the offspring of a Gen 2 kitten would be Gen 3.
"Each one is coded with a 256-bit genome, which includes a set of phenotypes (visible features) and genotypes (genetic features). When two of your little critters breed, their new kitty's appearance, biography, and traits are the resulting combination of each parent's attributes, resulting in four billion possible variations," writes Mark Austin.
The main feature that distinguishes them, is their "cooldown" time. The time it takes for a kitty to recover after breeding. The ranges vary from "fast" at just 1 minute to "brisk" at 1-2 hours and "Catatonic" at 1 week.
The team behind this viral game told TechCrunch that they have a year's worth of product improvements coming to the users. Number one on their list is an improvement of the UI on the web platform.
The website says, "The future is meow" and that pretty much sums it up.
All of the burst in popularity comes on the back of Bitcoin's 1,200% leap this year. Ethereum itself has climbed about 5,500%. Cryptocurrencies have exploded this year from about $17 billion at the start of 2017 to about $375 million