CES 2018 press day 2: Nikon's super-telephoto lens, Google's Smart Display, a $30k 4K projector and more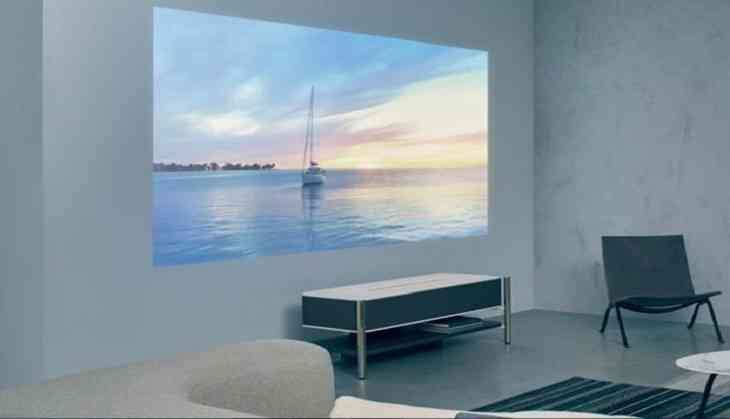 Every year, before the floor is open to the public, the press are treated to two days of events full of announcements and various on-stage demos. Day 1 of those two was on Sunday, 7 January and in case you missed all that happened, you can take a look here. Here's a recap of the most important items from what took place on Day 2.
Lenovo and Google team up for Smart Display
Google Assistant wants to be everywhere. After all, 2017 was all about Amazon's own voice-assisted Alexa platform. Google Assistant is on phones, TV's smartwatches and even inside cars. Now, Google is embedding the assistant into more hardware. Google has introduced a new Smart Display platform. This is essentially designed for the company's partners to come out with Echo Show-like devices. First among them is Lenovo. Afterward, JBL, LG, and Sony will be next.
Google, this time around, has decided not to make its own hardware. Lenovo has come out with two - an 8-inch version and a larger 10-inch model - Google Smart Displays that will be available to the consumer in the summer. It, of course, responds to "Hey, Google" and does everything you'd expect from the Assistant. It's more visible than a smartphone and better for your living room or kitchen.
The 8-inch model will retail at $199 and you'll have to shell out $249 for the 10-inch model.
Sony's $30,000 4K projector
Sony, the company known for its picture-perfect TVs, has announced a 4K Ultra Short Throw Projector (LSPX-A1) that costs a whopping #30,000. It's a mere $5,000 increase from the priciest projector it unleashed upon consumers last CES.
According to The Verge, "The LSPX-A1 is meant to sit 9.6 inches from the wall onto which you'll be projecting a 4K image that can stretch up to 120 inches. The laser projector reaches a peak brightness of 2500 lumens." To fully utilise the picture quality of this projector, you'll have to connect a 4K content source of your choice.
The projector also features a Glass Sound Speaker. This produces 360-degree audio.
Smallest 1TB USB-C flash drive
How much can a company cram into a single flash drive? Apparently a lot. SanDisk has shown up to CES with what happens to be the world's smallest 1TB USB-C flash drive. It may not be the most storage but it is the slimmest. It's a 1TB device with USB-C and not USB 3.0!
Right now, it may just be a prototype, but there is hope of a retail version soon. Don't expect it to be affordable when it comes through. Maybe in a couple of years though.
Libratone Track+ neckbuds
Libratone's Track+ neckbuds come with adaptive noise cancelling. These are wireless earbuds (embracing the future) and have the same basic shape as its wired counterparts, Q Adapt earphones. They have the same quality noise-cancellation, and this one is priced at $199. These will be on sale from Libratone.com, Amazon and other retailers in just a couple of weeks.
Super-telephoto lens
Nikon has just one announcement with it at CES. It's a long name, so be ready. It's the AF-S Nikkor 180-400mm f/4E TC1.4 FL ED VR. It's a super-telephoto lens and has a built-in 1.4x teleconverter.
Nikon will ship the super-telephoto lens in March at a price of just $12,399.
Another smartwatch
Adding to the ever-growing list of smartwatches on the market is none other than Matrix Industries. They are releasing PowerWatch X. This one has support for smartphone notifications over Bluetooth. It uses a proprietary thermoelectric energy converter to power the smartwatch from just the excess body heat.
It is available for pre-order for $249.99 and will ship in Q1 of this year.
X1 Carbon and X1 Yoga
Lenovo has finally announced an update to its flagship products, ThinkPad X1 Carbon and X1 Yoga. They get Intel's 8th-gen Kaby Lake and universal USB-C charging capability. For the first time in this models' history, they are getting Amazon's Alexa voice assistant, and support for the Dolby Vision HDR format.
Both will be available this later month. The X1 Carbon will retail at $1,709 and the X1 Yoga at $1,889.
HTC's Vive Pro VR headset
HTC's brand new Vive Pro VR headset comes with built-in headphones. HTC has bumped the resolution of the dual-OLED displays to 2880 x 1600. This represents a 78 percent increase from the current Vive. HTC has also redesigned headstrap by adding the built-in headphones. HTC has also added dual microphones and dual front-facing cameras.
HTC says the new model will be on sale later this quarter but hasn't announced the price as of yet.
Oculus Go
Occulus is teaming up with Xiaomi to make a Chinese-specific version of the Oculus Go - the company's $199 standalone headset. It'll simply be called the Mi VR Standalone and should be available at some point in early 2018.