Boiling headphones, 3-screen laptops and more bizarre stuff from CES 2017
Before we delve into the weird, strange and wild world of the Consumer Electronics Show, here\'s a quick recap of the bizarro world of CES 2017 so far:
Now onto today's offerings:
01
Dell's new 2-in-1 laptop
Without giving away too much in the sub-heading, Dell's brand new 2-in-1 laptop can wirelessly charge through - believe it or not - its keyboard. The laptop in question is the Dell Latitude 7285. It's a hybrid laptop where all the components fit into the display of a tablet and one of the accompanying keyboards communicates with Dell's new wireless charging pad.
02
Razer's three-screen insane gaming laptop prototype
Razer's new Project Valerie is an utterly insane prototype three-screen gaming laptop that can pump out games like Battlefield 1 without hiccups at 12K resolution. It may look like the Razer Blade Pro, the company's laptop announced just a couple of months ago, but instead of one 17.3-inch 4K IGZO display, Project Valerie has three!
It probably won't be a laptop you'd lug around and it is being called a 'desktop replacement' device. "Valerie weighs around 12 pounds and is 1.5 inches thick" and is VR-ready. Details are scarce on the pricing and if/when it will come to the market.
03
New HDMI specifications
HDMI 2.1 will, first and foremost, be backward compatible with previous iterations of HDMI. Most importantly, it will support 8K video with HDR and comes at a refresh rate of 60Hz. There is even a 4K version with a refresh rate at 120Hz.
04
Ride-sharing concept vehicle from Honda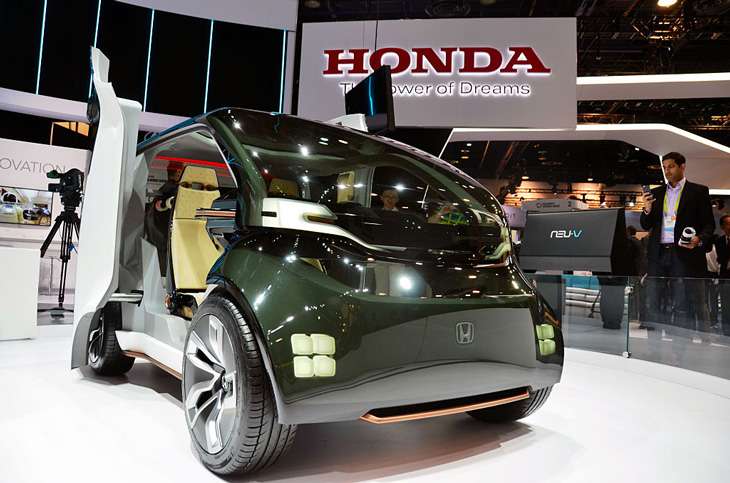 The Asahi Shumbun/Getty Images
Honda might just be the first company to showcase a concept vehicle designed primarily for the ride-sharing market. It's been given the name NeuV. NeuV stands for New Electric Urban Vehicle. It's simply a two-seat vehicle that could be programmed to drop and pick up passengers when the vehicle is not otherwise in use.
"We designed NeuV to become more valuable to the owner by optimizing and monetizing the vehicle's down time," Mike Tsay, principal designer, Honda R&D Americas, said in a company statement.
It has an "emotion engine" as well as an automated personal assistant. It can study the drivers/passengers habits and make recommendations on what music to play and how to improve personal driving habits. At the moment, Honda is just one of a number of companies betting big on this trend. Only time will tell as to how much of a reality this vehicle is.
05
Boiling your earbuds is extremely weird
If the sound from your earbuds are off, that most probably means they just aren't fitting well into your ears. Getting that right fit perfect, is important for the best possible sound experience. However, custom earbuds are quite expensive at the moment, but a company from Colorado - Decibullz, seems to have figured out how to get that perfect fit on the cheap.
The newest products from Decibullz are both wired and wireless headphones. They have wings around the earbuds. To get the perfect fit all you need to do is put the tips of the winds in boiling water, wait a few minutes, and then put them in your ears. It's really that easy. You can keep dipping them in and out of hot water to get the perfect fit for your ears. The wired versions cost $59, while the wireless will cost $119.
06
Smallest and thinnest Bluetooth trackers from Chipolo
The Sticker and the Clip. These are two new Bluetooth trackers from a company weirdly called Chipolo. They are tiny tracking devices that can be put into whatever you want to keep track off. As an added bonus, there's even a 90-decibel speaker that is useful if you can't find your lost item. Both capable of wireless charging, they are expected to land in the market in the second half of 2017.
Changhong H2 (who would ever name anything that ridiculous?) is a phone with a near-infrared spectrometer, It can determine how fresh one's produce is, how 'real' your medicine is and even how fat you are (body-shaming for the win).
In layman terms, it does this by shining light on objects that penetrate the surface. "Molecules from the object then send back light in different ways and this information gets beamed up to a database cloud where it's processed and analyzed," reports CNET. This technology isn't new. A standalone sensor called SCiO was demoed last year at CES.
The Changhong H2 will be available in China in the first half of 2017 and in the US in late-2017.
08
GoPro wants to put out more drones
That's really all there is to it. The company simply wants to relaunch the Karma drone and build upon a Karma 2 drone.
09
Bone-conducting bike helmet
In many a state in the United States of America, it is illegal to wear a helmet along with earbuds while riding a bike. This was done because bicyclists couldn't hear other pedestrians or even a car horn. This is where the Linx comes in. It's a $199 smart bike helmet from Coros, a hardware making company from Seattle.
Their solution, you ask? Bone conduction. Bone conduction tech relies on vibrations sent through your cheekbones. This bypasses the ear drum and hence its possible to do both. The benefit of this one is that the helmet looks like any ordinary helmet. Battery life is rated at 12 hours, after all, who rides for more than that at one go anyway?