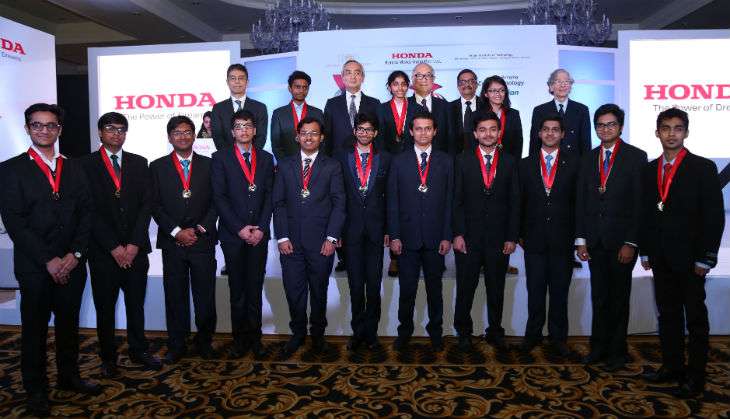 Honda Motor India (HMI) has conferred 14 students from the IITs with the 'Young Engineer and Scientist's (Y-E-S) Award' for 2016. The 10 th edition of the award ceremony took place on February 2, 2017.
Young students who have excelled in the area of science and technology and aim for higher academic achievement in the area of Eco-technology are felicitated by HMI every year since 2007. By rewarding these young talents, the Honda Foundation expects to promote dissemination of eco technology among the younger generation.
Besides, it also provides a platform for Indian and Japanese students to interact and exchange ideas related to science, technology and industry.
A panel of senior Honda executives and prominent Indian scientists thoroughly evaluated the credentials of the IITians before giving away the award. The selection parameters included their Cumulative Grade Point Average (CGPA), essays and two rounds of personal interviews with the selection committee of Honda executives and Shirish Garud, Director - TERI, the chief assessor of the selection committee.
A scholarship of USD 3,000 each was given to 14 bright students, in recognition of their outstanding performance in academics, selected from 8 IITs across India- Delhi, Bombay, Roorkee, Madras, Kharagpur, Kanpur, Guwahati and BHU.
The awards were presented by the chief guest H.E. Kenji Hiramatsu, Ambassador Extraordinary and Plenipotentiary, Embassy of Japan. Hiroto Ishida, president, Honda Foundation was also present as the guest of honour.
"We are very pleased to announce the 10th edition of the Y-E-S Award. The journey has been phenomenal and we have received a tremendous response and enthusiasm from the IIT students who put in their best efforts to showcase their work. So far we have awarded 126 such students in 10 years. Such platform encourages young professionals to involve in higher research in the field of technology. We want to provide them the opportunity with Y-E-S Award so that they can fulfill their dreams.", Kenichi Takashima, president and CEO, Honda Motor India, said.
Given below is a list of the 14 awardees:
1. Yash khandelwal, IIT BHU
2. Nikhil Vinay Agarwal, IIT BHU
3. Karan Naresh Chadha, IIT Bombay
4. Arunabh Saxena, IIT Bombay
5. Anshul Basia, IIT Delhi
6. Jithin Krishnan B, IIT Guwahati
7. Karttikeya Mangalam, IIT Kanpur
8. Abhineet Singh Rajput, IIT Kanpur
9. Chinmoy Samant, IIT Kharagpur
10. Raghav Sanjay Sonavane, IIT Kharagpur
11. Vedasri Godavarthi, IIT Madras
12. Ajithkumar Narasimman, IIT Madras
13. Sonali Srijan, IIT Roorkee
14. Sheth Manthan Rajesh, IIT Roorkee