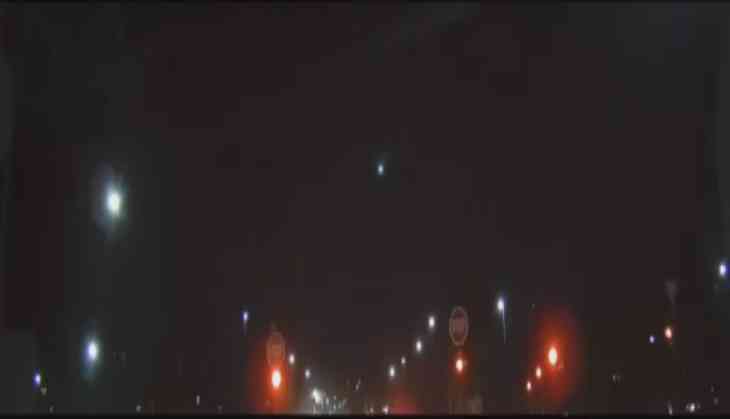 The talk about spotting UFOs, fireballs, and meteorite in the sky is nothing new. But however, every time when a fireball or any mysterious thing is seen in the sky the talk about from where did it come starts. Earlier this week the people of Germany were shocked and puzzled when they spotted a mysterious fireball moving in the sky.
As per reports in the Daily Mail, the flying object that nobody identified was spotted as far away as Switzerland and Italy. The video of the flying object was shared by the fire department of the town of Hoechen on micro-blogging site Twitter. The fire department called the flying object a meteorite. In the video shared by the Fire department of the town, a glowing ball can be spotted that is going through the sky. The colour of the object can be seen changing from a dim white to a brighter green and then blue.
However, the most interesting thing about this object was that this fireball incident was the most reported event in Europe. According to the International Meteor Organization, approx 1,150 reported sighting the fireball.
Also Read: Did you know: Neil Armstrong was not the first person to land on Moon, claims report
Here is the Video:
Am Abend des 14.11.2017 flog ein #Meteorit bzw. #Sternschnuppe über #Homburg im #Saarland pic.twitter.com/pMhbQ9Zb55

— Feuerwehr Höchen (@FWHoechen) November 14, 2017
German air traffic control spokesman Christian Hoppe while talking to Daily Mail said, 'We can only say that it was not an aircraft.'
Also Read: Did you know: Warning from Aliens is the reason why astronauts don't go to Moon, claims report
Meanwhile, a speculation is doing round on the Internet that the mysterious object spotted in the sky can be linked to the Taurid Meteor Shower. Because fireball sightings were also reported over France and United States America.