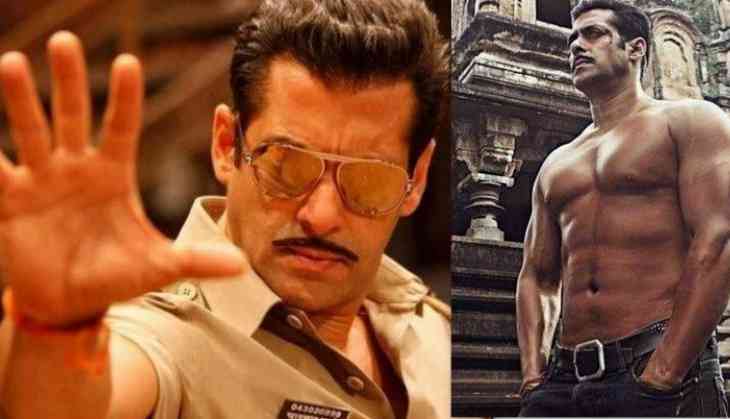 Pic: Salman Khan in Dabangg 2
Bollywood superstar Salman Khan's Dabangg series is considered as one of the biggest franchises of Bollywood cinema. The first two parts, directed by Salman Khan's brother and actor Arbaaz Khan, starred Sonakshi Sinha in the female lead.
Dabangg 3 was in news recently when Arbaaz Khan had revealed he won't be directing the third part of the Dabangg 3 series.
However, on Sunday Arbaaz Khan had shared the director's name who will be directing Dabangg 3 and he is none other than South actor-turned-director and national award winner Prabhudeva. He also confirmed that Dabangg 3 tells a different story which includes how Salman's character was born and how he turned into Chulbul Pandey.
"Prabhu Deva is directing Dabangg 3. We did meet last week, but all three of us are busy with our own careers. Salman is shooting for Race 3 and will have two films around the same time. We are likely to start shooting in April 2018, and need some time to work on the script as well as the pre-production of the project. We are still ideating. Just because I am the producer of the film, it doesn't mean that I won't creatively contribute to the venture. Prabhudeva and I are on the same page. He is someone who is open to suggestions.
This time we will have some resemblance to the first one (film)… It should feel it is coming from the same stock.We are new to prequels, but this is the way to move forward. But it is not a complete prequel, there is a portion of it. It is not that the full film is a prequel, the film will move back in time. The film will be about how Salman's character was born, how he came into existence, what brought him into this scenario and how he turned into Chulbul Pandey," Arbaaz Khan said.
Though there were reports that Amy Jackson has been finalized as the leading lady of Dabangg 3, but as per the early reports, Sonkashi Sinha will reprise her role Rajjo in Dabangg 3 as well.