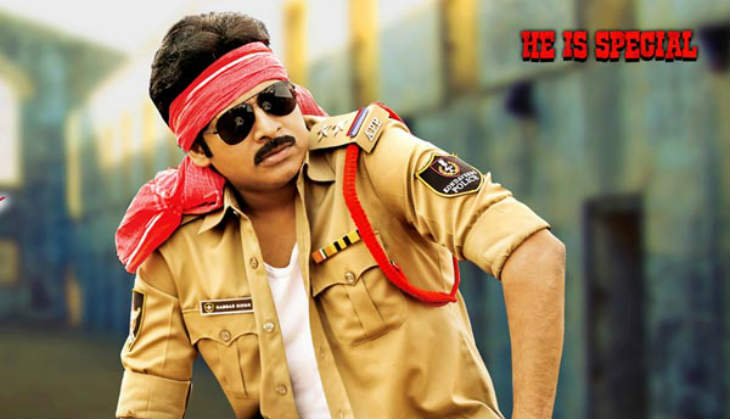 Ratings: Two stars (out of five)Language: TeluguDirector: KS RavindraCast: Pawan Kalyan, Kajal Aggarwal, Brahmanandam, Sharad Kelkar, Kabir Duhan Singh, Mukesh Rishi, Rao Ramesh, Urvashi and Brahmaji
Pawan Kalyan is a treat to watch in Sardaar Gabbar Singh. He aces even the most cliched of scenes and that's why his fans love him. And although Kalyan is aware of his limitations as an actor, he pulls off his roles with ease. While the KS Ravindra-directed Sardaar Gabbar Singh is entertaining in parts, the film is so lazily written that it is difficult to sit through the film.
Kalyan has also penned the script for Sardaar Gabbar Singh. And one wonders if he has learnt anything at all from his maiden unsuccessful writing attempt in the 2003 film, Johnny. Because his second attempt is way worse.  
The story follows maverick police officer Gabbar Singh, who has a great sense of humour and is transferred to the fictional town Rattanpur, where he takes on the oppressive land grabber Bhairav Singh and his gang head-on. Gabbar Singh delivers pages of dialogues like a kid who has memorised lines for a recital contest in school.
The predictable story brings to mind the recent Ravi Teja-starrer Kick 2 - among a number of other films. The screenplay is boring and the scenes are haphazardly placed. The film follows a simple pattern - action, romance and comedy - with a number of crowd-pleasing moments thrown in, mainly for the benefit of Kalyan's fans. 
However, after a point, the movie is bound to prove tiresome for even the most dedicated of Pawan Kalyan fans. Towards the fag end, the film gets even more annoying with a musical face-off with a rival gang. Kalyan dances to a few songs while reprising the famous veena step from his brother Chiranjeevi's film, Indra.
An ensemble cast featuring the likes of Tisca Chopra, Rao Ramesh and Pooja Ramachandran are wasted in silly roles. Tisca, who has had several noteworthy Hindi projects to her credit, ends up making a mockery of herself in this attempt. Kajal Aggarwal is impeccably dressed but seems to have no other role in the film except to look pretty. Sharad Kelkar is fierce as the antagonist but he looks like he needs to work hard on lip-syncing his dialogues.
Pawan Kalyan, the actor, shines in Sardaar Gabbar Singh. But Pawan Kalyan, the writer, fails miserably. There's much he needs to learn from this debacle. As the gun-toting Sardaar, he fails to hit the bull's eye.