Bollywood actor Akshay Kumar is current going through an extremely successful phase in his acting career. His recently released Housefull 3, had made Rs 80 crore during its opening week at the Box Office and is all set to enter the coveted Rs 100 crore club soon.
The Khiladi Kumar's previous outing, Airliftwas also a Rs. 100 crore hit at the Box Office. He is also making his Tamil debut with Shankar-Rajinikanth's Enthiran 2.
In a recent interview to a television channel, the actor revealed that it was director Priyadarshan who discovered his comic timing on the sets of Hera Pheri. The actor stated:
"On the sets of Hera Pheri, Priyadarshan sir had told me 'you have a funny bone in you. You have an amazing comic timing. Utilize it maximum to reach the top level."
Also read: Hera Pheri 3 to start with original team of Akshay Kumar, Suniel Shetty, Paresh Rawal in October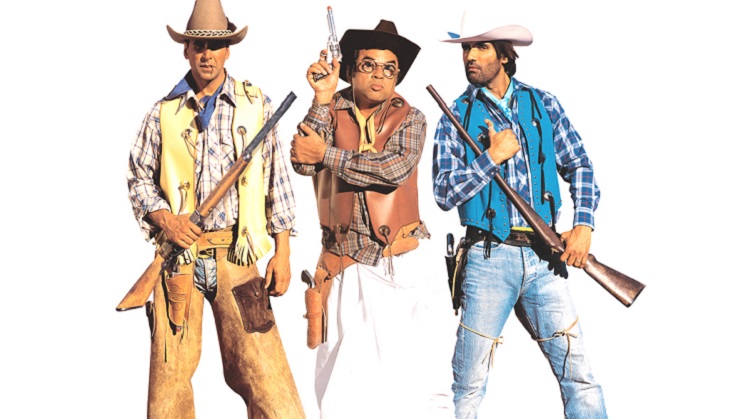 Hera Pheri 3 film poster (A movie poster)
Also read: #CatchFlashBack: The Akshay Kumar, Paresh Rawal classic Hera Pheri you remember was an accident!
Interestingly, Hera Pheri, the Akshay's first collaboration with the super hit Malayalam director has been labelled as one of his career-defining films. Prior to the release of Hera Pheri, Jaanwarwas his first hit after a row of 14 flops. However, Hera Pheri, a remake of Malayalam blockbuster Ramji Rao Speaking worked wonders for the actor who was in the desperate need of a hit.
Post the release of Hera Pheri, the director-actor duo worked together in five films: Garam Masala, Bhagam Bhaag, De Dana Dan, Bhool Bhulaiyya, and Khatta Meetha. All films were remakes of Malayalam hits and were successes at the Box Office.
Also read: Hera Pheri 3: Why is Abhishek Bachchan not a part of the film anymore?
Priyadarshan and Akshay Kumar are all set to work together again in a film produced by Rohit Shetty.