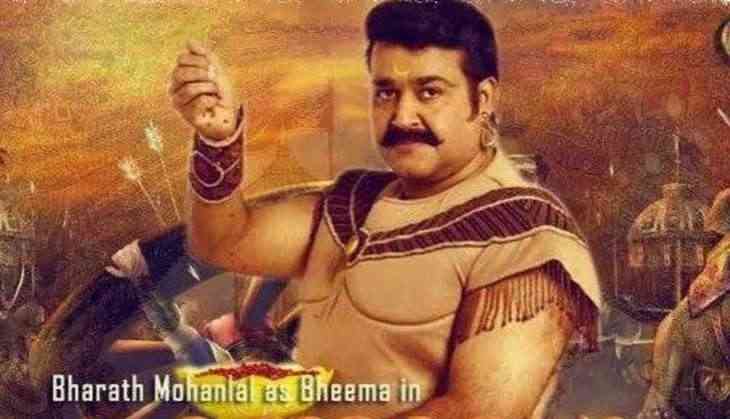 Pic : Mahabharata fan made poster
The shooting of Mohanlal's upcoming film Mahabharata is yet-to-be-commenced, but the film has landed up in controversy thanks to its title. The film, an adaptation of popular Malayalam writer MT Vasudevan's award winning novel, Randamoozham directed by ad-film maker VA Shrikumar Menon will be made on a whopping budget of Rs. 1000 crore and might be the most expensive Indian film to be made till date.
Though the makers had announced the film title as Mahabharata instead of Randamoozham, the Hindu Aikya Vedi aka Hindu United Front in Kerala backed by the Bharatiya Janata Party (BJP), had threatened to stall its screening once the film hit the screens.
K P Shashikala, the state president of Hindu Aikya Vedi said,
"Randamoozham was a fiction which actually misinterpreted Mahabharatham completely. Hence, they should retain the name Randamoozham for the film version as well. Earlier, popular adaptations like Chemmeen, Aranazhika Neram and Odayil Ninu retained the same title, So Randamoozham too should follow it! If they are trying to release the film under the name Mahabharatha, I bet that it will not see the cinemas", KP Shashikala said.
However, K P Shashikala's statements has irked many writers including the noted author CV Balakrishnan.
The author of 57 books and seven screenplays, Balakrishnan said,
"There are several such works in Malayalam and other Indian languages, which recast it through the eyes of Karna, Arjuna and Draupadi. That's the freedom our writers have been enjoying. It's not a religious text. It's the world's biggest epic that captures the imagination. It doesn't belong to any religious group or community, but the entire humanity. Writers, filmmakers and all those who respect one's freedom of expression would stand by the writer and filmmaker on this.".
But the BJP backed Hindu group is still insisting on title change.
"We are not against the film, but dragging Mahabharata into it. Why does nobody dare to do it on other religions? Even political parties react when they are put in a bad light in films," said BJP spokesperson JR Padmakumar.
Meanwhile, VA Shrikumar Menon had stated that he has no plans to change the film's title. He also added that his most ambitious project will be released simultaneously in many languages, so he can't change the title of the film.
"Apart from the Malayalam language, my film will be released in English, Hindi, Tamil, Kannada and Telugu versions as well. We need a globally accepted title, and we chose Mahabharata, which is appealing to all. Randamoozham is Mahabharata, and the title will be Mahabharata based on MT's Randamoozham," VA Shrikumar said.