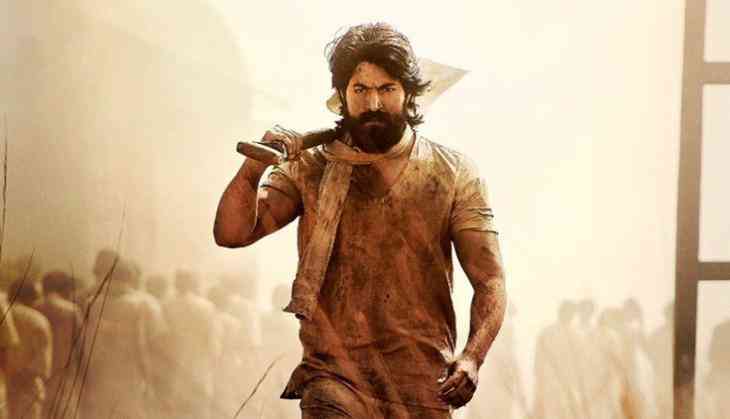 South film Baahubali series set an example at the box office India that even South films can do well, after that we have a recent example of 2.0, starring Rajinikanth and Akshay Kumar. Now following to it, the biggest film of Kannada cinema, KGF: Chapter 1 has released in all languages.
KGF: Chapter 1 has released on the long holiday weekend of Christmas and is after the early tweets the film is surely going to give a tough competition to Zero. The trailer and buzz of KGF really made the audience excited for the film and now the fans have already started giving review through the tweets.
#KGF - Beyond The Expectations...

A well backed mass action entertainer. @TheNameIsYash steals the entire show. BGM & plot buildup is good.All stars do their best, Climax at its peaks.#kgfreview@hombalefilms @TheNameIsYash @Karthik1423 @SrinidhiShetty7 #PrashanthNeel @YashFC pic.twitter.com/fEJnrdOeEB

— Cine Safari (@cinesafari) December 21, 2018
Biggest blockbuster 1st half 5/5 Every scene goosebumps vasthayi Best story telling
Yash one man show Aa cutout 👌👌 ki 👏👏

South lo antha strongest hero ni chudaledhu mother scenes aiythe 🙏👌#KGF #KGFFDFS #KGFDay #KGFReview pic.twitter.com/aJHYhTH4yy

— keerthy devote (@sampath_keerthy) December 21, 2018
BLOCKBUSTER #KGF #KGFReview pic.twitter.com/tdlweNfvbM

— AKASH REDDY (@akash_emraan) December 21, 2018
#ZeroReview #KGFReview #srk #Yash Honest Review

Zero:- ⭐ ⭐Epic dissappointed

Kgf :- ⭐⭐⭐⭐⭐ Blockbuster pic.twitter.com/FoqG2HNTPr

— Shaikh Yaqoob (@yaqoob117) December 21, 2018
I saw the first show of #KGF(hindi version) great movie.
Great creativity & fabulous acting by #yash
After a long time I saw the movie like this.
Great movie
Wating for #kgf_final_chapter#KGFReview
4.5/5
9.5/10@SrinidhiShetty7 @Karthik1423 @TheNameIsYash @FarOutAkhtar

— Neetesh garg Krishna (@NeeteshGarg) December 21, 2018
Just Done with KGF Early Morning Show, No words to Describe the Awesomeness of the Movie, now eagerly waiting for Chapter 2, #sureshotblockbuster #KGF #KGFReview @TheNameIsYash @SrinidhiShetty7 @prashanth_neel pic.twitter.com/udQpswn2wE

— Nagesh Mallappa (@NageshMallappa) December 21, 2018
#KGF - The Proud Film of #Kannada 🔥👌#kgfreview @TheNameIsYash #KGF21Dec #Yash 🔥 pic.twitter.com/URlpk097Fc pic.twitter.com/aItgOqmAwP

— мαнα∂єναѕωαму уαѕн (@Thenamelsyash) December 21, 2018
YASH,yeh Naam yad rakhna😎#KGF is a masterpiece.. Really amazing visuals,cinematography.. baap of acting,action scenes r impressive..@TheNameIsYash is really gift to the kannada cinema industry.. thank u for such a class movie @prashanth_neel sir..#KGFReview -4.5/5 pic.twitter.com/lM7P6xpTXT

— Sunil Revoor (@RevoorSunil) December 21, 2018
#KGFReview : One word All Time Blockbuster
Action + sentiment+ action+Concept+Dialogue
Along with awesome BGM @TheNameIsYash Tremendous Acting #KGF Already a winner and have chicken in dinner 👍🏻👍🏻👍🏻👍🏻🔥🔥🔥 Faad Movie Hai pic.twitter.com/Dxcl32dC0t

— Mysterious_Sane007 (@DGRDRPHPD11) December 21, 2018
The film has released simultaneously in Hindi, Kannada, Tamil, Telugu, and Malayalam. Directed by Prashanth Neel the film is a trilogy and after Chapter 1 the other two parts will also be released.
Also Read - Heer Badnaam song from Zero is all about Katrina Kaif's role in Aanand L Rai's film; watch video