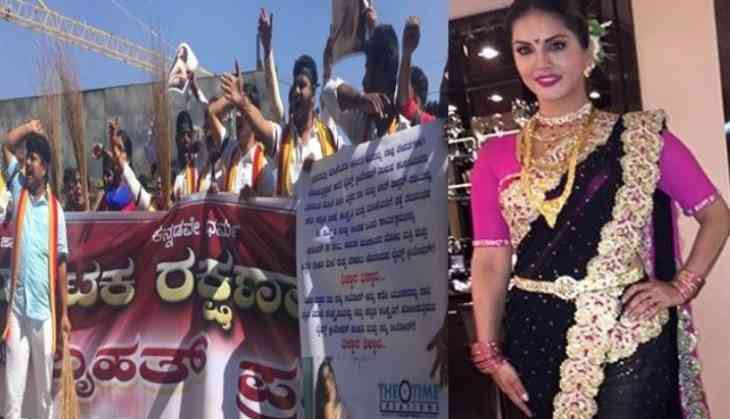 Pic: Pro-Kannada group, Sunny Leone
The Karnataka government on Friday denied permission to Bollywood actress Sunny Leone to perform at a New Year Show in Bengaluru.
""We have denied permission fearing law and order problems in the wake of protests by pro-Kannada outfits and also keeping in view the directions of the Karnataka high court in a molestation case reported on MG Road last New Year's Eve," home minister R Ramalinga Reddy said.
He added that they decided to ban the event considering that her fans in Kochi went berserk during her visit there in August. "We took feedback from Kochi police before taking the decision.
Earlier, around 30 to 40 activists from Pro-Kanada group, Karnataka Rakshana Vedike Yuve Sena gathered outside Manyata Tech Park, Bengaluru to protest against Bollywood actress Sunny Leone's New Year Show in the city. Many members also threatened to commit suicide as well.
"We are against Sunny wearing short clothes. If she wears saree and takes part in the event, even we'll go watch her. Sunny doesn't have a good past. We shouldn't be encouraging such people. We will not hesitate to commit suicide on December 31", a member from the group said.
"We don't want her to come spoil our youth," the protesters had said.
The event titled as 'Sunny Night in Bengaluru NYE 2018' was scheduled to be held at White Orchid convention centre in Bengaluru. The organizers, however, said, "We haven't received any official communication from the police. We'll wait for it before calling off the event. We don't know why there is so much fuss about Sunny performing here. She is here only to perform for a family show."
A senior police official said they may not permit Sunny Leone for the event.
"We are waiting for the government's directions. As of now, home minister and other senior police officials are of the opinion that permission should not be given," he said.