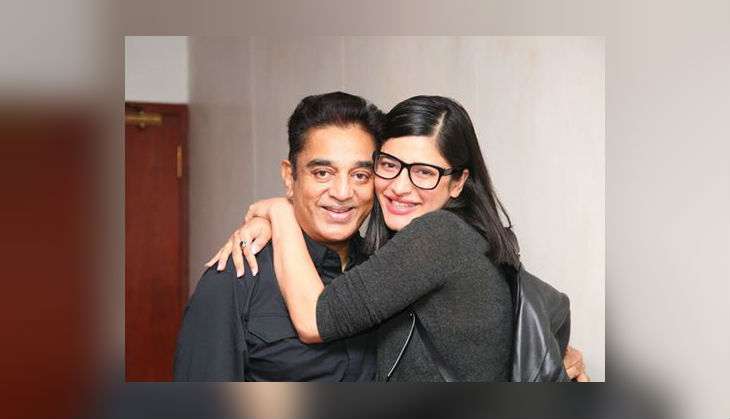 On the evening of 21 August, the French government honoured one of the most inspiring actors in Indian cinema, Kamal Haasan, with the prestigious Chevalier de L'Ordre Arts et Lettres (the Knight of the Order of Arts and Letters). The French government honors excellence in arts by conferring the Chevalier award to 200 artists every year.
Kamal Haasan is now the seventh Indian to receive this prestigious honour after film maker Satyajit Ray and actors Sivaji Ganesan, Amitabh Bachchan, Aishwarya Rai, Nandita Das, and Shah Rukh Khan.
A statement was issued by Ulaganayagan's publicist stating that;
"The distinction, which is yet another laurel for the actor, is in recognition of his high level of artistic excellence and his distinguished career achievements. The award will be conferred on Kamal Haasan at a special ceremony. The order of merit is awarded to recognize eminent artists and writers, as well as people who have contributed significantly to furthering the arts in France and throughout the world."
Meanwhile, Kamal Haasan, who is currently recovering from a fractured leg, shared his gratitude through a voice message as saying;
"The French Government has kindly conferred the Chevalier award for Arts and Letters on me. On this occasion, I bow before my more deserving forerunners, Mr. Satyajit Ray and Mr. Sivaji Ganesan, who made even the common man realize the value of the Chevalier award. I thank His Excellency, the Ambassador of France in India, Mr. Alexandre Ziegler, who intimated me of this honor. This award humbles me rather than stiffen me with pride. I realize my journey in my chosen field has not been alone. Teachers and admirers abounded around me.
With motherly care they have applauded my every little step forward. The melancholy of my parents not being alive to see this day is allayed by the fact that the elders and the young are still around in my family to enjoy it. I dedicate this award to my admirers and audience, who give me the tenacity of purpose to pursue, to this day and moment, my arts and letters. Thank you."
Meanwhile, Kamal Haasan's friend and Tamil superstar Rajinikanth took to Twitter to congratulate him:
The Thalaivar tweeted:
எங்கள் தலைமுறையின் நடிகர் திலகம் செவாலியர் அருமை நண்பர் கமல்ஹாசன் அவர்களுக்கு என்னுடைய மனமார்ந்த பாராட்டுக்கள்

— Rajinikanth (@superstarrajini) August 22, 2016
[Congratulations to my generation's 'Nadigar Thilakam', Chevalier and my dear Friend Kamal Haasan].