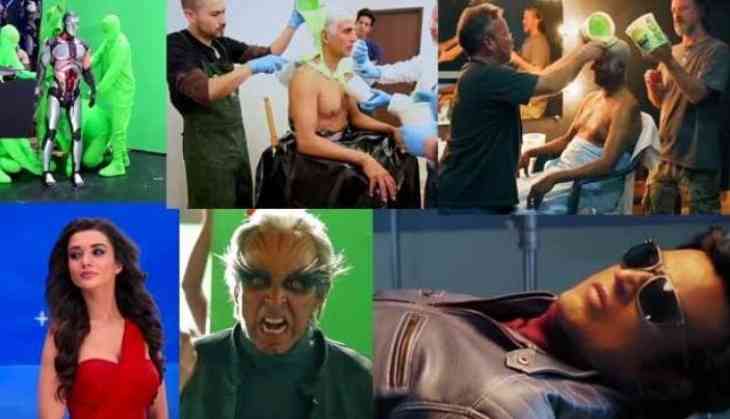 Pic: Stills from 2.0 making video
Shankar is touted to be the Steven Speilberg of Indian cinema and going by the first look posters of his upcoming film 2.0, anyone will agree with the same. The hit maker is known for making grand films and showing the lead actors in multiple looks in his films. Be it Vikram starrer Anniyan and I or the 2010 Rajinikanth blockbuster Enthiran, Shankar used multiple looks for both the actors. 2.0, the film which marks the first collaboration of legendary Tamil actor Rajinikanth and Bollywood superstar Akshay Kumar, has been produced by Lyca Productions.
Reportedly, both the superstars will be seen in different looks in 2.0. And on Thursday, during the press meet of the film in Dubai, Akshay Kumar shared his tough experience while donning makeup in the film.
"2.0 has been a new experience for me in my career, especially when it comes to make up. It took 3.5 hours to put the special make up for my character and 1.5 hours to remove it. Shankar has done so much of hard work that there was no need for any rehearsals. I just followed what he asked me to do. I have never done anything like these in my career", Akshay Kumar said.