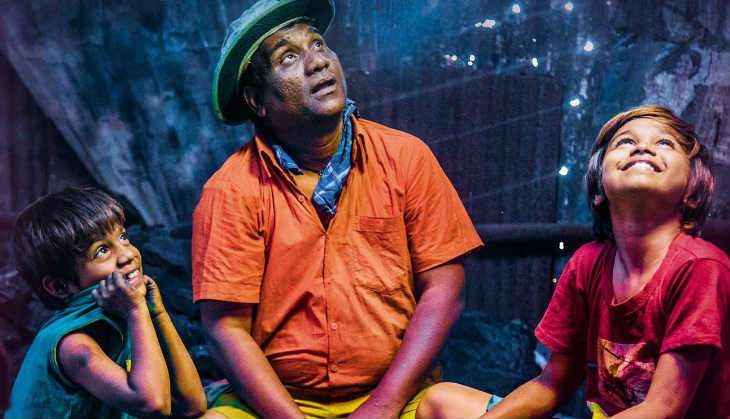 This is probably the best time for Marathi film industry in the country. After films like Natsamrat and Sairat, the industry has come out with a film about kids -- Half Ticket. A remake of Dhanush's critically acclaimed Tamil film, Kaaka Muttai, Half Ticket chronicles the journey of two slum kids who wants to eat pizza.
Half Ticket is releasing on 22 July. However, it has already received wide appreciation from all over for being an 'innocent journey of desires, compassion and hope'. Elated with the response he's getting already, director Samit Kakkad talked to Catch and shared his insight of why did he choose this story to tell, what did it take him to remake Kaaka Muttai and more. Excerpts:
Why did you decide to remake Kaaka Mutai?
Because it's a beautiful film. It's a universal story and it can be told in many different languages but not only Marathi. I decided to remake it in Marathi because it is set in slums and I thought what better place than Mumbai, Maharashtra to show in it. Slums and the city of Mumbai are an absolute part of each other. Rich and the poor are the immediate neighbours here. The best part is that films like Kaaka Mutai which has a universal story should be told again and again so that they can be reached widely. I did it wit Half Ticket.
How easy or difficult is it to work with the kids?
It's really easy. In the sense that you can mold them. They don't come with an tensions, any baggage of doing the best on the heads. They enjoy what they are doing. During Half Ticket as well, we just let them do what they wanted to do with the scene. The two kids in the Half Ticket seemed much more natural than the superstars of today's times. Also, if I can say that, Marathi film industry is not really a star driven industry. Here, the content and the subject are the heroes.The difficult part was to audition many kids and find these two kids. We auditioned more than 500 kids and we were looking to have two kids that can show the kind of bonding these kids are in the films.
I would like to mention that there's no single second take in the film. We used to give them (the kids) the dialogues on the day of the shoot itself and they used to perform it quite naturally.
How important is it for you to tell stories in cinema than just provide entertainment?
I am absolutely happy with films with masala. I like emotions and drama in films, However, I think now, because of so much exposure due to Netflix, YouTube and social media, people have an access to watch every kind of cinema. I don't believe in the concept of an art house. So, it's either a good film or a bad film.
Marathi Cinema though, in particular is quite content driven. They don't like cliche Bollywood entertainers. They want to watch intelligent cinema. We as directors will have to provide them that.
Didn't you face any trouble with the title -- Half Ticket for your film? A 1962 Hindi film that featured Kishore Kumar had the same title.
I think we were very lucky in that prospect. My producer went and registered the title in Marathi, he got an immediate call stating that the title Half Ticket was available. The Hindi film Half Ticket is not registered in Marathi so there was no problem.
Your earlier films as well have got wide international acclaim. Do you think that getting recognised at international film festivals before the release of the film help in the wider reach in India?
Yes, it does help sometimes. But, in the case of Half Ticket, we're are first releasing it in India and then sending it to the festivals. I took some parts of the film to the Cannes Film Festival this year and I am getting buyers from across the world for the film. There're are sales agent who are interested in here.
How did the makers of Kaaka Mutai react to the news of you remaking the film as Half Ticket?
I met the director, Mr Mani Karnan Iyer and he saw the promos and the songs of the film and he completely loved it. It was a proud moment and that is why even the film, we have given him the credit for his story. Even the actor who played the character of the mother in Kaaka Mutai,Aishwarya Rajesh had expressed that she was very happy with how Half Ticket has come out.
You just made a statement that Marathi cinema is a content driven film industry. Please elaborate.
If you see the kind of the films that have worked at the Box Office in Marathi film industry, they are all content driven. Sairat, Natsamrat, Elizabeth Ekadashi, Katia Kaljat Ghusli, Duniyadari -- they are all really rich in the content they serve. Marathi audience is quite intelligent and is very much evolved. They really like watching good cinema. Films which are based on good books and plays are accepted here. Somewhere, the audience here want to think while watching the film and not just be spoon-fed.
What do you have to say about big distributors venturing into regional cinema now? Half Ticket is the first Marathi film that Fox Star Studios has distributed.
Yes, Half Ticket is the first Marathi film to be distributed by the Fox Star Studios. It's really big and also a very proud moment. More so, because they had distributed Kaaka Mutai as well. Their capacity to take the film to places is big. We are happy to see this change in Marathi cinema.
What is that one thing that you want people to take away from Half Ticket?
Never forget roots and relive your childhood.
The storyline of the film is set in slums around kids. How important is it for the kids to understand the essence of the story?
It is immensely important for the kids to understand that there's no baggage of rich and poor. Every kid is special. Half Ticket is a very simple film and the narrative of the film is really simple. any kid would understand the emotions because it's a visual medium. I think kids understand the emotions better than elders. Every kid has desires and Half Ticket has that desire quotient as well. It's a family film. It'll take elders back to their roots and kids to understand where their true inspirations lie.