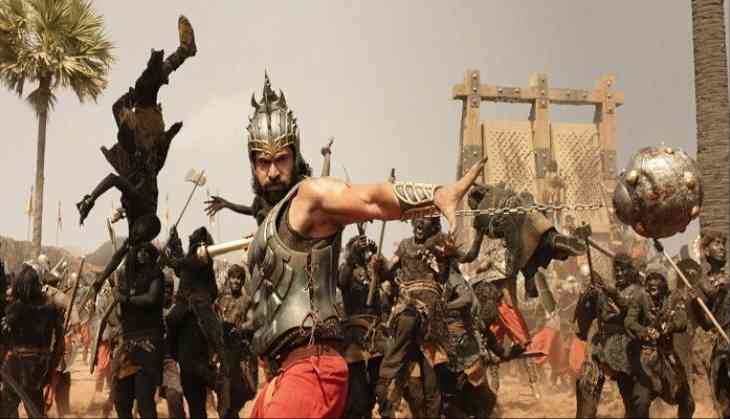 Pic : Rana Daggubati in Baahubali
The much-anticipated film of the year, SS Rajamouli's Baahubali : The Conclusion is just few days away for its theatrical release. The film, a sequel to the 2015 blockbuster, Baahubali : The Beginning stars Prabhas, Rana Daggubati, Anushka Shetty and Tamannaah Bhatia in lead roles. The film also stars Sathyaraj, Ramya Krishnan and nassar in supporting roles.
SS Rajamouli and Prabhas have already started promotions for the film.
In a recent media interaction held in Hyderabad, both Rajamouli and Prabhas have expressed their plans post the release of Baahubali 2.
Prabhas was quoted as saying
"I know Rajamouli for 10 years now. He is a big director and Baahubali is the biggest project of India. In between, I took six months break. I wanted to do small films and come back. I couldn't. Rajamouli's passion for Baahubali series kept us going. Without him, none of us would have been here. Every 10 days, he shows us something which excites us and keeps us bonded and on board. That is why we could work on the project for four years, else it wouldn't have happened. I want to take a one-month holiday after the release of Baahubali 2.
Rajamouli too stated that he will be taking a big holiday post the release of Baahubali 2.
Baahubali was just a starter, Baahubali 2 is the actual meal. After 29th April, we will be looking at different reports from all over the country and hopefully all of them are going to be very good. And for one week, we will be looking at additional promotions and whatever needs to be looked into. One week after the release, I will be flying away. I don't know where, but it's going to be a big, long holiday.
Baahubali 2 is scheduled to be released on 28 April in India.