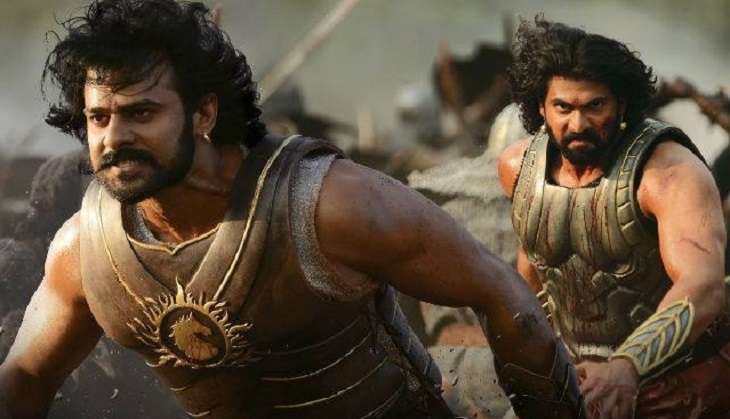 The official logo of the much-awaited film of 2017, SS Rajamouli's Baahubali : The Conclusion was revealed on Friday evening in Hyderabad. The logo launch was attended by the lead actors of the film, Prabhas and Rana Daggubatti along with director SS Rajamouli and film producers Prasad Devineni and Shobu Yarlaggada.
At the press meet following the launch, the superhit director revealed more about the film, including the release date of its trailer.
So here are the 10 things you need to know about Baahubali 2:
1) It is confirmed! The release date of Baahubali : The Conclusion is 28 April, 2017.
2) The first look of the film is slated to be released on 22 October. The makers are planning to release the official trailer in mid-January 2017.
3) The lead actor of the film, Prabhas, will finish his portions in December along with many other artistes. The film will be wrapped up by December end.
4) Unlike the film's prequel, Baahubali : The Beginning, there will be no songs for Tamannaah Bhatia in its sequel. The main heroine of the film will be Anushka Shetty.
5) Apart from the films, the Baahubali series will also make a mark as an animation film, television series and comic books. According to Rajamouli, the virtual reality and merchandising of the film can be compared to world-class movies like Star Wars.
Prabhas in Baahubali (Movie Still)
6) Rajamouli will be responsible for the base story in the animation series. The rest will be helmed by Graphic India and will be released in 2D.
7) An exciting update related to Prabhas will be announced on 5 October. Rajamouli stated that it will make South Indian movie-lovers proud. A 'making' video which showcases the virtual reality technology will be released on Prabha's birthday, 23 October.
8) Rajamouli also said that he is expecting the revenue to be 30-40% more than the firstBaahubali. The director also added that his primary target is to entertain the Indian audience. The international audience is secondary for him.
9) Rajamouli stated that he don't work on any film for six months after the release of Baahubali : The Conclusion.
10) The super-hit director hinted that Baahubali 3 could be on the cards.