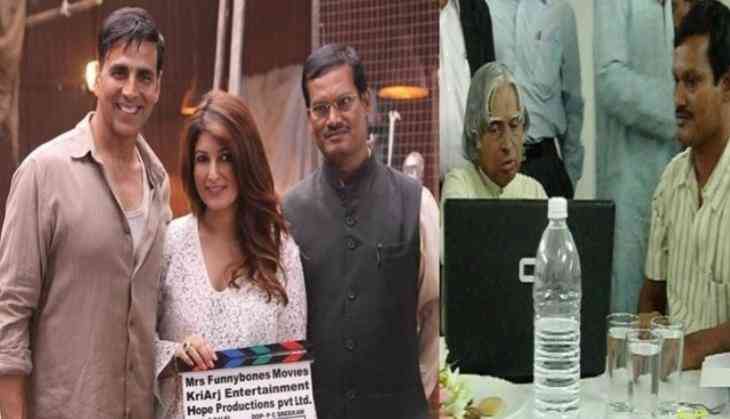 Pic: Arunachalam Muruganantham with Akshay Kumar and Twinkle Khanna, Arunachalam Muruganantham with late APJ Abdul Kalam (file pic)
The official trailer of Akshay Kumar's PadMan has been released on Friday. The film, directed by R Balki is based on the life of Arunachalam Murugunathan, a social entrepreneur from Coimbatore, Tamil Nadu. The trailer opened to great response from the critics and audience alike and has already crossed 20 million views in just two days.
Though the real Padman Arunachalam Muruganantham hails from Tamil Nadu, PadMan will be set in Madhya Pradesh.
While Padman is one month away for its theatrical release, check out 15 interesting facts about the real super hero Arunachalam Muruganantham.
1) Muruganantham wanted to provide a clean and low-cost sanitary pad for his wife after discovering that she used dirty unhygienic rags.
2) Muruganantham experimented by making pads out of cotton, which did not work.
3) Muruganantham used his experiments on his wife and sisters to check if his indigenous pads were effective but they refused to continue using them after a few trials.
4) Muruganantham approached female medical students to try out his product, but similar to his wife and sisters, they too were shy and refused to use it. Later, he decided to wear his sanitary pad himself.
5) Muruganantham used to walk and ride his cycle with a pad in his underwear and a bottle filled with animal blood, which would squeeze out the blood on to the pad at regular intervals.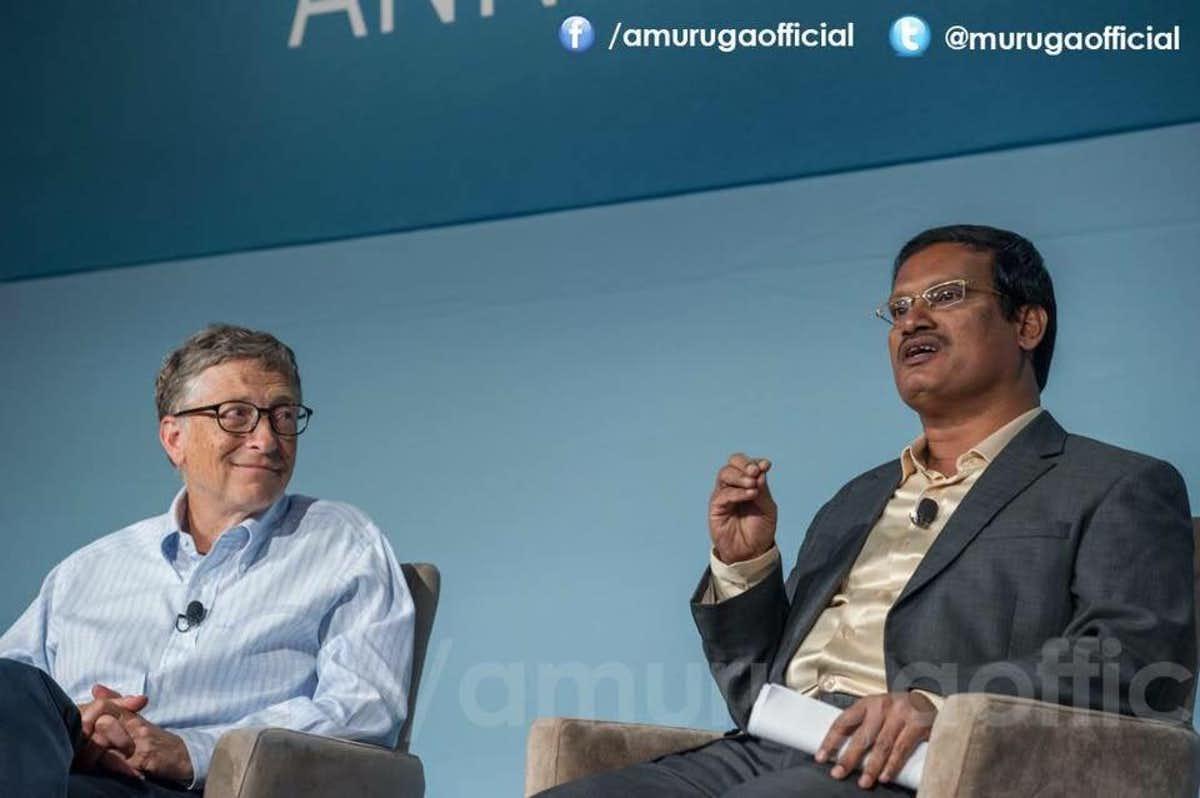 Pic: Arunachalam Muruganantham with Bill Gates
6) Muruganantham's neighbours started calling him a 'pervert' after seeing his weird experiment.
7) Muruganantham's wife decided to leave him and even served him a divorce notice hoping that it would bring him back to his senses.
8) After 2 years of research, Muruganantham figured out how to obtain the exact material he needed and the process to manufacture a good quality sanitary pad at home.
9) Muruganantham's low-cost sanitary pad making machines are now available across India and are even being procured internationally.
10) In 2014, Time magazine featured Muruganantham as one of the 100 Most Influential People in the World.
11) In 2016, Muruganantham was awarded Padma Shri by Government of India.
12) Muruganantham is also known as 'India's Menstrual Man' and has already been widely documented and reported about by both the Indian and international media.
13) Akshay Kumar's wife and actress-turned-columnist Twinkle Khanna herself has based his story 'The Sanitary Man from a Sacred Land' in her recent book The Legend of Lakshmi Prasad.
14) Padman also marks the maiden production venture of Mrs Funnybones, owned by Twinkle Khanna. In fact it was her idea to make a film on Muruganantham's life.
15) Muruganantham was a school drop-out at the age of 14 and took up various jobs as machine tool operator, yam selling agent, farm laborer, welder, etc. to support his family. And now his amazing story lectures at Harvard, IITs and IIMs.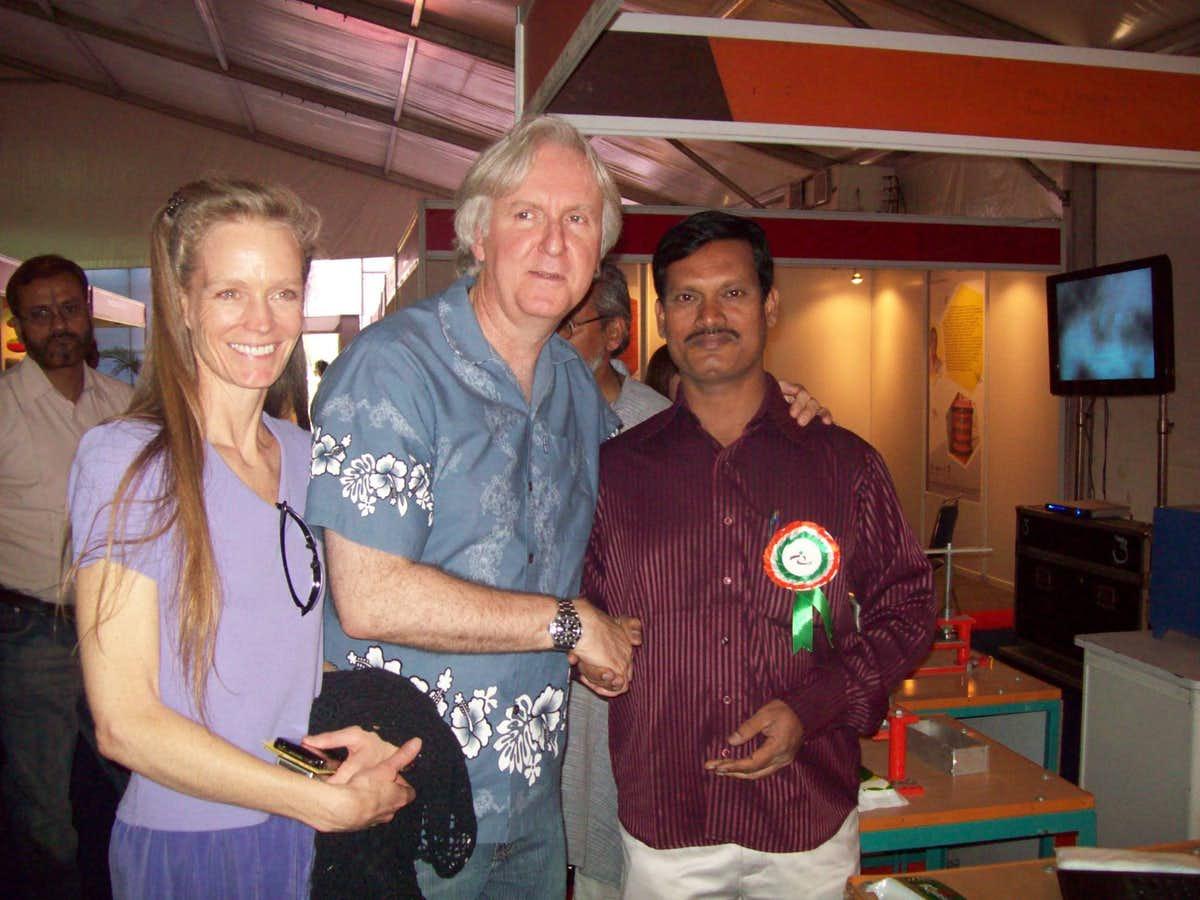 Pic: Arunachalam Muruganantham with James Cameron
Padman stars Radhika Apte and Sonam Kapoor in female lead roles and is scheduled to hit the screens on 26 January 2018.