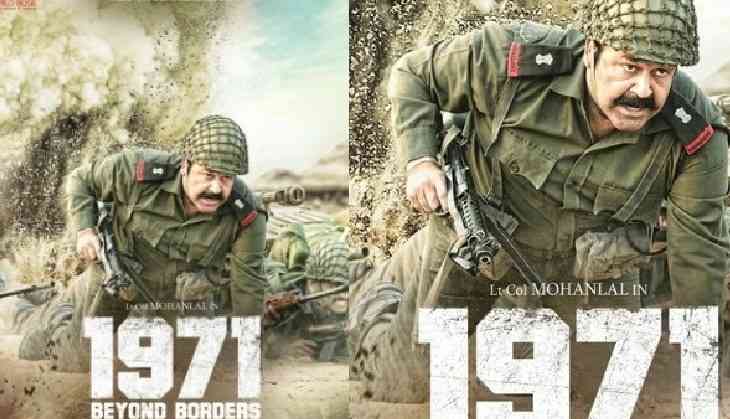 Pic : 1971 Beyond Borders first look
After delivering 2017's first Malayalam blockbuster with Munthirivallikal Thalirkkumbol, Malayalam actor Mohanlal is all set with his second release of the year, 1971 Beyond Borders. Directed by Major Ravi and produced by Haneef Mohammed, the film marks the fifth collaboration of Mohanlal and director Major Ravi.
Earlier, there were reports that the teaser of Lalettan starrer will be revealed in the first week of March.
And now, it has been confirmed as the makers have decided to unveil the teaser of 1971 Beyond Borders on 2 March. The teaser is slated to be released at IST 6:00 PM.
Interestingly, 1971 Beyond Borders also marks the fourth installment of Major Mahadevan series. Earlier, Mohanlal had portrayed the same role in the actor-director duo's previous films including Keerthi Chakra, Kurukshetra and Kandahar.

1971 Beyond Borders is set in two time periods and depicts the story of India – Pakistan war of 1971. Mohanlal will be portraying dual roles in the film as the father-son duo — Major Sahadevan and son Major Mahadevan. The makers have announced the release date of the film as April 7, one week prior to the auspicious occasion of Vishu.
1971 Beyond Borders stars Asha Sharath as the female lead. The film also marks the Malayalam debut of Telugu actor Allu Sirish and Bollywood actor Arunodhay Sings. The other stars in the film include Renji Panicker, Sudheer Karamana, Saiju Kurup, Krishna Kumar, Manikuttan, Padmaraj Ratheesh, Priyanka Agarwal and Zoya Zayed Khan.