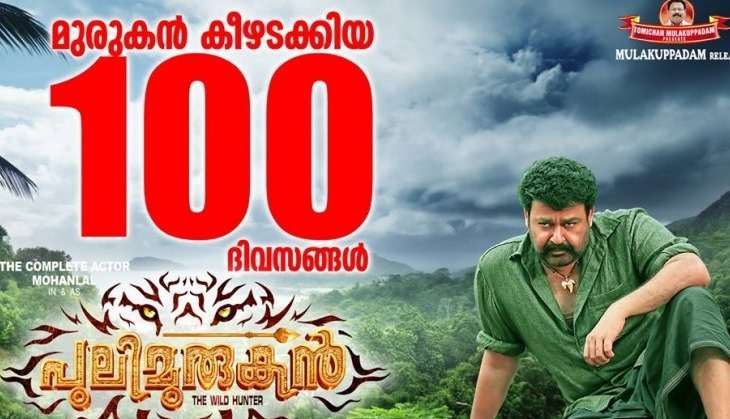 Malayalam actor Mohanlal's Pulimurugan has successfully completed it's 100-day theatrical run at the Kerala Box Office.
Directed by Vysakh and produced by Tomichan Mulakupadam, the action-entertainer was released on 7 October 2016, on the occasion of Dusshera. Pulimurugan starred Lalettan in the titular role of a hunter named, Murugan also starred Kamalini Mukherjee, Jagapati Babu, Lal, Vinu Mohan and Namitha. The film, which is still running to packed houses across the cinemas of Kerala has set many records at the Box Office.
On its 100th day, here are eight Kerala Box Office records set by the Mohanlal blockbuster;
1) Upon its release day, Pulimurugan has emerged the biggest Malayalam opener at the Kerala Box Office. The film had minted Rs. 4.05 crore to become the top Malayalam opener and all-time second opener after Kabali at the Kerala Box Office.
2)Pulimurugan is the first ever film to record Rs. 4 crore plus through out its opening week at the Kerala Box Office. In fact, the movie went on to collect a massive Rs. 25 crore on its 6-day-opening-week to become the first ever film to do so at the Kerala Box Office.
3) Pulimurugan is the first Rs. 50 crore grosser at the Kerala Box Office and the fastest film to do so. The Vysakh directorial is also the fastest film to cross Rs. 10 crore, Rs. 20 crore, Rs. 30 crore and Rs. 40 crore respectively at the Kerala Box Office. Pulimurugan has also emerged as the first Malayalam film to cross Rs. 100 crore and Rs. 150 crore worldwide.
4) Pulimurugan is the all-time highest grosser in Malayalam film history. The Mohanlal starrer has shattered his own blockbuster, Drishyam to do so. It's also worth mentioning that Pulimurugan took just 17 theatrical days to cross the lifetime collections of Rs. 42.50 crore set by Drishyam (100 + theatrical-days) at the Kerala Box Office.
5) The pre-release business of Pulimurugan was a whopping Rs. 15 crore, an unheard price for a Malayalam film prior to release. The film also emerged as the highest Malayalam grosser in Rest Of India markets as well especially in Mumbai and Chennai.
6) Pulimurugan is the fastest film to cross 20000 shows in Kerala. The film is also the first film to screens 100+ shows even after completing 75-days at the Kerala Box Office.
7) With Pulimurugan, Mohanlal emerged as the first Indian actor to have three all-time blockbusters within a span of 2 months. Apart from Pulimurugan, his Telugu film, Janatha Garage and Malayalam film Oppam, all were released within 60 calendar-days and all three films went on to become top-industry hits.
8) Similar to Janatha Garage and Oppam, Pulimurugan too had successfully crossed 100-theatrical days at the Box Office.

Pulimurugan 100 days poster