Young leaders' message to Congress: Weed out old guard, take on Modi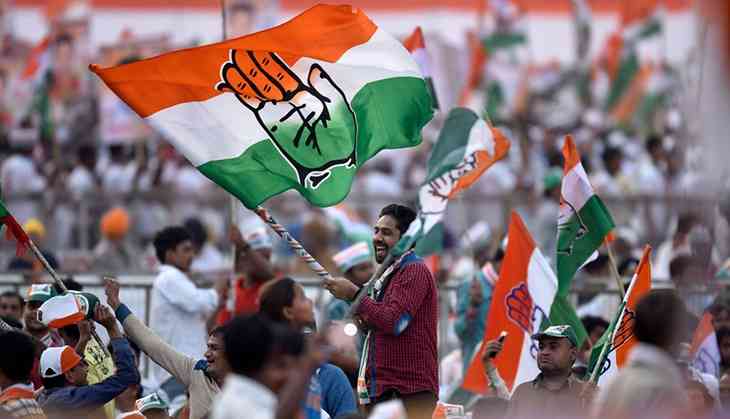 The Congress' miserable performance in the recently held elections has reignited the debate on how the party should revive its fortunes. The urgency of this debate stems from the fact that the BJP is slowly capturing the grand old party's bastions. The failure to form government in Manipur and Goa despite being the single largest party is a testimony of how Congress is the only one to be blamed for the mess it is in.
Soon after the results were announced, several senior Congress leaders appeared on various platforms making suggestions on what the party needs to do stop the Modi juggernaut and not lose relevance in national politics. Some suggested a rainbow coalition to take on the BJP, while others spoke on fixing accountability for those who failed to deliver.
Yet again, the senior leaders voiced their opinions without even considering what its workers and leaders at the grassroots had to say. Catch spoke to a number of young Congress leaders on what the party should do in order to revive and take on Narendra Modi and the BJP.
Complete overhaul
These young leaders are unanimous on one thing – the time for half measures and cosmetic changes is over, the party needs a complete overhaul if it wishes to take on the BJP.
"Before the UP polls, Ghulam Nabi Azad was to decide on the names of candidates and instead of speaking to the regional leaders, he called up a senior leader in Lucknow who suggested some names. The decision was taken without any consultation with the local leaders, which surprised everyone," said a senior functionary of the National Students Union of India.
The functionary didn't want to be identified as it could mean disciplinary action. In fact, most of the young regional leaders Catch spoke to didn't want to be named as it could invite some action which could end their political careers. Blaming the coterie of veterans for misleading Sonia Gandhi and Rahul Gandhi, they said the voices of ordinary workers never reaches the central leadership.
"It is time those responsible for such defeats be held accountable or else the workers will lose faith in the party which is slowly happening. Its time to dump the old guard and bring in new faces under Rahul and you would witness the rise of a new Congress," said a leader from Gujarat.
The NSUI functionary went on to add that the old guard has lost all connect with the ground realities and depend on people like Prashant Kishor and not their own workers. "We need new faces as the veterans have lost their appeal and are just concerned about their positions in the party. The voters think that the leaders are corrupt, power hungry and and would do or say anything to stay relevant," the functionary added.
Another young leader from Karnataka said that post 2004, the senior leadership have been too busy with governance that they forgot about the party. He said, "The government became more powerful than the party and we slowly lost all connect with the ground realities. The party should come before government but everyone was busy making money, which reflected in the 2014 results. Post 2009, these leaders were sabotaging the organisation to remain in power which reflected in all the scams that happened," he said.
This young leader went on to add that no block committee meetings and general body meetings have happened in his district for the last 15 years. "MLAs and MPs decide the candidates for local body elections so why would anyone want to be part of Congress if their voices are not heard. If the organisation becomes strong, people would want to join Congress but that is not happening,"
Another leader from Bihar claimed that people ask him why the likes of Motilal Vora, Digvijaya Singh, CP Joshi, Azad, among others, continue to hold prominent posts despite being repeated failures.
"Why should Ajay Maken be Delhi PCC President, spokesperson, observer in MP and now even part of CWC? What has he done? And if you give these many responsibility to one person, how would he do justice to all of them. Instead, some of his posts could be given to someone even younger. Just go to the INC website and you would see how many positions these veterans hold. This needs to change," he added.
Questioning the popularity of these senior leaders, another student leader from Bihar, asked, "Why don't they go back to their respective states and work towards strengthening the party?"
"Why shouldn't Digvijaya go back to MP? If there are five leaders from MP, the state must be divided into five regions and they should be given charge of one region each. They won't do that, they want to be in Delhi and play power games."
No alliance, go slow on anti-communal agenda
Of the six young leaders from different regions that Catch spoke to, most were completely against having any alliance with regional forces. They believe it would hurt the Congress as regional parties would capture the space once occupied by the party.
"Wherever we had alliances, we could have been in power but were destroyed at the local level. This hunger for power led to the rise of the regional parties because senior leaders just wanted to be part of the government even if it meant extending support to other parties at the stake of Congress' interests," said the leader from Bihar.
One reason could also be that an alliance means less tickets are up for grabs for young leaders.
"Congress is like a Maruti car which has mechanics across India and we just need some repairs to become the force that we once were. Going alone will also help more and more people join us which will only strengthen our base," a Delhi based Dalit leader said.
Most of these leaders were also unanimous in their belief that the Congress targeting the Modi government for spreading communalism, has made BJP stronger. They believe that development and Modi's failure to deliver on his promises should be highlighted more.
"The failure to deliver should not be confined to Delhi, it should spread to every nook and corner of the country. If we keep raising the issue of communalism, people will think, we are against Hindus, which we are not. To keep Modi out of power, we need to do whatever it takes, even if it means not raising these issues," said a Himachal Pradesh based leader.