Yogi Adityanath keeps a tight hold on essential portfolios in new UP govt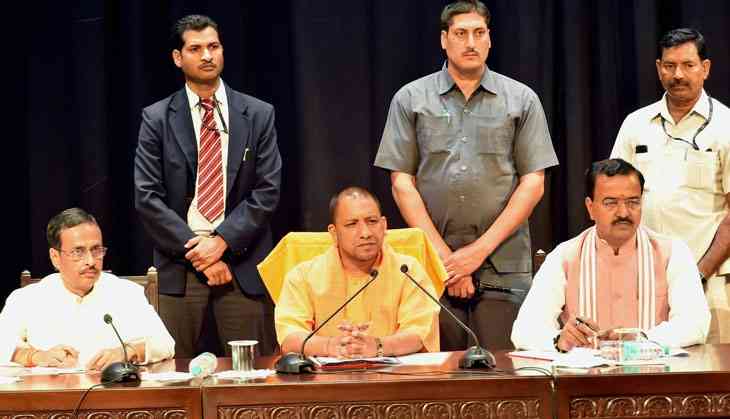 If there was any tussle for the Home portfolio between Uttar Pradesh Chief Minister Yogi Adityanath and Deputy Chief Minister Keshav Prasad Maurya, the former had the last laugh.
The Chief Minister has kept Home, Vigilance, Revenue, Information, Urban Planning and about 30 other departments with himself. His predecessor, Akhilesh Yadav, had over 50 portfolios under his control.
Keshav Maurya, who was a frontrunner for the post of chief minister, is in charge of Public Works Department, Entertainment Tax, Food Processing and Public Enterprises. Barring PWD, the other departments are relatively less important, though food processing offers a huge opportunity to help improve the rural economy.
The other Deputy Chief Minister, Dinesh Sharma, who is a professor in the commerce department of Lucknow University, has been aptly made Minister for Higher and Secondary Education, Electronics and Information Technology.
The rest of the portfolios have been allocated among Adityanath's 22 cabinet ministers, nine state ministers (independent charge) and 13 ministers of state, many of them first timers.
The Home portfolio
The distribution of portfolios to Yogi's two deputies and 43 other members of his team was delayed by three days, reportedly because of Maurya's insistence that he be given charge of the sensitive portfolio.
The differences forced the Chief Minister to consult Prime Minister Narendra Modi and BJP president Amit Shah in Delhi on 21 March.
The Home portfolio has normally been part of the chief minister's responsibility. As Home minister, Adityanath will have to try and follow through on the promises made by the BJP during its poll campaign, such as ridding Uttar Pradesh of the "atmosphere of fear" and drastically bring down crime.
Other appointments
Among other important ministries, Rajesh Agarwal was given Finance while Siddharth Nath Singh will be the Health Minister. Agarwal's immediate task would be to provide funds to write off farmer loans.
Shrikant Sharma will be the new Energy minister and will have the responsibility of providing 24x7 power supply besides ensuring 100% electrification of villages. Prime Minister Narendra Modi and Amit Shah had raised both issues repeatedly during the run up to the elections.
Suresh Khanna will be the Urban Development minister. This is the second time that Khanna will be in-charge of the portfolio.
Given the importance of western Uttar Pradesh, Suresh Rana has been made minister for cane development and sugar mills.
Among the turncoats who have been made ministers, Swami Prasad Maurya was given Poverty Alleviation and Labour. In comparison, Rita Bahuguna Joshi was better off. She is the new Tourism minister and was also given the charge of Family and Women Welfare.
Brijesh Pathak, a former president of Lucknow University Students' Union, will be the minister for Law and Justice.
Om Prakash Rajbhar of the SBSP will be the minister for Backward Welfare. The lone Muslim face and a cricketer, Mohsin Raza, will be the minister for Minority Affairs. Another cricketer, Chetan Chauhan, is the Sports minister.
Lalji Tandon's son Ashutosh gets basic education, technical education and medical education. Kalyan Singh's grandson, a minister of state, has been entrusted with basic, secondary and higher education.
With Dinesh Sharma, Rita Joshi, Brijesh Pathak, Ashutosh Tandon, Swati Singh, who is a minister for flood control, NRI, agriculture exports, Lucknow has the highest number of minister. While east and west UP have got a fair representation, Bundelkhand has been as good as ignored.