Yechury demands Rafale probe, advises caution towards Pakistan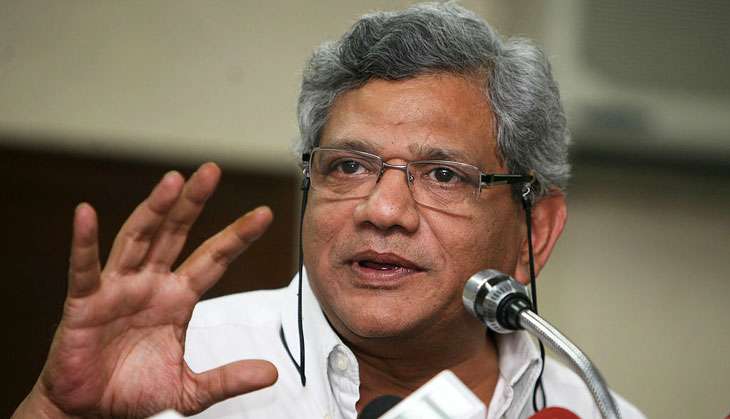 After India and France signed the Rafale fighter deal a few days ago, Sitaram Yechury, the general secretary of CPI(M), said that they are demanding a probe on Rafale deal because in India no defense deal is indefensible.
Speaking after the CPI(M) plenum in Kolkata, Yechury said, "We are demanding a probe on the Rafale fighter deal and we will place our demands soon."
In September, India inked a Euro 7.87 billion deal with France for the purchase of 36 Rafale fighter jets capable of carrying nuclear weapons. The jets are equipped with latest missiles that will give the IAF greater "potency" over arch rival Pakistan.
Also read - Bengal CPI(M) plenum this week: party to discuss revival strategy, rise of RSS
Yechury's statement is significant, as several scandals have been reported in the defense sector in the past - be it Augusta Westland chopper deal or Bofors, India has always been criticised for scams in the defense sector.
On the ban of Pakistani artists
Supporting Salman Khan's statement where he criticised Indian Motion Pictures Producers Association (IMPPA)'s decision to indefinitely ban Pakistani artists, Yechury said, "Entertainment should be kept out of politics, and political dialogue between two countries is necessary at a time when India is committed to fight against terrorism."
Two days ago, Salman Khan has strongly criticised the IMPPA's decision to indefinitely ban Pakistani artists.
On dealing with Pakistan
The CPI(M) urged the Centre to continue with the "diplomatic and political" moves to defuse tension and eliminate cross-border terrorism emanating from Pakistan and hoped that there would not be any further escalation of conflict between the two countries in the near future.
Yechury added, "We have been following the operation of the Indian Army. We hope that now, incidents like the one at Pathankot and the recent one at Uri will not recur. We feel that the government should ensure the safety and security of our people from cross-border terrorism emanating from Pakistan and at the same time Central government should see to it that there is no further escalation of conflict henceforth. We urge upon the Government of India, from its position of strength, to continue with the diplomatic and political moves to defuse tension and eliminate the scorch of cross-border terrorism emanating from Pakistan," Yechury said.
Asked why the CPI(M) was in favour of talks with Pakistan even though such efforts had failed in the past, the general secretary said: "There are certain media groups who want to execute us (CPI-M) on charges of sedition. What is in the country's interest? Indo-Pak dialogue is this government's declared agenda."
Yechury claimed that the "pro-US tilt" in the country's foreign policy had made India a target of the anti-US terror groups and he feels that BJP's policy on external affairs needs to be checked as Centre thinks the US to be their "junior partners", and antagonising other countries like Russia and China.
Resolutions taken in CPI(M) plenum
While a section of CPI(M) leaders feel that joining hands with Congress has resulted in further downfall of CPI(M) in West Bengal, especially in the West Bengal Assembly Election 2016, the resolution taken in the plenum suggested that CPI(M) wants an alliance with the Congress.
1) It was decided that to counter BJP in the Centre and Trinamool Congress in West Bengal there is a need to join hands with the secular forces including Congress.
2) While BJP is trying to push the fascist agenda of RSS, TMC has disturbed democracy in Bengal, as they have already grabbed most of the elected bodies be it panchayat or municipalities from the Opposition parties through coercion or enticement.
3) With dwindling membership and lack of quality members in the CPI(M) party in West Bengal, along with inactive CPI(M) leaders , the need of the hour is to induct fresh blood within the age group of 18-32 years and to remove the inactive members from the party.
4) It was decided that within 2018 there is a need to increase around 25% women membership in the party for its revival as there has been significant drop in women membership in the party
5) CPI(M) will launch a massive movement against the economic and external affairs policies of the Centre as they feel that BJP's tilt towards the US is affecting India's image.
With agency inputs
Edited by Aleesha Matharu
More in Catch - Singur: CPI(M) Politburo admits mistake and blames 1894 Land Acquisition Act
The problems with CPI(M) and why it must reinvent itself to survive