Yechury corners Irani: should unverified FB posts be read out in Parliament?
Catch Team
| Updated on: 14 February 2017, 5:48 IST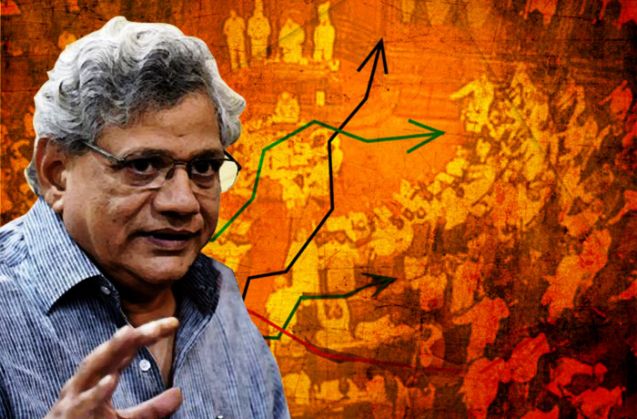 On yet another eventful day in Parliament, it was CPI(M) general secretary Sitaram Yechury's turn to take on the aggressive Human Resources Development Minister Smriti Irani in the Rajya Sabha.
"There are six accounts on Facebook in my name. Can I read them out and present them in Parliament without authenticating? Can I present them as evidence?" Yechury forcefully asked Rajya Sabha deputy chairperson PJ Kurien on Friday.
Yechury was referring to Irani's earlier speech, where she cited a Facebook post attributed to Rohith Vemula, the Hyderabad Central University scholar who committed suicide last month.
Also read - Opposition exorcises Smriti Irani's sedition demons in Rajya Sabha
'Obscene argument'
In a bid to corner Communist leaders, Irani had quoted Rohith as questioning why no Dalits could make it to the CPI(M)'s Politburo in the last 51 years.
"When he was delivering a talk at the HCU, he said if his party finds eligible Dalit leaders, they would be surely taken into the CPI(M) politburo, when questions were raised at the absence of Dalits in it for 51 years now," the minister had said.
However, Yechury argued hard against quoting a Facebook post. "You [Kurien] rule on this, otherwise such canards and obscene arguments will be made," he said.
This forced Kurien to concede that he will look into the rules of the House and the documents presented by Irani, and take a decision on whether they could be used in the House.
However, that was not all. Yechury took the opportunity to launch into an explanation on slogans like 'Lal Salaam', 'Jai Bheem' and 'Inquilab Zindabad', pointing to how the Left was building alliances with different marginalised sections.
Irani had quoted a Facebook post where Rohith had allegedly questioned the lack of Dalits in the CPM
Attacking the BJP, Yechury quoted Mao Zedong to prove how the Left was always open to arguments.
"My tradition is 'Let a thousand flowers bloom, let a thousand thoughts contend'. My tradition is not to create circumstances which would lead to a child committing suicide... this is virtually a murder," he said.
The Durga-Mahishasura issue
As the Rajya Sabha continues to debate the sedition cases slapped on JNU students and Rohith's suicide, Irani has come under increasing fire from Opposition leaders, especially for repeatedly referring to the goddess Durga.
Deputy Leader of the Opposition in the House, Congress's Anand Sharma, demanded that Irani should apologise for raking up the 'blasphemous' issue of Mahishasura and Durga, when she read out from a pamphlet she claimed was distributed in JNU.
Yechury also tried to demolish Irani's arguments on this front. "[Then-Leader of the Opposition] AB Vajpayee, after the Bangladesh war, called [Prime Minister] Indira Gandhi 'Maa Durga' in this very house. Indira Gandhi refused to accept the title, saying 'there are many Bahujans, many Dalits, who worship Mahishasura, so I will not accept the title of Maa Durga'," he said.
"Who is a good Hindu? Will they give certificates? Why is this being brought up to create mayhem?" Yechury asked.
Also read - Smriti Irani: the Hindutva message beneath the maternal fury