Yadav saga ends: Akhilesh's wings clipped, Mulayam & Shivpal show who's boss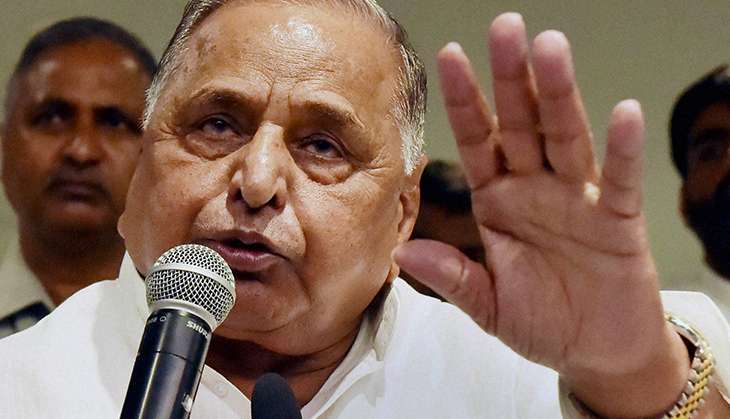 Samajwadi Party supremo Mulayam Singh Yadav forced a truce between his brother Shivpal and Uttar Pradesh Chief Minister Akhilesh Yadav on 17 September by virtually clipping his son's wings and showering praise on Shivpal.
But all is still not well within the party and the day's developments prove that Akhilesh is no more than a puppet chief minister who won't be able to take decisions without consulting his father and uncle.
The chief minister was also told that in a democratic process decisions are taken after consultations and not unilaterally.
Also read - Why it's advantage Akhilesh in this 'Uncle Vs Nephew' battle
Akhilesh took a dig at this at his press conference when he said that on 4 October he would go to Kanpur to launch the metro project after consulting... a pandit.
Terms and conditions apply
Under the terms of agreement Shivpal will remain party president, a position coveted by Akhilesh because of its crucial role in ticket distribution. The chief minister was allowed to retain the PWD ministry which he had taken away from his uncle.
But former PWD minister Shivpal was duly compensated with ministries of medical education, Ayush, minor irrigation and 10 other portfolios.
Before being divested of his portfolio, Shivpal had nine ministries under his thumb. He now has 13.
A fuming chief minister
Akhilesh, whose supporters staged a vociferous protest against his removal as state unit chief, calmed them down by saying that he was still in-charge of youth wing of the party.
At his press conference Akhilesh was asked this position and the CM replied sarcastically, "Don't ask about it or even this will be snatched."
He congratulated the "new party president" but did not mention Shivpal by name. At the press conference, he clarified that he had gone to have tea at his uncle's residence and not the party president.
A plan gone awry
At an election conclave organised by a private TV channel Akhilesh had insisted on retaining the party president's post. He had said that he had felt bad when he was removed from the party president and said: "Aur aapne uskaa asar bhee dekha hoga (and you must have also seen its effect)".
In a strong reaction that he attributed to his youth, the CM reduced his uncle to a non-entity by taking away his key portfolios. Akhilesh had made it clear that he was ready to return everything but he should also be reinstated as state party president. However, that was not to be.
Since it is the party president who plays a key role in ticket distribution, Akhilesh's goal was to have a bigger say in that process. But now it is Shivpal who will decide how many of Akhilesh's supporters will be given tickets for the 2017 assembly elections.
The train of events saw Mulayam come down heavily on Akhilesh's supporters. At a closed-door meeting, Mulayam told them that he and Shivpal had worked hard to build the party structure. "Akhilesh was still in school when Shivpal and I were working for the party," Mulayam is reported to have said.
The party's national president realises that Shivpal's hold over legislators is stronger than Akhilesh's, which is why he had chastised Akhilesh on 15 August, warning him that if Shivpal left the party, it would cause a big rift.
The 15 August warning came after Shivpal's threat to resign as bureaucrats were not listening to him and legislators and party workers were indulging in land grabbing and other corrupt practices.
Mulayam also had publicly cautioned the CM against the party workers and ministers misusing their positions to make money.
Corruption and nepotism
Strangely, Mulayam and Shivpal have backed the re-entry of the tainted Gayatri Prasad Prajapati's into Akhilesh's ministry.
The two senior leaders of the party have been known to foster the corrupt and have also been responsible for criminalisation of politics in the state.
A few months ago, Mulayam and Shivpal wanted the party of jailed mafia don Mukhtar Ansari - the Qaumi Ekta Dal - to merge with the Samajwadi Party. The merger was cancelled after the chief minister put his foot down.
Late Thursday night, Shivpal announced that he was quitting the party. His son Aditya resigned from the chairmanship of Provincial Co-operative Federation and Shivpal's wife Sarla Yadav also resigned from the chairmanship of Co-operative Bank, Etawah.
Subsequently, on Friday, Mulayam had a half-an-hour meeting with his brother and announced that frictions had been papered over.
Akhilesh has blamed Amar Singh for the party's troubles and insisted that he and Mulayam were in agreement on ousting him. With Shivpal emerging more powerful after the showdown the chief minister may how to suffer the "outsider" for some more time.
Edited by Aleesha Matharu
More in Catch - Yadav family feud: Mayawati, not BJP, will be the real beneficiary
Mulayam's many mistakes, and how they've made Akhilesh's life difficult