Yadav civil war: Shivpal fires salvo at Akhilesh, fires 7 CM loyalists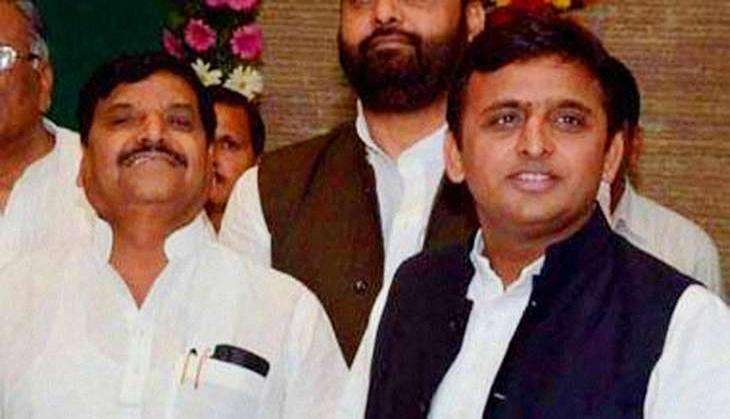 The newly-appointed president of Samajwadi Party Shivpal Yadav has set to put his house in order with a vengeance. On Monday he has expelled seven Akhilesh Yadav's loyalists, three of them members of legislative council (MLC).
Earlier, soon after taking over as president on Sunday, Shivpal struck at Ram Gopal Yadav by expelling his nephew Arvind Yadav from the party on alleged charges of land grabbing, illegal mining and anti-party activities. Arvind is the party MLC.
In two days Shivpal has accounted for four MLCs belonging to his rival camp. A response from the chief minister or Ram Gopal, under these circumstances, is yet to come.
The action invited a swift reaction from Ram Gopal's son Akshay Yadav, MP from Firozabad, who said that Arvind should have first been shown the evidence against him and threatened to take the matter to Mulayam Singh Yadav.
Victors united
Ram Gopal himself has gone quiet. After Mulayam's formula for peace gave more power to Shivpal and the SP national president had firmly stood by Amar Singh, Ram Gopal quietly left Lucknow for Saifai.
Both he and Chief Minister Akhilesh Yadav had opened a front against Amar Singh and wanted him thrown out. Akhilesh had gone to the extent of claiming that he and Netaji, as Mulayam is known, were in agreement on "throwing out the outsider".
The chief minister was of the view that all the trouble in the family was because of this "outsider".
After Mulayam's strong defence of Amar Singh, the chief minister was left with no place to hide as Shivpal and Amar Singh emerged victorious.
Ram Gopal and Akhilesh, on the other hand, were now facing the heat for ganging up against Shivpal and Amar Singh.
Shivpal did not stop at the expulsion of family member Arvind Yadav. He had earlier dismissed Arvind Singh Gope, another Akhilesh loyalist, from the party's general secretaryship.
Another one bites the dust...and another one...
The three legislative council members and four office-bearers of the party sacked on Monday were all considered close to Akhilesh .
The MLCs who were expelled from the party on Monday included Sunil Singh Yadav 'Sajan', Anand Bhadauria and Sanjay Lathar.
Others expelled were SP's Youth Brigade's state president Mohd. Aibaad, state president of Yuvjan Sabha Brajesh Yadav, national president of Youth Brigade Gaurav Dube and state president of the party's Chhatra Sabha - Digvijay Singh Deo - all frontal organisations of the party.
A press release issued with Shivpal's signature said that these seven were expelled from the party for making derogatory remarks against the party's national president, anti-party activities and indiscipline.
The first charge does not give Akhilesh any room to manoeuvre as his reaction will be interpreted as a rebellion against Mulayam whose writ runs in the family unchallenged.
Devil's in the details
The action against Bhadauria, Sunil Singh was significant as the two were expelled from the party in December 2015.
Their expulsion then had angered Chief Minister Akhilesh Yadav so much so that he had stayed away from the annual jamboree in Saifai and joined the festival only after the action against them was revoked.
After being left by his father to fend for himself, Akhilesh finds himself at the receiving end with no apparent word of encouragement coming from Ram Gopal.
Civil war
Mulayam Singh Yadav-enforced truce between the feuding members of his family hung delicately as Shivpal went hammer and tongs against the chief minister's loyalists.
As he has gotten busy packing the party organisation with his trusted ones, doubts are being raised at Akhilesh Yadav's ability to play a role in ticket distribution.
Mulayam had appointed him chairman of state parliamentary board's screening committee on ticket distribution.
In the SP, the power to choose candidates for the assembly elections vested with Mulayam, the party chief, who distributed tickets in consultation with Shivpal.
Akhilesh Yadav desperately wanted to be the party president solely for this reason. He wanted the young members of his team to be given tickets, hence his insistence on being made the party boss in lieu of everything else.
After the bitterness generated over the last fortnight and developments on Monday, Shivpal's anti-Akhilesh stance is now an open secret.
The odds are stacked against the chief minister who can't even count on his father's support now.
Edited by Jhinuk Sen
Also read: Civil war in SP: Akhilesh, his uncle, and the three aides he won't let down
Also read: Yadav saga ends: Akhilesh's wings clipped, Mulayam & Shivpal show who's boss
Also read: Yadav family feud: Mayawati, not BJP, will be the real beneficiary