Yadav civil war: Akhilesh-Shivpal feud headed for another clash over Assembly election tickets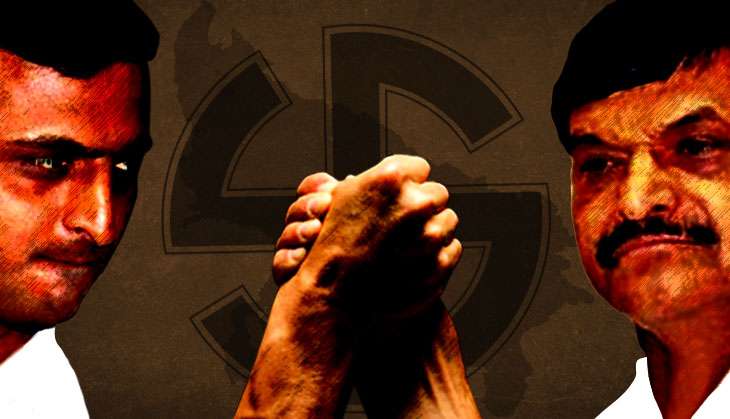 The stage was set for another round of power struggle in the Samajwadi Party (SP) with Chief Minister Akhilesh Yadav handing over a list of 403 candidates for the Assembly elections to Mulayam Singh Yadav, the national president of the party, on Christmas Day.
The development followed party general secretary Amar Singh meeting Shivpal Yadav for an hour in Lucknow on 24 December. The same day the chief minister held a meeting with the first time legislators.
Akhilesh, who does not hide his dislike for Amar Singh, blames him for the turmoil in the Yadav family. For the chief minister, Amar Singh is an outsider.
His uncle and the SP's state president responded to Akhilesh's move by tweeting that names of candidates for 175 seats had already been announced using the 'winnability' criteria. "Indiscipline in the party won't be tolerated," Shivpal warned.
Incidentally, all these names were announced by Shivpal in the chief minister's absence.
Shivpal also tweeted that according to the party's constitution, the chief minister will be elected by the legislature party and therein lies the reason for the impending clash.
Whoever distributes tickets will have control over MLAs. That is the reason why Akhilesh wanted to have a say in ticket distribution, but Mulayam chose to entrust his younger brother with the responsibility instead.
With candidates like these...
Sources said that names of Allahabad mafia Atiq Ahmed and Amarmani Tripathi's son Amanmani Tripathi do not figure in Akhilesh's list. Both were given ticket by Shivpal.
In keeping with his image of a muscleman Atiq was recently involved in the intimidation and assault on Sam Higginbottom Institute of Agriculture, Technology and Science (SHIATS) staff in Allahabad.
He was caught leading his henchmen who assaulted the employees because they had taken disciplinary action against two students. Shivpal expects Atiq to win from Kanpur.
The Central Bureau of Investigation (CBI) has named Amanmani an accused in the murder of his wife Sara and for destroying evidence, but for Shivpal - he would be an asset in the coming elections.
Akhilesh is not on the same page as Mulayam and Shivpal where the alliance with Congress was concerned. Although Mulayam is the one whom Congress and Janata Dal (United) leaders met in this regard. The SP supremo was initially not open to the idea of an alliance.
It's in the family
The ties between chacha-bhateeja (uncle-nephew) started turning sour from 2009 when Mulayam removed Shivpal as state president after the party's poor showing in the state elections and replaced him with his son.
The discord deepened after Mulayam, in tandem with his cousin Ram Gopal Yadav, had Akhilesh appointed chief minister even as Shivpal wanted his brother to take over the reins.
The fact that Shivpal also harboured chief ministerial ambitions was clear when in an outburst he said that while he had worked hard for the party since its inception, Akhilesh had got the position on a platter.
That discontent was simmering between Shivpal and Akhilesh was evident when the former said in Mainpuri that he would resign from the party as bureaucrats were not obeying his orders.
To avoid a split in the party, Mulayam sided with his brother and even admonished his son in public for taking Shivpal lightly.
On 25 June when Shivpal announced the merger of Quami Ekta Dal of mafia don Mukhtar Ansari with the SP, Akhilesh raised a banner of revolt and forced his uncle to annul the decision, though only for a short time.
In a series of developments that followed, Akhilesh sacked Shivpal and others close to him from the cabinet after he was summarily removed as party president. A major showdown followed when at a meeting of legislators and ministers, Shivpal called Akhilesh a liar while trying to snatch the mike from his nephew's hand.
After such a public outburst, in a truce brokered by Mulayam, Akhilesh was supposed to have taken back Shivpal, Gayatri Prasad Prajapati and others in his cabinet. The chief minister did take back Prajapati but not his uncle.
Prajapati, who the CM had said did not listen to him, was not given mining, his original portfolio. Instead, he was made the transport minister.