Writing on the wall: is Vasundhara Raje staring at the exit?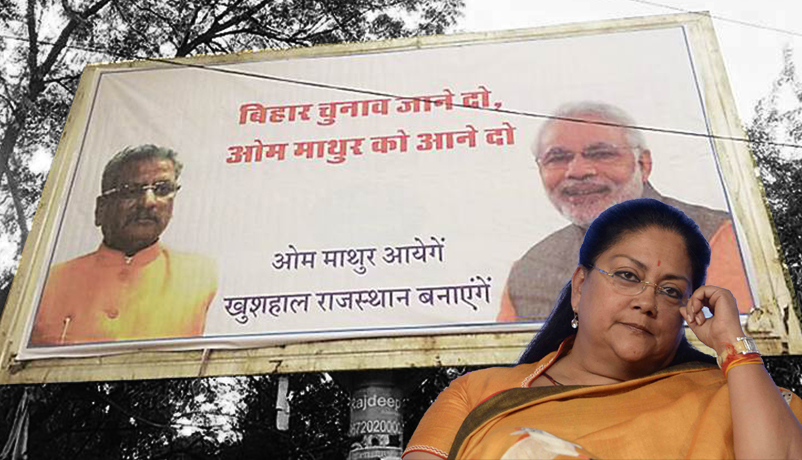 The fight
Hoardings in Barmer proclaim Om Mathur as the next CM
Apparently, he will be replace Vasundhara Raje after the Bihar polls
Raje\'s camp is stunned since he doesn\'t has influence in the area
The challenger
Mathur is BJP\'s vice president and the party in charge of UP
RSS pracharak since 1972, he is known for organisational skills
He is considered close to Narendra Modi and Amit Shah
Maharani Vasundhara Raje of Rajasthan may soon be dethroned, or so a bitter poster war in Barmer seems to suggest.
First, posters of former BJP elder Jaswant Singh embarrassed Raje during her three-day visit to the district. Then, hoardings declaring senior party leader Om Mathur as the chief minister left her and her supporters red-faced.
One hoarding depicts a grave-looking Mathur alongside a smiling Narendra Modi, the space between them filled with the slogan, "Bihar chunav jaane do, Om Mathur ko aane do". In plain language: Mathur will take over after the Bihar election.
On another, the slogan goes, "Om Mathur aayenge, khush haal Rajasthan banayenge." Mathur, it promises, will build a prosperous Rajasthan. That, of course, will require him being at the helm.
Hostile territory
It all started when Raje decided to visit Barmer as part of her 'Aaapka Zila, Aapki Sarkar' initiative to take stock of development work.
Overnight, posters of Jaswant went up. They only wished him on Dussehra, but the message wasn't lost on anybody. In Barmer, the posters reminded Raje, the old leader is still the king. And given their history, it was quite a statement.
Raje was reportedly instrumental in the BJP denying Jaswant a ticket to fight the 2014 Lok Sabha election from Barmer. He contested as an independent, and lost. Jaswant, on his part, had reportedly tried to scuttle her nomination as chief minister in 2013.
Om Mathur on his posters: 'Writing such things alongside a picture of the PM is a sin'
The police took down the posters, inviting outrage from Jaswant's supporters. Caught wrong-footed, the police claimed the posters had been removed due to some "confusion".
In response, Raje's loyalists burnt Jaswant in effigy. This angered his son and local BJP legislator Manvendra Singh, who skipped the stock-taking meeting of local leaders called by the chief minister.
Challenger rises
If this wasn't trouble enough, Mathur's hoardings sprung up. The Raje camp was stunned because Mathur doesn't have a particularly strong influence in Barmer.
Mathur was quick to wash his hands off the enterprise, but the damage was done.
In a statement, he said, "No BJP worker could do this. Somebody conspired to damage the party's reputation. The party has given me an important responsibility and my focus is entirely on that."
"Also, I was observing a maun vrat at my home for 10 days and, hence, wasn not in touch with anybody," he added. "And writing such things alongside a picture of the prime minister is a sin."
Mathur's denial hasn't quelled speculation that a change of guard is on the cards. Not without reason, either.
At the peak of Lalit Modi scandal in June, there were indications that Raje might be forced to give way to Mathur. The BJP leadership, though, is said to have decided against such an action, fearing it would strengthen calls for the resignation of Sushma Swaraj and Shivraj Singh Chauhan, who were also in the firing line for their own reasons.
Nevertheless, it was said then that Modi was keeping a close eye on the state and will take at an "opportune moment". Since then, whenever there has been a clamour against Raje, Mathur has emerged as the natural successor.
But who exactly is Om Prakash Mathur?
Party insider
He is the BJP's vice president. He hails from Bedal village near Falna in Bali tehsil of Pali district. In March, he was appointed the party's in charge of Uttar Pradesh. Mathur is of the same BJP generation as Modi and Rajnath Singh.
An RSS pracharak since 1972, he was a protege of late BJP stalwart Bhairon Singh Shekhawat. Apart from the being the BJP's general secretary, Mathur has supervised the party affairs in Madhya Pradesh, Maharashtra, Karnataka, Uttarakhand and Gujarat.
His stint as in charge of Gujarat from 2002 to 08 brought him close to Modi as well as Amit Shah.
With Raje though, Mathur has a strained relationship, dating back to 2008 when he was made president of the BJP in Rajasthan. He had to reign when the party lost the polls later that year.
Om Mathur's stint as BJP in charge of Gujarat from 2002 to 08 brought him close to Modi, Amit Shah
The election defeat, as indeed Mathur's differences with Raje, were attributed to his preference for new faces over older mass leaders. As a result of this policy, senior leaders such as Kirorilal Meena either left the BJP or were expelled for contesting against the party's candidates.
Recently, Mathur ruffled Raje's feathers by meeting party MLA Ghanshyam Tiwari, the face of the anti-Raje faction who had opposed her nomination as the party's CM candidate ahead of the 2013 assembly polls.
Although Mathur has never contested popular elections, he is held in esteem for his organisational experience. The trust of Modi, Amit Shah and the RSS adds much weight to his profile, so much so that he was in the running for BJP president along with Amit Shah and JP Nadda after the 2014 polls.
Raje, it seems, has a formidable challenger to contend with. Can she hold him off?