Wooing the Patels: What the new faces from Gujarat in Modi's Cabinet mean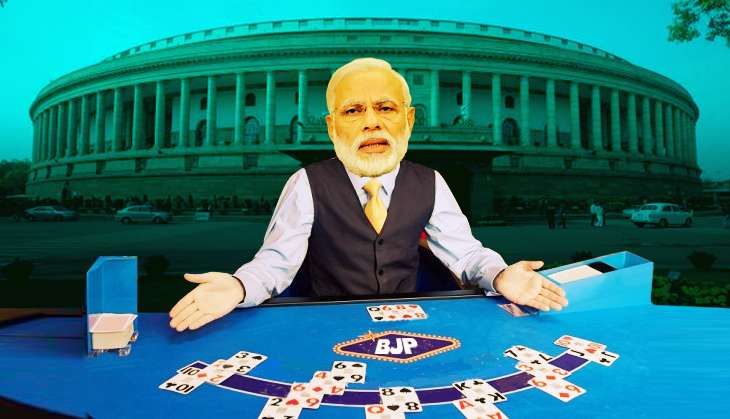 It's the ultimate irony. Gujarat has gotten a quota to assuage the demand for quota. Or so it appears if you scan the caste profiles of those who have been freshly inducted into the Union Cabinet from Gujarat.
The quota from Gujarat maintained in the expansion is a also clear attempt to diffuse the agitation by the Patels demanding their quota in government jobs and educational institutions.
Also read- The real reason for the Patel mess: RSS's mission to abolish reservation
Keeping the vote bank in mind
With Assembly elections in Gujarat scheduled next year, neither Prime Minister Narendra Modi nor the ruling BJP can afford to keep the Patels alienated in his home state. That 'real politik' compulsion of the BJP in his home state is clearly visible in the inductions into the Union Cabinet from Gujarat - two Patels and one tribal.
The most conspicuous induction into Modi's Cabinet is Parshottam Rupala, a Kadva Patel from Saurashtra. A close confidante of Modi and BJP President Amit Shah, Rupala was suspected to have played a clandestine role in last year's Patel agitation.
Rupala's induction into the Modi Cabinet is seen as a move to appease the Patels who have been showing sign of drifting away from the ruling BJP despite providing moral, logistic, monetary and manpower support to the saffron party for more than three decades.
Delicate caste equilibrium
Rupala is the only real new induction from Gujarat. The other two - Mansukh Mandaviya and Jaswantsinh Bhabhor are mere replacements for the two ministers from Gujarat dropped - Mohanbhai Kundariya and Mansukhbhai Vasava.
Mansukh Mandaviya is a Leuva Patel, the same sub-caste as dropped Mohanbhai Kundariya. Jaswantsinh Bhabhor has been inducted in lieu of Mansukhbhai Vasava - thus keeping the tribal representation intact.
Though the Kadvas and Leuvas had closed their ranks during last year's Patels agitation to demand quotas in government jobs and educational institutions, the elevation of only a Kadva Patel (Rupala) is a clear attempt to neutralise the damage caused by the Patels' growing antagonism against the BJP in the run up to next year's assembly elections.
Apart from efforts to woo the Patels back to the BJP fold, Rupala being inducted at the Centre may also be Modi's way to keep him away from Gujarat.
It's a delicate caste equilibrium that cannot be tampered with as both the Patel and tribal communities are crucial for the BJP. The Patels need to be brought back to the fold and the tribals have finally begun to ditch their traditional suitors - the Congress - only during the last decade or so.
Edited by Aleesha Matharu
More in Catch - Cabinet reshuffle: Smriti Irani loses HRD, but is it really a demotion?
This is Amit Shah's Cabinet expansion, not Modi's
Cabinet reshuffle: Bold decisions elusive, Modi exposed as conservative