Will Manmohan Vaidya's comment on reservation cost BJP Uttar Pradesh?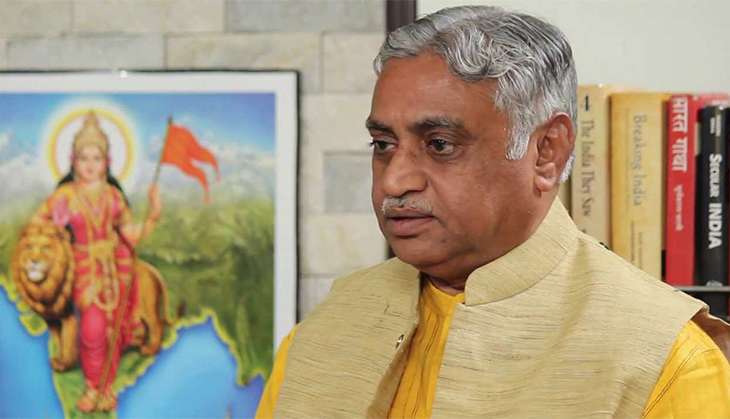 One can imagine senior BJP leaders curling their toes in anger, not knowing how to respond to the anti-reservation statement made by senior RSS functionary Manmohan Vaidya on Friday.
Vaidya not only said that equal opportunities should replace reservation, he said that beyond a point giving reservations created a feeling of separatism.
Till late evening, no BJP leader even attempted damage control, considering the potential damage Vaidya's statements could cause to the party in UP. But apart from claiming that Vaidya was quoted out of context, there is little else that BJP may be able to do.
The thought of non-Yadav OBCs, whom the party has been targeting in UP, turning against them after listening to Vaidya's statements, will surely give senior party leaders many sleepless nights.
About 40% of UP's population is OBC and Dalits constitute about 21.1% of the state population. Brahmins and Thakurs are about 10% and 8% respectively.
In poll bound Punjab, Dalits account for over 31% of the populations and OBCs around 22%.
In many ways, Vaidya's anti-reservation stance that has come just before the Assembly polls, is comparable to RSS sarsanghchalak, Mohan Bhagwat's statements made during the first phase of Bihar elections. Bhagwat had, in an interview to Panchjanya, said that he favours a committee for 're-examining the existing reservation system'.
All parties, including the BJP, feel that Bhagwat's statements dented BJP's poll prospects in Bihar. Now the question is, how much damage will Vaidya's statement cause in Uttar Pradesh.
Talking to a panel in the ongoing Jaipur Literature Festival, where he has part of a panel with another senior RSS functionary Dattatreya Hosabale, this what Vaidya said while talking of BR Ambedkar.
"Ambedkar ne kaha kisi bhi rashtra mein hamesha ke liye aisa aarakshan ka pravdhan rehna, ye acha nahi hai. Jald se jald iski aawashaykta nirast hokar sabko samaan avsar dene ka samay aana chahiye. Baaki anya aarakshan ke badle mein sabko avsar adhik diye jayein, siksha adhik diye jayein, iska prayatn karna chahiye.
(Ambedkar had said that no nation should have the policy of reservation forever. The time for discontinuing it and giving equal opportunity to all, should come soon. The effort should be towards giving people more opportunities, more education,)
Vaidya added that beyond a point allowing reservation is tantamount to inciting separatism.
'Iske aage aarakshan dena thoda algaowad banane waali baat hai aisa lagta hai. Inka [SC and ST] pichda rehne ke peeche varshon se kiya hua anyaya ... [audio unclear]. Aisa anya jagah par nahi hai. Isiliye uska upaya anya tarah se dhuunda adhik acha rahega aisa lagta hai.'
(Giving reservation beyond a point, almost becomes like separatism. The backwardness (of SC/STs) is the result of years of injustice...This is not the case in other place. It's solution should be found in different ways.)
Right after Vaidya ended his monologue, Hosabale immediately tried some damage control by attempting to interpret him for the audience.
"What Vaidya meant was that till there is discrimination against certain groups, and equal opportunity is not provided to all, caste-based reservation should continue."
But Vaidya might have given the other political parties in UP enough fodder against BJP.
Professor Pramod Kumar of the department of political science at Lucknow University, thinks that Vaidya's statements may be the last straw to break down the prospects of BJP, which is lagging behind the Samajwadi Party.
"I think BJP is going to pay, just as they did in Bihar because there are a lot of people here from various social groups that have hugely benefitted from reservations. They will react strongly against BJP. Besides, everyone knows that the only alternative to reservation is if everyone, irrespective of their caste, creed, sex etc get equal opportunities. But that's not the case at the moment as we know."
Nadeem Hasnain, a political observer and a professor of anthropology at Lucknow University, thinks that BJP could actually try and capitalise on Vaidya's anti-reservation statements.
"Vaidya's statements could make an impact on UP polls which are quite near now, based on how the other parties' ability to capitalise on it. But BJP might try and play this statement to their advantage also. By secretly backing these statements or not making much noise about them they'll placate upper caste Hindus and by later claiming that these are not BJP's views, they could appease backward communities also."
But this balancing act may prove to be a bit too much for the BJP. The party has given considerable attention to wooing backward communities. One significant part of BJP's poll campaign in Uttar Pradesh - Parivartan Yatra - was devoted to non-Yadav OBCs. Even the first list of 149 candidates for UP had more OBCs than people from any other caste.
Exactly how big an issue this becomes in the upcoming polls in UP, we may get to understand in the days to come. But the volley of accusations and counter-accusations between BJP and other parties has begun.
भाजपा/RSS/अकाली दलित विरोधी हैं। इनके नापाक इरादों को कभी सफल नहीं होने देंगे। https://t.co/1o4714BkRF

— Arvind Kejriwal (@ArvindKejriwal) January 20, 2017
मोदी जी आपके RSS प्रवक्ता आरक्षण पर फिर अंट-शंट बके है। बिहार में रगड़-रगड़ के धोया,शायद कुछ धुलाई बाकी रह गई थी जो अब यूपी जमकर करेगा।

— Lalu Prasad Yadav (@laluprasadrjd) January 20, 2017
एक बार फिर बीजेपी आरएसएस का दलित विरोधी चेहरा सबके सामने आ गया। pic.twitter.com/hXU43aMV1Q

— INC India (@INCIndia) January 20, 2017