Will Kejriwal's upcoming rally spree improve AAP's fortunes in Punjab?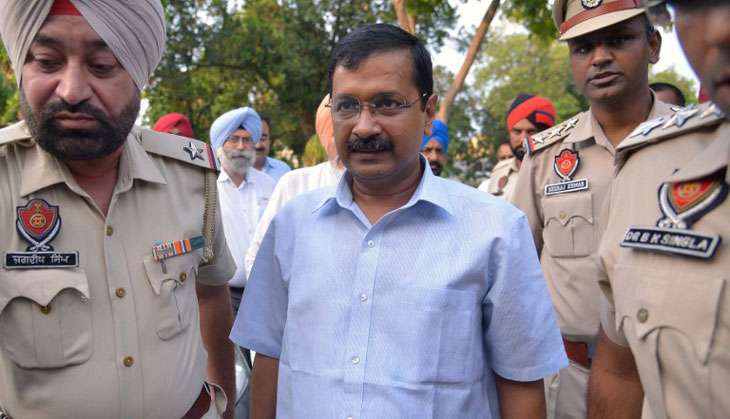 To help improve his party's plummeting fortunes in Punjab, national convener of Aam Aadmi Party and Delhi Chief Minister Arvind Kejriwal, had decided to address 21 rallies over the next 11 days.
The party was recently put on the back foot over the issue of sharing river waters. A few of its other programmes have also failed to click with the masses. Which is why Kejriwal has taken the challenge of put his party's poll machinery back on the track - and make it stand out as a clear leader as it had four months ago.
A focus on Malwa
His main focus will be on the Malwa region where AAP still has a strong base and its leader Bhagwant Mann remains an effective crowd puller. There are reports that the party may field Mann against deputy chief minister Sukhbir Badal from the Jalalabad seat, which has been the latter's stronghold for years.
Also read - Punjab: Akalis and Congress corner AAP for shaky stance on SYL
Malwa is a hotbed for Punjab politics because it sends more than half of the MLAs to the state assembly. Before the advent of AAP, the region had remained a stronghold of Akalis and the Congress.
Malwa has also seen the maximum number of farmer suicides and also tops in the cases of farm distress. This is also the region from where the scandal on use of spurious pesticides on cotton crop had broken out.
These were the prime issues along with the rampant drug menace around which AAP has successfully woven its poll campaign not only for the last Lok Sabha polls, but also for the forthcoming polls.
The dip in popularity
Observers say that there are a series of reasons for AAP's popularity going downhill over the last four months. The primary reason among these is that AAP has departed from its mode of campaign that was giving it good returns.
Till a few months ago, AAP's campaign was built on highly-localised agitations and movements on micro-level issues: spurious pesticides, seeds, farmer suicides etc.
But lately, the party moved towards the mode of campaign of is rivals - the Shiromani Akali Dal (SAD)-BJP combine and the Congress. It walked into the trap of politicking on traditional emotive issues where its rivals stand well entrenched. AAP's stand on these issues - Panthic or the Satluj Yamuna Link (SYL) canal - has not been firm.