Will Goa be the first state where RSS cadres work to defeat BJP?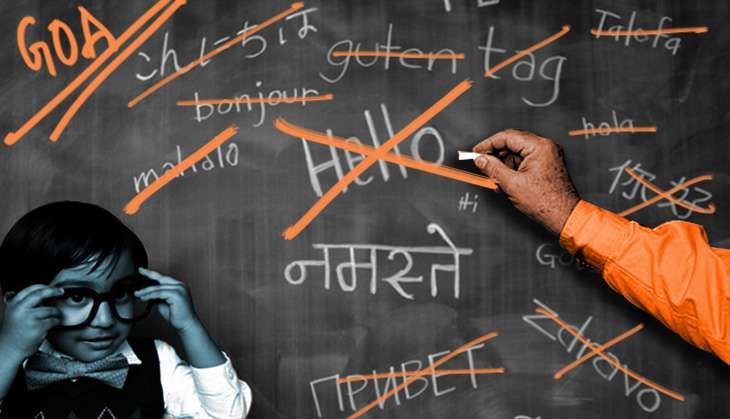 Goa may be end up being the first state where RSS cadres actively work to defeat the BJP. The war within the state's Sangh Parivar has intensified and this could cost BJP the upcoming Assembly elections.
The state unit of the RSS has revolted against the BJP government over the contentious issue of implementing Medium of Instruction (MoI) in regional language and withdrawing grants to English medium schools in Goa.
If the rising popularity of Aam Aadmi Party (AAP) in the state was not enough of a setback, BJP received another jolt after Goa's former RSS chief, Subhash Velingkar, with backing of the RSS' local unit, locked horns with BJP government over the MoI issue.
Credited for building the RSS in Goa, Velingkar was relieved from his duties on 31 August for indiscipline after he decided to float a political party to oppose the BJP for not fulfilling its poll promise of implementing MoI in schools.
As a result, Velingkar's supporters disassociated themselves from the Konkan prant of RSS and went on to form Goa prant which Nagpur refused to recognise. Since then the former RSS chief has been a man on a mission to stop the BJP juggernaut.
Velingkar is now holding mega conventions across Goa requesting locals to shun BJP in the upcoming polls. On 11 September, in one such convention held at Bambolin, attended by close to 2000 RSS cadres, he compared BJP to Hiranyakashyap declaring that time has come to slay the "demon".
The showdown
Even the BJP is in a combative mood and questions who is RSS to dictate terms on the decisions of the government? Lambasting Velingkar, BJP leader and sitting MLA, Micheal Lobo, said that MoI is not RSS' call to make. "It is the decision of the education department. Will RSS decide what is good for my children? Let the people of the state be the judge of our decisions and decide whether what we have done is right or wrong," claimed Lobo.
But Lobo did accede that the rebellion is likely to impact BJP's chances in upcoming polls which could see a drop in its vote percentage. Moreover, Velingkar decision to turn Bharatiya Bhasha Suraksha Manch (BBSM), into a political outfit and contest elections should also be of great concern for the saffron party.
Backed by the rebel RSS group, BBSM, has support of other regional parties, and is being wooed by the likes of Shiv Sena that has endorsed Velingkar's views. With the dedicated cadres of the RSS no longer campaigning for BJP, Goa is slowly slipping out of the saffron party's grip.
Co-founded by Velingkar and floated in 2011, BBSM' mandate was to attack the previous Digambar Kamat-led Congress government over the grant provided to 130-odd English schools and implement MoI. Back then, both Velingkar and BBSM played a significant role in bringing BJP to power in 2012.
Senior RSS leader and north Goa chief Krishnaraj Sukerkar reiterates that this feud will have major political repercussions for the BJP as it would no longer enjoy the support of dedicated RSS cadres who diligently conduct door to door campaigns ensuring mobilisation in favour of the saffron party. Sukerkar claims that just by sitting at home RSS cadres would inflict more damage than by opposing BJP publicly.
RSS accuses BJP of minority appeasement
Ironically, Sukerkar compared BJP with Congress and claimed how the former is pursuing appeasement politics championed by the latter. "By stopping funds to the English medium school, mostly run by Archdiocesan Board of Education, the government would have alienated the Catholic voters. They don't want to do that even if it means antagonising Hindus," said Sukerkar RSS' north Goa chief.
He is of the opinion that just to appease the minorities, BJP is ignoring the larger cause of the majority community. "Hindus are thinking that the BJP government is only working for the minorities," Sukerkar complained. Adding to BJP's miseries, even the newly crowned Goa RSS chief, Laxman Behare, reiterated Velignkar's stand and said that it will still try and persuade the state government to promote regional languages in schools.
BJP leaders do agree that by avoiding the MoI issue it wants to project itself as an inclusive party in Goa which is culturally far more diverse than it is in the rest of India. But, there are political reasons too. In the 2012 assembly elections, a vast majority of Catholics voted in favour of the BJP and for the first time, all of BJP's five Catholics candidates won with a huge margin.
It is for this very reason that first Manohar Parrikar and then his successor Laxmikant Parsekar refused to entertain Velingkar's pleas. Meanwhile, rebel RSS leaders say though the issue is about MoI but it is also about how the RSS in Nagpur has been meting out step motherly treatment to the Goa unit.
"Whatever feedback the senior pracharaks in Nagpur are getting is all concocted. This has forced them to take extreme steps and make public statements against Velingkar and the local unit of the state," Sukerkar said. However, he doesn't name anyone, but Velingkar was not so subtle and had blamed Union minister Nitin Gadkari for playing "backdoor politics" that effected his ouster.
Rise of AAP
Meanwhile, the Congress and AAP are just watching the BJP- RSS fight from the sidelines and are clearly avoiding the controversial issue. This public showdown between the BJP and its ideological parent has given much needed colour to Goa's upcoming assembly polls that largely go unnoticed considering bigger and politically vital states like UP and Punjab.
Even the rising clout of AAP in Goa has added a new flavour to the elections which has now become a triangular contest with opinion polls suggesting a wave in favour of AAP. An opinion poll by Kautilya Teertha Data Analytics claims AAP leading the pack with 14 seats followed by BJP, Congress and Maharashtrawadi Gomantak Party (MGP) respectively.
Even BJP is wary of AAP's growing influence and Lobo told Catch that it would be foolish to underestimate the Arvind Kejriwal-led outfit. "AAP is certainly gaining and is occupying the vacuum left by the Congress, which is in tatters. Wherever Congress was strong, AAP is gaining ground there," said Lobo.
Not everyone agrees with Lobo and Vijai Sardesai, an independent MLA, dismissed AAP as a regional party from Delhi and said that Goans don't need regional parties since they have enough of them in the state. "Arvind Kejriwal talks about Mohalla clinic while people are dying in Delhi. He talks about poor but doesn't realise Goans are not poor. There is no aam aadmi here. If there was some wave, it has been negated by the recent controversies and CDs that have surfaced in Delhi," he said.
AAP strongly disagrees with these statements and its Goa Convener, Valmiki Naik, said their meetings are a testimony of the public support it currently enjoys. And said that once the results are announced, everyone will know what AAP is capable of.
But, Naik refused to comment on BJP-RSS feud calling it an internal matter of the RSS and an evidence of how BJP has not only alienated the people, but also its cadres. "Nobody wants the BJP to return. People are tired of their misrule and are seeking change."
Avoiding the controversial MoI issue, Naik said that wider consultations with locals will help them have a clear stand on the issue. "We are holding dialogue with Goans and whatever they will be looked at. Our manifesto is not yet out and once it is, you would know about out stand," he said.
Amidst all this bickering, political leaders are unanimous over BJP-RSS stalemate benefiting the MGP which enjoys the backing of expelled RSS leadership. MGP was the first party to rule Goa after it gained independence from Portuguese in 1961, but its vote base and popularity has witnessed a steep decline since then.
MGP, with three legislators, continues to be a part of the BJP government and one of its prominent leaders, Ramakrishna Dhavalikar, also the PWD minister in Goa government, told Catch that it will continue to do so. "We will fight the upcoming elections with the BJP," he said. But, he did add that the party supports Velingkar's take on the MoI issue adding to the speculation of them switching sides once the elections are announced.
"We are for local languages, be it Hindi, Konkani or Marathi," he said and goes on to add that BBSM will have an impact on the polls. "More than 15% of voters are with Velingkar on this and it will definitely have a great impact on the results of the polls."
Meanwhile, none of the Congress leaders from the state were available for comments and even state in-charge Digvijaya Singh didn't respond to repeated phone calls.