Will BJP bite the bullet on inducting trigger happy DG Vanzara?
Rathin Das
| Updated on: 10 February 2017, 1:49 IST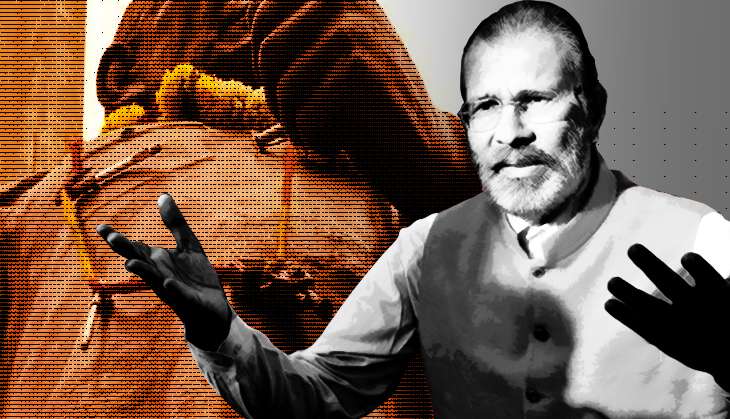 Garlanding the Sardar Patel statue with a toy pistol and some pens may be the latest gimmick from retired encounter cop DG Vanzara to stay in the limelight. But the bailed out officer has already become some sort of an enigma for the ruling BJP ever since he was allowed by a Mumbai court to re-enter Gujarat.
The former DIG is the prime accused in the fake encounter killing of Mumbai college girl Ishrat Jahan, Pranesh Pillai alias Javed Sheikh and two others. Some say that his release isn't surprising after the change of guard at the Centre in 2014.
Also read - Tainted Gujarat cop Vanzara attends RSS event
During all his public addresses, Vanzara praises Prime Minister Narendra Modi, the RSS and jailed rape accused 'godman' Asaram Bapu. This makes it virtually impossible for the ruling BJP in Gujarat to distance itself from him.
Even when Vanzara was lodged in Ahmedabad's Sabarmati Jail since his arrest in 2007, he received VIP treatment. Ministers and bureaucrats rushed to the prison complex for launch of his books of poems and other "thoughts". After being bailed out of Mumbai jail, he was banished from entering Gujarat, but that restriction too was waived by the court when he claimed to be under threat from the underworld in the western metropolis.
On his return to Gujarat in March this year, Vanzara received such a rousing welcome that people almost forgot that he is a murder accused who is just out on bail. Disregarding the sentiments of the judiciary, the state capital's Town Hall was made available to accord a rousing reception to Vanzara, which was attended by top IPS officer P.P Pandey, also an accused out on bail. A few days later, Pandey was elevated as Gujarat's Director General of Police, an appointment that has been challenged in the High Court.
Another Hindu Hriday Samrat?
The tone and tenor of the speeches made by Vanzara and others at the function has given the accused former IPS officer the status of a 'Hindu Hriday Samrat.
Thus, ideally, the ruling BJP should welcome Vanzara into its fold.
This would be desirable for the party in the run up to next year's Assembly elections as Vanzara commands considerable influence in the northern areas of Gujarat's tribal belt, where the Congress has a significant presence.
It may hope to control some of the damage caused to its traditional vote bank due to the Patel agitation demanding reservations in jobs and educational institutions.
But then, the BJP too has its own compulsions in inducting Vanzara into the party at a time it needs to project a 'secular' image in rest of the country, opines senior political columnist Prashant Dayal.
Associating with the trigger-happy encounter specialist may annoy the party's electoral allies who are still trying to maintain a good rapport with the minority community in their respective states, explained Prashant Dayal.
On his part, Vanzara has made his intentions clear about contesting the 2017 Assembly elections in the state. He has also added that he might float a political party, qualifying the announcement with "if necessary". It is obviously implied that the "necessity" would arise only when some party refuses to nominate him from a constituency of his choice, preferably his native place Idar (ST) in Sabarkantha district of north Gujarat.
But political observers feel that Vanzara can win an election can win from anywhere in the state, not necessarily from an ST seat.
As of now, the ruling BJP is keeping a safe distance from Vanzara even as attempts are underway to prove the fake encounters as genuine. If that happens, Vanzara's image as an anti-terror icon will get enhanced and this might lead to a bigger political role for the trigger-happy encounter cop.
More in Catch - Encounter specialist DG Vanzara back home, hints at political future
Innocent teen or terrorist? Who was #IshratJahan & why she had to die