Why Tajinder Pal Bagga's ghar-wapsi says he was a BJP vigilante all along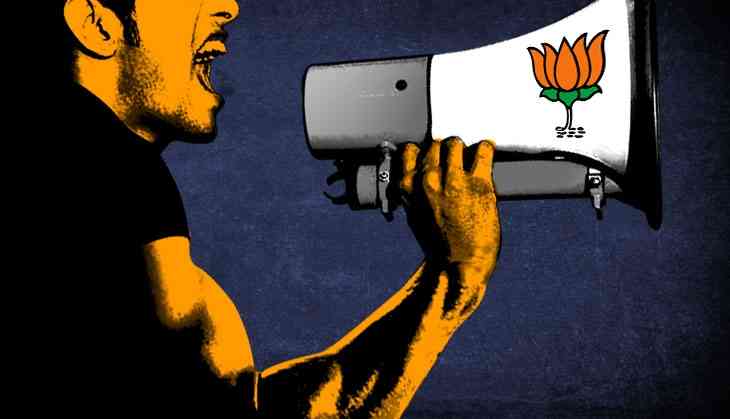 Guess who's getting a glut of congratulations from Union ministers on Twitter today?
Given their enthusiasm, you would think their messages would be intended for Prime Minister Narendra Modi or Bharatiya Janata Party chief Amit Shah for the party's landslide victory in UP. Ignore your instinct this time and take a close look.
Union ministers like Suresh Prabhu, Nirmala Sitharaman, Vijay Goel and Giriraj Singh are congratulating the newly-appointed spokesperson of the BJP's Delhi unit, Tajinder Pal Singh Bagga.
Congrats @TajinderBagga for new responsiblity @BJP4India @BJPForDelhi @ManojTiwariMP

— Suresh Prabhu (@sureshpprabhu) March 14, 2017
Congratulations @TajinderBagga on your appointment as spokesperson of @BJP4Delhi Good luck to you.

— Nirmala Sitharaman (@nsitharaman) March 15, 2017
@TajinderBagga Congratulations & best wishes :)

— Vijay Goel (@VijayGoelBJP) March 15, 2017
Congrats @TajinderBagga sab .

— Giriraj Singh (@girirajsinghbjp) March 14, 2017
Bagga was appointed spokesperson on 14 March by Delhi BJP chief Manoj Tiwari, himself new to that post.
Thanks @narendramodi ji, @AmitShah ji & @ManojTiwariMP ji for having faith in me & giving me the opportunity to be Spokesperson of BJP Delhi

— Tajinder Pal S Bagga (@TajinderBagga) March 14, 2017
Following the announcement, Bagga has been receiving congratulatory messages from admirers and rivals alike. Tweets from Congress's Priyanka Chaturvedi and pro-Congress commentator Tehseen Poonawalla can also be seen on Bagga's timeline. But the ministers definitely fall under the admirer, maybe even patron, category.
Others in this category include BJP MPs Maheish Girri, Swapan Dasgupta, Darshana Jardosh, former MP Tarun Vijay, well-known voice in right-wing circles Kanchan Gupta and, hold your breath, senior journalist Chitra Subramaniam, once known as the scribe who broke the Bofors scam.
Congratulations @TajinderBagga for being appointed as the Spokesperson of @BJP4Delhi. My best wishes to you for the new role. pic.twitter.com/Tw66gE2KMf

— Maheish Girri (@MaheishGirri) March 14, 2017
Congratulations to @TajinderBagga on his new appointment as BJP spokesman.

— Swapan Dasgupta (@swapan55) March 15, 2017
Congratulations @TajinderBagga on being appointed as @BJP4Delhi spokesman.

— Darshana Jardosh (@DarshanaJardosh) March 15, 2017
Congratulations @TajinderBagga This is a great responsibility, make the the best of it. Nice to see fresh face & young blood being inducted.

— কাঞ্চন গুপ্ত (@KanchanGupta) March 14, 2017
Congratulations @TajinderBagga and good luck.

— Chitra Subramaniam (@chitraSD) March 14, 2017
Bagga's multiple assaults
Looking at all this love that BJP leaders are showering upon Bagga, it will be hard to remember that this is the same gentleman whom the BJP had nearly disowned, not too long ago. On 12 October 2011, Bagga and two other men had beaten up senior advocate Prashant Bhushan in the latter's chambers at the Supreme Court.
All three were then members of a vigilante group they had created, called the Bhagat Singh Kranti Sena.
They roughed up Bhushan over what they thought were his 'anti-national' comments regarding Kashmir. "He try to break my Nation, I try to break his head [sic]," Bagga had proudly tweeted then.
The trio was eventually arrested and remanded to judicial custody for a day. Bagga had earlier been involved in similar attacks on author Arundhati Roy and Hurriyat leader Syed Ali Shah Geelani.
It is not clear which of these developments the BJP now considers an achievement worthy of being rewarded with the spokesmanship of the party. But six years ago, both the party and Bagga had distanced themselves from each other.
Bagga had then told a TV channel that he had no links with the BJP 'now', but "used to be their member once upon a time".
Senior BJP leader Rajnath Singh had refuted this claim and condemned the attack on Bhushan.
For Bagga, official membership of BJP appears to be either a fluid or a redundant concept. He boasts of old connections with the party and claims that he was the youngest-ever member of the party's National Executive. His Twitter display pic shows him in the company of Narendra Modi himself, with the PM looking benevolently at him, like he would at any loyal foot soldier of the party.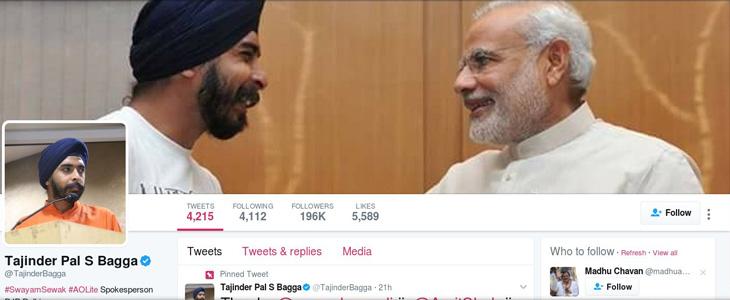 Twitter
In his Facebook profile display picture, Bagga is standing next to former PM Atal Bihari Vajpayee. He claims it is a picture from 2008.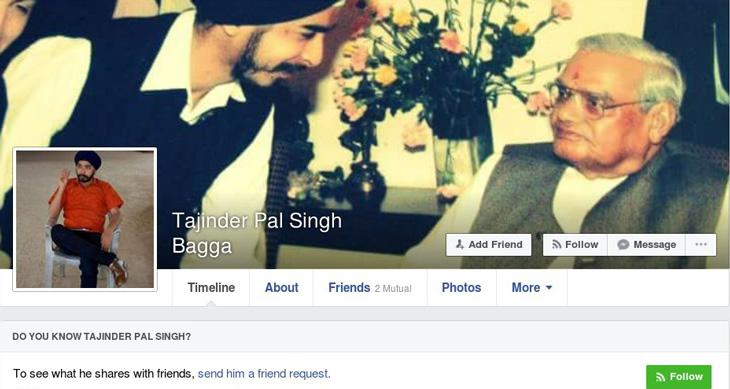 Facebook
There is another picture of a young Bagga with Vajpayee and Goel, on Twitter.
Happy Holi ( File Pic 2007 ) pic.twitter.com/CM1z8X0Tna

— Tajinder Pal S Bagga (@TajinderBagga) March 13, 2017
Goel's reply to that tweet recalls the picture as a part of his 'golden memories'.
@TajinderBagga Golden memories :) Happy Holi !

— Vijay Goel (@VijayGoelBJP) March 13, 2017
Bagga's constant linkages with the BJP are undeniable, and the party has now openly admitted him as its own.
Prashant Bhushan has called him a 'thug' and has accused BJP of promoting 'lumpen' elements like him.
No surprise that BJP appoints lumpen thugs like Bagga as their spokesman.Cant expect better from Shah/Modi who have promoted thugs all over https://t.co/s6SzwN2ZWF

— Prashant Bhushan (@pbhushan1) March 15, 2017
The question that BJP may like to answer now is that does Home Minister Rajnath Singh's condemnation of Bagga's attack on Bhushan still hold? Or is 'thuggery' too a fluid concept for the party, much like its membership is for Bagga himself?