Why political untouchability is the biggest threat to a grand anti-BJP coalition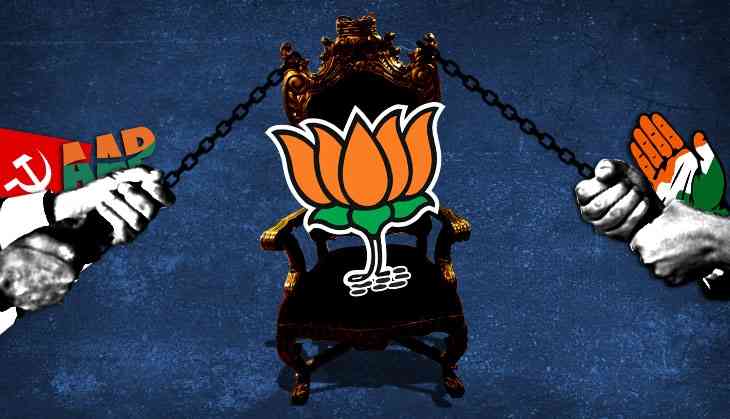 Delhi Chief Minister Arvind Kejriwal met his Kerala counterpart Pinarayi Vijayan in Delhi on 19 April and Vijayan used the opportunity to indicate that efforts to stitch an anti-BJP alliance minus the Congress may be in the offing.
While the Aam Aadmi Party chief did not mention this specifically, Vijayan reportedly said that "depending on Congress to fight the threat of BJP is pointless" and that "CPI(M) is always ready to join hands with secular parties in this regard".
While CPI(M)'s eagerness to join hands with AAP will certainly come as good news for the latter, Vijayan's statement and the ideological position both parties have taken so far is not a promising omen.
Calls for widespread opposition unity have gone up after the recent round of assembly polls. Nearly every party in the opposition camp has conveyed the need for an umbrella alliance against the BJP for 2019 and back-channel talks appear to be happening already.
It is important to remember that the elections are two years away and all the right signals need to be given at this point of time. Every player knows that till the elections are just round the corner, every word said and every move taken will be considered tentative.
Note what Bahujan Samaj Party supremo Mayawati has said in this context, just days after agreeing to be a part of an alliance with any political party to defeat BJP.
The former Uttar Pradesh chief minister has now said she will not take the decision on entering into an alliance in haste and that any alliance would take place only a few months ahead of the Lok Sabha polls.
Politics of untouchability
Vijayan's assertion about the Congress reflects the existence of two divergent approaches in CPI(M) vis-a-vis the Congress. While many in CPI(M)'s West Bengal unit are pushing for an alliance with the party for the forthcoming municipal polls, Vijayan is advocating a non-Congress coalition for 2019.
It is quite possible for the two to exist simultaneously as parties often have different political strategies for different states. However, to begin the process of alliance formation by singling out one party signals a politics of untouchability that has the potential of thwarting the very process.
Congress is down but it is still a bigger force than any other party in the Opposition. It still has over a 100 MPs, 6 chief ministers and hundreds of legislators and corporators across the country. It recently came back to power in Punjab and emerged as the single largest party in Goa and Manipur elections. It would be childish to believe that any serious effort to thwart the BJP will be successful without including the Congress.
Necessary as it is for AAP and CPI(M) to be a part of such an axis, they will have to eventually drop their ideological opposition to the Congress. Both have precedent in their own history to help them in sinking their differences with the Congress - CPI(M) had joined hands with Congress to become a part of UPA 1 and AAP had accepted Congress's 'conditional support' to form a government in Delhi in 2013.
Only then will a win in 2019 be possible.