Why #NotMyCM campaign could threaten Manohar Parrikar's chair in Goa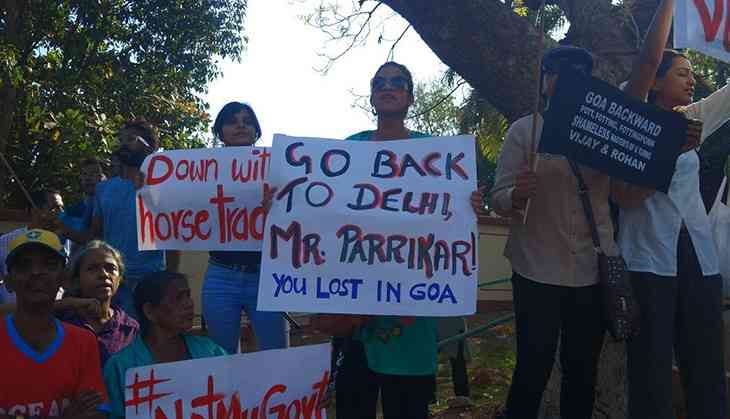 A section of Goans are infuriated with BJP's Manohar Parrikar taking over as chief minister since as they believe his party did not have the mandate of the people. In fact, they say that the mandate in Goa was overwhelmingly against the BJP.
Earlier on Tuesday, as Parrikar and nine other MLAs made their way into Raj Bhawan for the swearing in ceremony, protestors gathered outside shouting slogans against the BJP and its allies, particularly Goa Forward Party (GFP).
In fact, Parrikar will have to contest polls to remain the chief minister and these protests could jeopradise his election which he is likely to contest from Panaji. Earlier, there were speculations that Parrikar could be contesting from Mapusa and former deputy chief minister Francis D' Souza would vacate his seat for the chief minister. However, the BJP later clarified that Parrikar would not contest from Mapusa leading to a buzz that he could fight from Panaji.
Earlier on Tuesday, protestors gathered outside the Raj Bhawan before Parrikar and others were to be sworn in. As these MLAs made their way into the Raj Bhawan, several protestors holding placards that read "Go Back to Delhi Mr Parrikar you lost in Goa", "Down With Horse Trading", "#NotMyCM", and "I want my vote back" began raising slogans.
These protestors particularly jeered the leaders of the GFP for defying the mandate of the people. Many of them even took to Twitter to express their angst against Parrikar taking over as the state chief minister. Using the hashtag #NotMyCM, they claimed how despite the CM and eight of his ministers losing the elections, BJP went on to form the government.
People of Goa Defeated 6 of the 8 Ministers & incumbent BJP CM & Yet BJP shamelessly wants to cling on to the power in Goa. #NotMyCM

— Saral (@SaralPatel007) March 14, 2017
Level of frustration of Goa. Everyone has come on streets in anger today. BJP, have some shame! #NotMyCM https://t.co/qqKLB552ID

— حسيبة أمين (@HasibaAmin) March 14, 2017
While he is swearing in, hundreds of #Goan on street protesting it.. #NotMyCM https://t.co/YIVKpllo22

— Roman D'souza (@romandsouza) March 14, 2017
#NotMyCM well done Goans. Give them the boot. Come out in larger numbers,for the sake of democracy.

— Mehek (@MehekF) March 14, 2017
All those protesting against Parrikar also criticisied GFP leader Vijay Sardesai, who fought the elections on an anti-BJP plank, only to support the saffron party after results were announced. Soon after Sardesai joined hands with the BJP, Prabhakar Timble, GFP President, resigned from his post claiming that the party's campaign was against BJP and he would not like to be the face of the party anymore.
In response to Sardesai's U-turn, his mentor Aires Rodrigues wrote an open letter accusing the GFP leader of committing a mother of all U-turns and disgracing himself, his family, the constituency and Goa. The letter read:
"I write this with a heavy heart, a very heavy heart indeed! But, I have no choice … Having been your friend, in speaking out I may be hurting you, your two MLAs Jayesh Salgaonkar, Vinod Palyekar and our common friend Rohan Khaunte, but by maintaining silence I would be hurting thousands of Goans across Goa and also failing in my duty to stand up for something that is intrinsically wrong."
"You have disgraced yourself, your family, your Constituency and most importantly your Goa. The great Goan and your uncle, the late Ravindra Kelekar and your late dear sister our great poet Madhavi must be rolling in heavenly abode over the manner you have so rashly and selfishly taken Goa and Goans for a ride," Rodrigues wrote.
He went on to add that three GFP and the sole independent MLA should resign immediately and contest on a BJP ticket or else face people's wrath and condemnation for the rest of their lives. In fact, in the run up to the elections, Sardesai was extremely critical of Parrikar and even went on to call him a "dalal" and "dictator". In fact, he was severely critical of the BJP and promised the his entire campaign in his constituency Fatorda of a BJP free Goa.
Sardesai was slammed on social media for going back on his promise. Parody page of Allan Octavian Hume tweeted, "Dear @VijaySardesai, you should be ashamed of yourself. You have betrayed your supporters and all Goans. You have taken Goa backwards."
"Democracy was murdered in Goa today! And let's not forget that the chief kingpin of this was @Goaforwardparty MLA @VijaiSardesai! #NotMyCM," tweeted other. Others accused Sardesai of selling his ethics, morality and his soul.
If BJP's political opponents in the state are capable of capitalising on this growing anti-Parrikar sentiment, it could make the fight a lot tougher for the chief minister. In fact, the BJP candidate won the seat with a margin of only 1000 plus votes which should give hopes to political opponents to stop Parrikar from continuing as chief minister.