Why it's advantage Akhilesh in this 'Uncle Vs Nephew' battle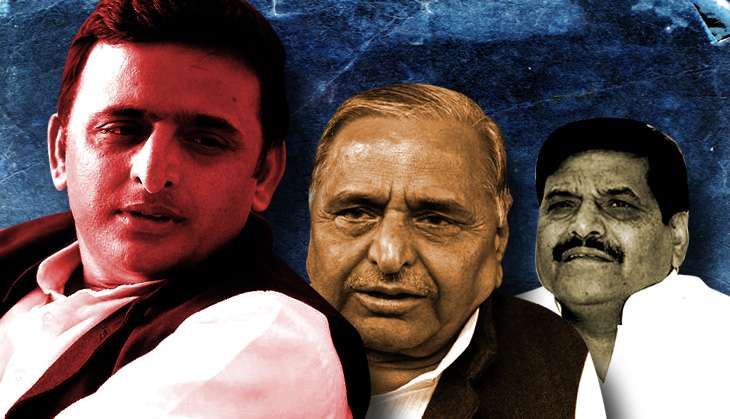 The family drama gripping UP's power corridors for the last five days is finally over. The ruling Samajwadi Party narrowly escaped disintegration and both Akhilesh and Shivpal Yadav have managed to salvage their pride. Patriarch Mulayam also appears to be satisfied.
Things seem to have gone exactly as per the script of saltatory political developments over the past four days. On Friday, Mulayam Singh came out of his seclusion to seal the climax of this episode.
The father and son were simultaneously facing the media, albeit in separate places. Both were beaming with confidence and an air of self-assurance. The only missing character was sulking uncle Shivpal Yadav.
A confident Mulayam
"There will be no division in the party till I am here," declared Mulayam Singh with aplomb at a press conference in Lucknow's party office.
"There is no fight between Shivpal and Akhilesh. Every father and son duo face issues. There is no rift. But there is the fault of our people who spoke to the media," he added.
Mulayam also announced the reinstatement of Gayatri Prajapati as the mines minister in the UP government. It took him barely five minutes to wrap up the presser.
Just at a time when Mulayam was addressing the media, Chief Minister Akhilesh Yadav was attending a programme in Hotel Taj.
An unfazed CM responded candidly to media's queries and stated, "It all happened for good. I share close ties with my uncle."
However, he also warned "outsiders" by claiming that he and his father, Mulayam Singh Yadav, have decided "to not allow the interference of outsiders in party and government".
Only one CM in UP
The statements from Akhilesh and Mulayam Yadav are being seen as the declaration of a truce in the family feud. However, several questions remain unanswered. Was it a scripted drama? If so, what was the purpose behind it? If it was a battle for supremacy in the party, who emerged as the victor?
As far as the question of "outside" interference is concerned, the CM is certainly not new to such influences. His tenure has been marred by pressure from elements within his own family.
His father, as well as uncles, were consistently seen dictating terms in matters of governance. In fact, it had become almost impossible for Akhilesh to take independent decisions. This has led the Opposition accusing that there is not one, but three chief ministers in UP.
This negative image was bothering the party in run-up to the state polls and the junior Yadav was looking for an opportunity to wipe out this impression.
According to political analysts, the state government was increasingly on the back foot over a series of allegations of corruption in the mining sector. It was only to contain the damage that the chief minister had taken some tough decisions. However, it is learnt, that Akhilesh Yadav has full backing from Mulayam Singh.
All a scripted play?
Many observers believe that the spate of suspensions as well as cutting uncle Shivpal Yadav to size was a deliberate strategy. Mulayam Singh had written this script to bolster the image of his son.
Health constraints have forced the SP supremo to expedite the process of handing over the reins of the party to his son. There could have been no better opportunity for transfer of power than a prelude to the state elections.
The ploy to portray Akhilesh as an independent-minded and unblemished leader by putting Ramgopal Yadav to media's line of fire was a part of the premeditated plan.
Mulayam Singh appears to have hit the bull's eye as Akhilesh has now emerged as a leader who is willing to confront even his family for probity in public life.
The current episode has also sent a signal that Akhilesh's writ runs large in the government and his uncle Shivpal Yadav is not the one calling the shots. A message was sent that there is only one chief minister in the state.
The party seems to have succeeded in presenting Akhilesh as a young Turk, a political 'Robinhood' of sorts, who is capable of taking his own decisions.
A self-reliant CM
But, where does it leave Shivpal Yadav in this game? It is no secret he was instrumental in Amar Singh's return to the Samajwadi Party after the latter had arranged a matrimonial match for Shivpal's son Aditya.
Amar Singh has spent most of his time lobbying for Shivpal ever since his return. Deepak Singhal was appointed as the Chief Secretary by Akhilesh Yadav on Shivpal's recommendations.
Gayatri Prajapati and Raj Kishore, the other controversial ministers are known Shivpal loyalists. The suspensions of these people came as a jolt for Shivpal.
The four-and-a-half years old grudge of not becoming the chief minister also surfaced as Shivpal Yadav thought it was an opportune moment to hit back. This was the reason he took umbrage at the chief minister's decisions.
However, Shivpal could not realise that he was emerging as a protector of the corrupt in public perception. Moreover, he was seen to be on the defensive during the entire drama. He pleaded to Mulayam and also went to meet Akhilesh. Yet, Akhilesh stood firm on his ground. At the end of it, the Shivpal camp appears to have lost.
Accepting all his portfolios back would only establish Shivpal Yadav as a loyal party leader, the tag of 'crusader' against corruption will remain with the chief minister. This was exactly what Mulayam wanted and this is what he has achieved.
The "outsider" factor
The feud ended with a message that father-son would no longer fall prey to any "outside" influence. In other words, while Mulayam Singh will continue to call the shots in the party, Akhilesh would be the boss in the government. This is what Akhilesh suggested when he vowed to "not allow the interference of outsiders in party and government".
He has won the freedom to have a say in party decisions through his father and anybody trying to challenge his authority will have to go. Even if that person happens to be a relative or a family friend.
While all the fingers were pointed towards Amar Singh in engineering this rift, Mulayam Singh had hinted towards Lalu's role in it. Akhilesh's warning is aimed towards all such persons.
Edited by Jhinuk Sen
Also read: Civil war in SP: Akhilesh, his uncle, and the three aides he won't let down
Also read: Shivpal vs Akhilesh vs Mulayam: where will the Samajwadi Party drama lead to?
Also read: Family drama: Uncle Shivpal skips Akhilesh's cabinet expansion