Why is Nitish backing Modi on note ban? It's political opportunism
Ashutosh
| Updated on: 10 February 2017, 1:37 IST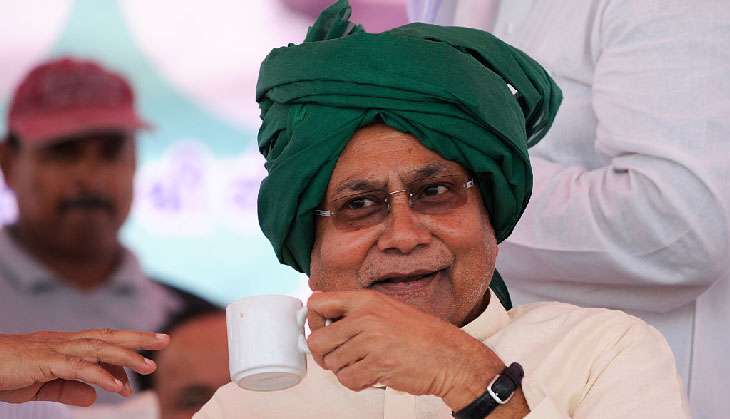 (Ashutosh is an official spokesperson for the Aam Aadmi Party. He explains the politics behind Nitish Kumar's decision to back Modi's demonetisation drive)
I have known Nitish Kumar for a long time. I have always found him enigmatic - his silences are rather intriguing.
Ahead of the 2010 Assembly elections in Bihar, I was interviewing him for a TV show and asked him: "You have fought against communal forces all your life. And now, you have aligned with the BJP to run your government?" He was visibly uncomfortable. After the interview, in an informal chat, he had confessed that he had no alternative.
I was reminded of the late Karnataka leader Ram Krishna Hegde. I had asked him a similar question when he had formed his own political outfit and aligned with the BJP. He was candid enough to admit that since HD Deve Gowda had become the Prime Minister and thrown him out of the Janata Dal, he was left with no other option but to go to the BJP for his political survival.
Both Nitish and Hegde belonged to the socialist tradition of Indian politics. Deep in their hearts, both deeply resented the communal politics of the BJP and hated the RSS ideology that seeks to divide society on communal lines.
But with the withering away of socialism as an idea and the disintegration of the Janata Dal, both ended up with their ideological enemy. It is one of the great tragedies of Indian politics.
Stance on demonetisation
Today, once again, Nitish seems to be veering towards the BJP. He has openly appreciated Prime Minister Narendra Modi's demonetisation scheme, when everybody on the Opposition benches expected him to oppose the drive. Mamata Banerjee has gone to the extent of calling him a 'gaddaar' (traitor). But Nitish remains unmoved.
It remains to be seen whether this is just posturing, or is a realignment taking shape.
Knowing Nitish, I can tell you he is one politician who does not take a hasty decision. He is very cool and calculated. His decisions are always thought through. Every dimension is scrutinised. And before articulating anything, the next two steps would have been anticipated. He works on his strategies like a champion chess player.
So I would discount the theory that his appreciation of Modi on demonetisation is an isolated act.
Nitish and Modi's cold past
Nitish has had a very cold relationship with Modi in the past, despite running the government in Bihar with the help of the BJP.
In the run up to the 2014 general elections, he was the first one to hint that if Modi became the Prime Ministerial candidate, it would be impossible for him to continue with the BJP. And he did what he said.
Then it was thought that Nitish was trying to position himself as a secular alternative to Modi at the Centre, in case the polls threw up a hung Parliament. It was also thought that after running a coalition government for eight years, he wanted to get rid of the BJP and run his own government as an independent entity.
But as Modi triumphed in the Parliamentary elections, Nitish realised his folly. He realised that it would be impossible for him to come back to power on his own.
He immediately embraced his arch enemy Lalu, and was ruthlessly practical about it. The media went against him, saying he was committing hara kiri. His whole politics had hinged upon a fierce opposition to Lalu; he had always presented himself as a fighter against corruption.
But this time, Nitish defied all conventional wisdom and the might of Modi in Bihar, and came back with a thumping majority. It was the second major setback to Modi after Delhi. Post the Bihar victory, Nitish was spreading his wings at an all-India level. He tried to form a mega coalition with anti-Modi forces. He did organise a few meetings and rallies with other Opposition parties and leaders.
This is why Nitish's sudden U-turn vis-a-vis Modi has come out of the blue.
Keeping options open
Can Nitish really align with Modi? Has he lost hope with the secular grouping?
Is he trying to salvage his image as an anti-corruption crusader because of the bad press he has received as a result of his alliance with Lalu Yadav?
Or is he repositioning himself as an ambivalent leader who is acceptable to both sides?
Nitish harbours ambitions of a national role. By the time the 2019 Lok Sabha polls come around, he'll have been Chief Minister for over 13 years.
He believes he has all the things needed to be Prime Minister. Like Modi, he can claim to be clean, with no corruption stains on his hands. He thinks he has proved himself as an administrator par excellence. He can claim to be the man who transformed Bihar.
He has also said in the past that ruling Gujarat would've been a cakewalk compared to ruling Bihar - after all, Gujarat was already a developed state when Modi took over. He also claims that unlike Modi, his development model is inclusive.
He also says that despite his alliance with the BJP, he did not let Bihar burn in a communal fire like Gujarat under Modi in 2002. He can also claim that he can be trusted for his instinct of running coalition governments, and that he has partnered with both sides of the political divide - Hindutva and secular.
Message goes beyond Bihar
I can stay with confidence that his support to the Centre on demonetisation is not restricted to giving any message to Lalu and his family. It is meant for a much larger audience, beyond the boundaries of Bihar.
He is out to project himself as a statesman, who is not constrained by the narrow and contrived thinking of modern politics; he is a democrat who has no malice towards anyone and can work with Modi too, despite their history of bitterness and ideological differences.
His strategy is deeply political - opportunism in the garb of largeheartedenss. He wants to keep both the options open. And he is a master of this art.
Nitish is preparing himself for a hung Parliament, where he can emerge as a consensus leader. But will he be lucky like HD Deve Gowda?
Politics is the art of the possible. There's nothing wrong in positioning oneself for the future.
Edited by Shreyas Sharma
More in Catch
Ae Dil Hai Mushkil controversy: the State has failed Karan Johar & cinema
Democracy in Delhi is dead. Long live democracy
AAP's USP is its clean image, Modi is trying hard to taint it