Why anti-BJP camp has mixed feelings about AAP's place in Grand Alliance 2019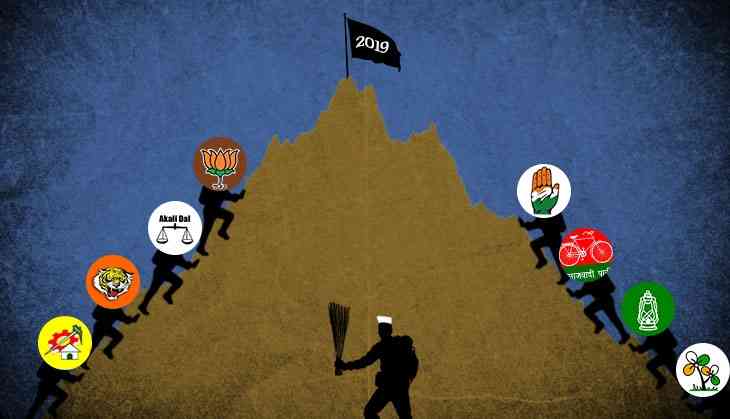 As the Lok Sabha polls of 2019 loom nearer, talks of a grand anti-BJP coalition are picking up steam. Such a camp is yet to take solid shape but its broad contours already exist in the imagination of its early proponents.
Bihar has already given its glimpse, with the Congress, RJD and JD(U) coming under one umbrella. Among all other parties that will matter significantly to such an exercise, one party that is yet to cement its place in this camp firmly is the Aam Aadmi Party (AAP).
AAP had won four seats in the Lok Sabha polls 2014, is already in power in Delhi, in Opposition in Punjab and has also managed a 6% vote share in Goa in spite of not winning a single seat.
Lined up for the party are key electoral contests in Gujarat later this year and Rajasthan and Madhya Pradesh in 2019. It is also likely to bag the three seats of Delhi's quota in Rajya Sabha that will fall vacant in 2018. No longer a one-state party but still far from casting a national footprint, AAP's significance at a pan-India level can not be understated.
The key question that arises once we come to terms with AAP's prominence is – will it ever be a part of a multi-party alliance? AAP arose from a movement that prided itself on painting the entire political class with one brush, branding all politicians corrupt and promising to change the way politics was conducted.
Till date, AAP's communication often revolves around themes like "we are here to teach politics".
Changed relationship with Congress
AAP's foundational principles do indeed dictate that it must not enter into an alliance with any of the older parties, national or regional. However, it had shown potential to get into alliances quite early on by forming a government with Congress' "conditional support" way back in 2013.
Since the two parties are back to being its each other's rivals again, what are the prospects of them coming under one umbrella once more?
The Congress and AAP have not been seen together on any joint opposition platform since the Congress-led joint march to Rashtrapati Bhavan against the land acquisition ordinance in 2014.
The only party AAP shared a platform with during the protests against demonetisation was Trinamool Congress, but it was missing when the latter addressed a joint press conference along with Congress.
Significantly, over a dozen parties approached the President once again recently, under the Congress' leadership, on the rigged-EVMs issue, but AAP was not a part of this group.
This was the most significant indication of both parties' reluctance in cooperating with each other, given how vociferously they (Congress and AAP) have both been raising the EVM issue separately.
Of course, the irony behind the situation is that Congress may have its own claims against EVMS, but if it agrees with AAP's claims then that would mean jeopardising its own win in Punjab, admitting to AAP's allegation of Punjab polls being rigged.
Aversion for AAP
Even the Trinamool Congress is reportedly wary of joining hands with AAP. Trinamool Congress leader in the Lok Sabha, Saugata Roy, recently told a newspaper that AAP chief Arvind Kejriwal's "high octane personalised style is detrimental to themes like Opposition unity."
JD(U)'s Nitish Kumar and Kejriwal once displayed great camaraderie, with Kejriwal's presence at Kumar's swearing-in in November 2015 grabbing headlines. JD(U) had declared with much emphasis its intent not to contest the Punjab polls in solidarity with AAP but is now contesting on 113 seats against AAP in Delhi's municipal polls.
General Secretary KC Tyagi told Catch that AAP is not a part of this camp in terms of day-to-day dealings. He recognised that AAP indeed maintained a distance from the Congress, indicating that that does count as an impediment.
However, Tyagi emphasised that AAP had made its anti-BJP stance quite clear and the party is anti-BJP in "traits, temperament and action". He pointed out that AAP did join the land ordinance campaign and also does a bit of floor-coordination in the Parliament.
Significantly, RJD, the third and the largest partner in the Grand Alliance as it exists in Bihar right now, is quite sceptical of AAP.
Its national spokesperson Manoj Jha told Catch, "Some of us are very uncertain about the position of the leadership of AAP on important imperatives such as liberty, equality and justice, particularly social justice."
He explained that "an all-India alternative against the right-wing has to decide in a manner which is distinctly different from what we do with municipal issues".
So far AAP has carefully evaded taking a clear-cut position, he added.
Shades of right-wing?
Another senior leader in the RJD said, on condition of anonymity, that AAP's stand during the flag-controversy at NIT-Kashmir must be recalled. AAP's stand was akin to the BJP's he said.
Indeed, Kapil Mishra, a key minister in Kejriwal's cabinet, had then declared that AAP will take up the issue at the national level because "BJP leaders have failed to do justice with the NIT students who suffered police brutality for hoisting the national flag and raising pro-India slogans".
Nationalist Congress Party (NCP), another key mover in this camp that is slowly being put together, harbours mixed feelings towards AAP.
According to a senior leader, AAP's leaders indeed thought too highly of themselves while considering others not good enough, but the Rajouri Garen by-poll results will bring them to their senses.
However, General Secretary DP Tripathi told Catch that they would want AAP to join us because its presence in the camp is important.
AAP's priority: Corruption or communalism?
What does AAP think about such an alliance and being a part of it?
Senior leader and party spokesperson Ashutosh told Catch that it was quite possible that the party may take up the issue for discussion after the Delhi municipal polls, but not right now.
He also said that discussions with other parties across the country do keep taking place but nothing has happened formally, so far.
Ashutosh did mention, although stressing that these were his personal views, that the way BJP and Prime Minister Narendra Modi are running the country right now, it is indeed problematic.
He said the social fabric has been ruptured, the minorities are living in fear and all of that has to be taken note of. He said he feels that when the party was born, corruption was a huge issue but today's challenge is communalism and the party must also think on these lines.